Box score of the day: Pujols' Angels debut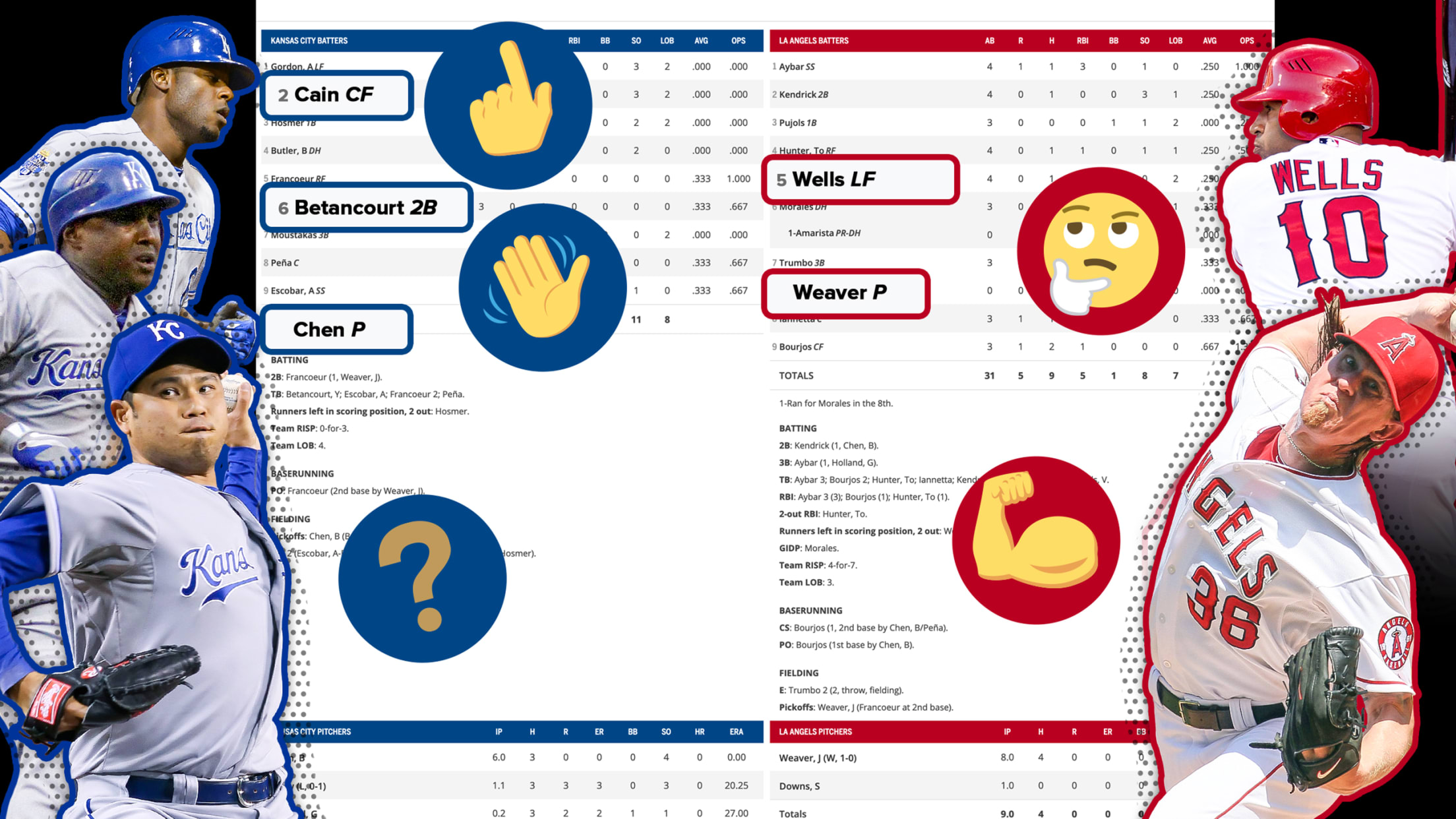 Eight years ago today, on April 6, 2012, a star arrived at Angel Stadium. No, it wasn't Mike Trout. He was way up the coast in Tacoma, Wash., playing for the Triple-A Salt Lake Bees, following his less-than-sensational 40-game MLB debut the previous year. The star was Albert Pujols. The
Eight years ago today, on April 6, 2012, a star arrived at Angel Stadium.
No, it wasn't Mike Trout. He was way up the coast in Tacoma, Wash., playing for the Triple-A Salt Lake Bees, following his less-than-sensational 40-game MLB debut the previous year.
The star was Albert Pujols. The previous December, the Angels lured him away from the 2011 World Series-champion Cardinals with a 10-year, $240 million contract. When the Halos opened their season at home against the Royals, there was Pujols, batting third and playing first base.
Excitement was high. Expectations were huge. And why not? At 32, Pujols already had punched his ticket to the Hall of Fame. No player in history had hit more home runs in his first 11 MLB seasons (445), and Willie Mays (87.4) was the only position player with more WAR in that time than Pujols' 86.6.
Pujols was productive that first year with the Angels, batting .285/.343/.516 (138 OPS+) with 30 homers, 105 RBIs and 4.8 WAR, although his number have declined in the years since. And in his debut, Pujols went 0-for-3 with a walk.
The Angels won 5-0, getting the Pujols Era off to a good start in Anaheim. That Opening Day victory is our box score of the day.
Player of the game: Jered Weaver, SP, Angels
This was Weaver at his peak, a maddening challenge for hitters. Even then, when Weaver was still in his 20s, his fastball averaged under 90 mph, though he cranked it up to a season-high 94 at one point in this one. But the lack of elite velocity didn't make him any easier to hit. From 2010-12, the right-hander went 51-25 with a 2.73 ERA and .216 opponent batting average, notching three straight All-Star selections and top-five Cy Young Award finishes.
On this night, the Royals had no chance, flailing at Weaver's breaking stuff while he cruised through eight scoreless innings. Kansas City managed just four hits, and Weaver piled up 10 strikeouts without walking anyone. It was the first of his 20 wins that season.
Remember him? Bruce Chen, SP, Royals
What a fascinating career. Chen, of Chinese descent but from Panama, was signed by the Braves in 1993, the start of a long and winding road in professional baseball. He debuted for Atlanta in '98 and was a top-five prospect heading into the following season, according to Baseball America. While the left-hander never quite reached that potential, he stuck around in the Majors for 17 seasons, with 11 teams.
In one two-year stretch from July 2000 through June 2002, Chen was traded by four National League East teams. He was the Mets' starting pitcher on the night baseball returned to New York after Sept. 11, 2001, and was briefly an Expo -- as it turned out, one of the last to remain active in MLB. Chen bounced from team to team but kept grinding. He found some late-career stability in Kansas City, pitching there from 2009-14, and he was solid for the Royals in this one, going toe-to-toe with Weaver for six scoreless innings.
Chen pitched his last MLB game with the Indians in 2015. When all was said and done, he logged more than 1,500 innings and won 82 games -- tied with Mariano Rivera for the most among those born in Panama.
He wore THAT uniform? Vernon Wells, LF, Angels
Wells was a cornerstone in Toronto during the 2000s, a three-time All-Star and three-time Gold Glove Award-winning center fielder who popped 223 home runs for the club. But the Blue Jays could not break through in the rough-and-tumble American League East, and Wells had a hefty contract that ran through 2014. So in January 2011, Toronto shipped the 32-year-old to Southern California for catcher Mike Napoli and outfielder Juan Rivera.
Unfortunately for the Angels, this was the start of a steep decline. While Napoli was flipped to Texas and had a career year in 2011, Wells hit .222/.258/.409 in 208 games with the Halos, including a 1-for-4 effort in the 2012 opener. He was shipped to the Yankees in 2013, his final season.
Before they were big: The Royals' lineup
You wouldn't have known it from the results in this game, but things were finally turning around in Kansas City after years of misery. Yes, the 2012 Royals would lose 90 games for the 12th time in 16 years, but the pieces of their latest rebuilding project were coming together.
Alex Gordon and Billy Butler already had been around for a while, but Lorenzo Cain and Alcides Escobar arrived in the Zack Greinke trade prior to the 2011 season, when highly touted prospects Eric Hosmer and Mike Moustakas also debuted. All were in the Opening Day lineup in 2012, and while Salvador Pérez was not, he also had cracked the Majors the year before. With that core in place, the Royals jumped over .500 the following season, then made it to two straight World Series, winning it all in 2015.
Last call: Yuniesky Betancourt, 2B, Royals
Betancourt, who had one of the Royals' four hits, returned to the club in the prior offseason, one year after he joined Greinke in the trade from Kansas City to Milwaukee. This was the second-to-last of his nine big league seasons, spent mostly as an everyday shortstop.
While his teams clearly valued him, modern analytics were far more skeptical, due to Betancourt's .285 career OBP and poor defensive metrics. Betancourt finished his career with -2.4 WAR, per Basebal-Reference, the lowest for any position player (minimum 4,000 plate appearances) to debut after 1975.
Since spending 2013 back with the Brewers, Betancourt continued playing professionally for several more years, mostly in Mexico.