Angels expect to find value with No. 10 pick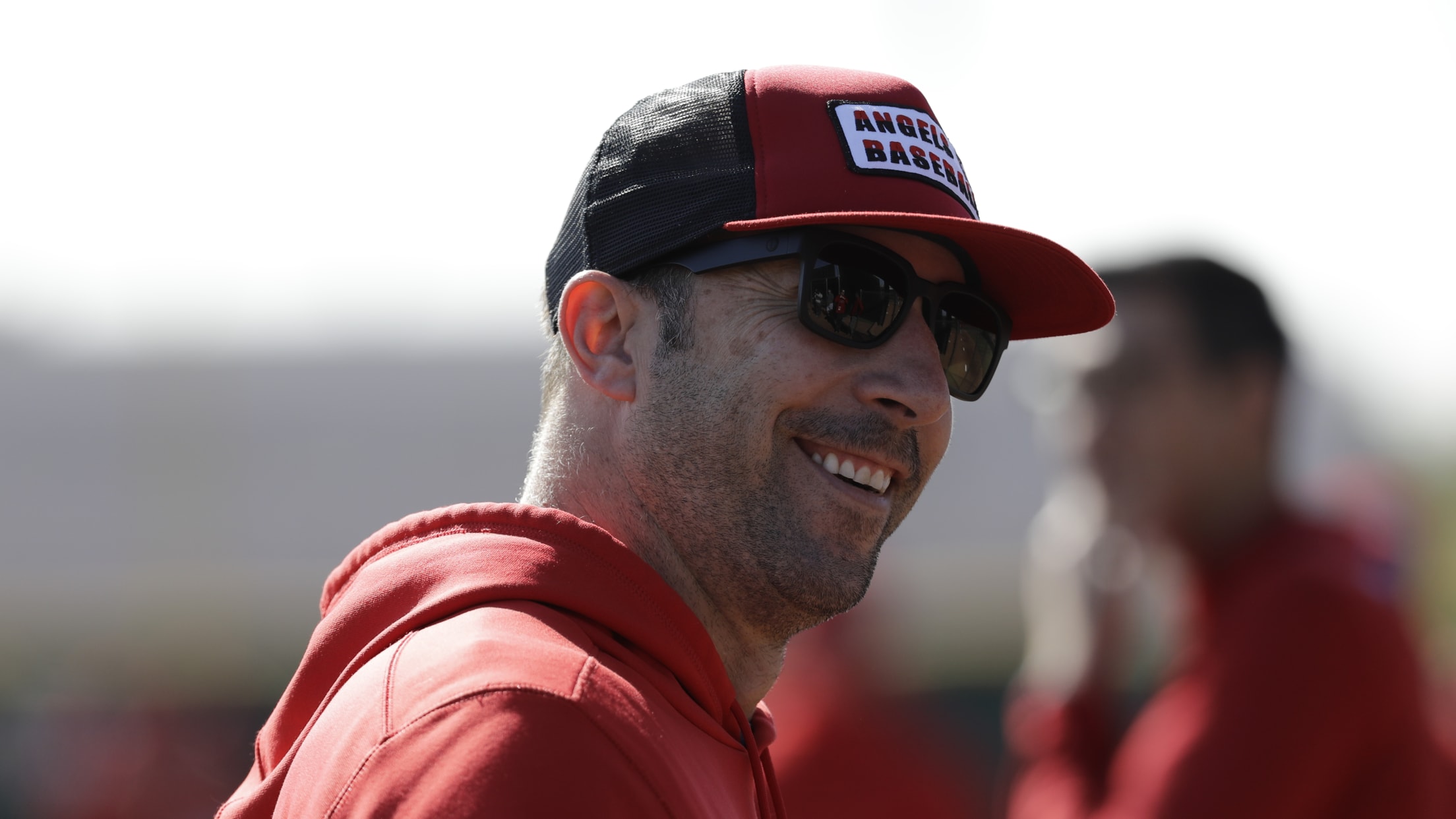 ANAHEIM -- The 2020 Draft will look different than in previous years, as it has been shortened to five rounds because of the coronavirus pandemic, instead of the usual 40 rounds. But the Angels still have a chance to add top talent to their farm system after coming off a
ANAHEIM -- The 2020 Draft will look different than in previous years, as it has been shortened to five rounds because of the coronavirus pandemic, instead of the usual 40 rounds. But the Angels still have a chance to add top talent to their farm system after coming off a disappointing season that saw them lose 90 games for the first time since 1999.
The Angels have their highest pick since 2017, when they took top prospect Jo Adell with the No. 10 overall selection. Adell has since blossomed into the No. 6 overall prospect, per MLB Pipeline, which shows there is a ton of value in holding the No. 10 overall pick.
It's the fifth Draft for scouting director Matt Swanson, who has favored athletic position players and pitching in recent Drafts. It's also an important Draft for general manager Billy Eppler, who is in the last year of his contract. After the five rounds of the Draft, clubs can spend a maximum of $20,000 per player on an unlimited number of undrafted amateurs.
Day 1 of the 2020 Draft airs tonight on MLB Network and ESPN at 4 p.m. PT and includes the first 37 picks. Day 2 begins at 2 p.m. PT on Thursday on MLB Network and ESPN2 and spans the remainder of the 160 picks.
Comprehensive coverage will be available on MLB.com and MLB Pipeline, which will simulcast MLB Network's broadcast. Go to MLB.com/Draft to see when teams pick, the Top 200 Prospects list, mock drafts from analysts Jim Callis and Jonathan Mayo, scouting video and more. And follow @MLBDraft and @MLBDraftTracker on Twitter to see what Draft hopefuls, clubs and experts are saying and to get each pick as it's made.
Here's how the Draft is shaping up for the Angels, whose first selection is the No. 10 overall pick:
State of the system
The Angels' farm system has been improving in recent years and is led by outfielders Adell and Brandon Marsh, who are both considered close to being Major League ready. The Angels also have shortstop prospects Jeremiah Jackson and Kyren Paris. Among pitchers, only left-hander Patrick Sandoval is considered close to the Majors. The Angels also don't have any catchers in their system who look like they'll become big league regulars.
Whom might they take?
The Angels have been linked to outfielder Robert Hassell (Independence High School, Tenn.), according to mock drafts from MLB.com's Callis and Mayo. But they're also interested in pitching, and University of Minnesota right-hander Max Meyer could be an option if he's available, as well as University of Oklahoma right-hander Cade Cavalli. With their lack of organizational depth at catcher, Patrick Bailey from North Carolina State could be an option, as he's considered the top college catcher available.
Money matters
Each team gets an allotted bonus pool equal to the sum of the values of its selections in the Draft. The more picks a team has, and the earlier it picks, the larger the pool. This year, with a five-round Draft, all signing bonuses of drafted players will apply toward the bonus pool total.
For 2020, there is a $20,000 limit on bonuses for non-drafted free agents. There is no limit to the number of undrafted players teams may sign, but they cannot go over $20,000 per player. These bonuses do not count toward the pool total.
The Angels have a pool of $6,397,100 to spend, including $4,739,900 to spend on their first selection.
Shopping list
The Angels have a plethora of athletic, up-the-middle position players in their system but not as many top-level pitching prospects who are considered close to the Majors. So that's why they've been linked to a few college pitchers who could move quickly through the system. Finding a catcher would also make sense, as they have no catchers ranked among their Top 30 prospects, per MLB Pipeline.
Trend watch
The Angels love athletic position players from the high school ranks, as evidenced by their selections of players such as Adell, Marsh, Paris, outfielder Jordyn Adams and second baseman Jahmai Jones in recent years. Last year, they bucked the trend a bit by selecting shortstop Will Wilson from North Carolina State, but he was traded in a move that sent Zack Cozart to the Giants to free up salary to sign third baseman Anthony Rendon to a seven-year deal. The Angels went heavy on pitching last year, taking a pitcher with every pick except one from Round 3 to Round 16 after selecting Wilson and Paris in the first two rounds.
Recent top picks
2019: Will Wilson, SS (Traded to Giants)
2018: Jordyn Adams, CF
2017: Jo Adell, CF
2016: Matt Thaiss, 1B
2015: Taylor Ward, 3B