Revamped offense slumping at wrong time
Angels have been outscored 29-13 during 6-game skid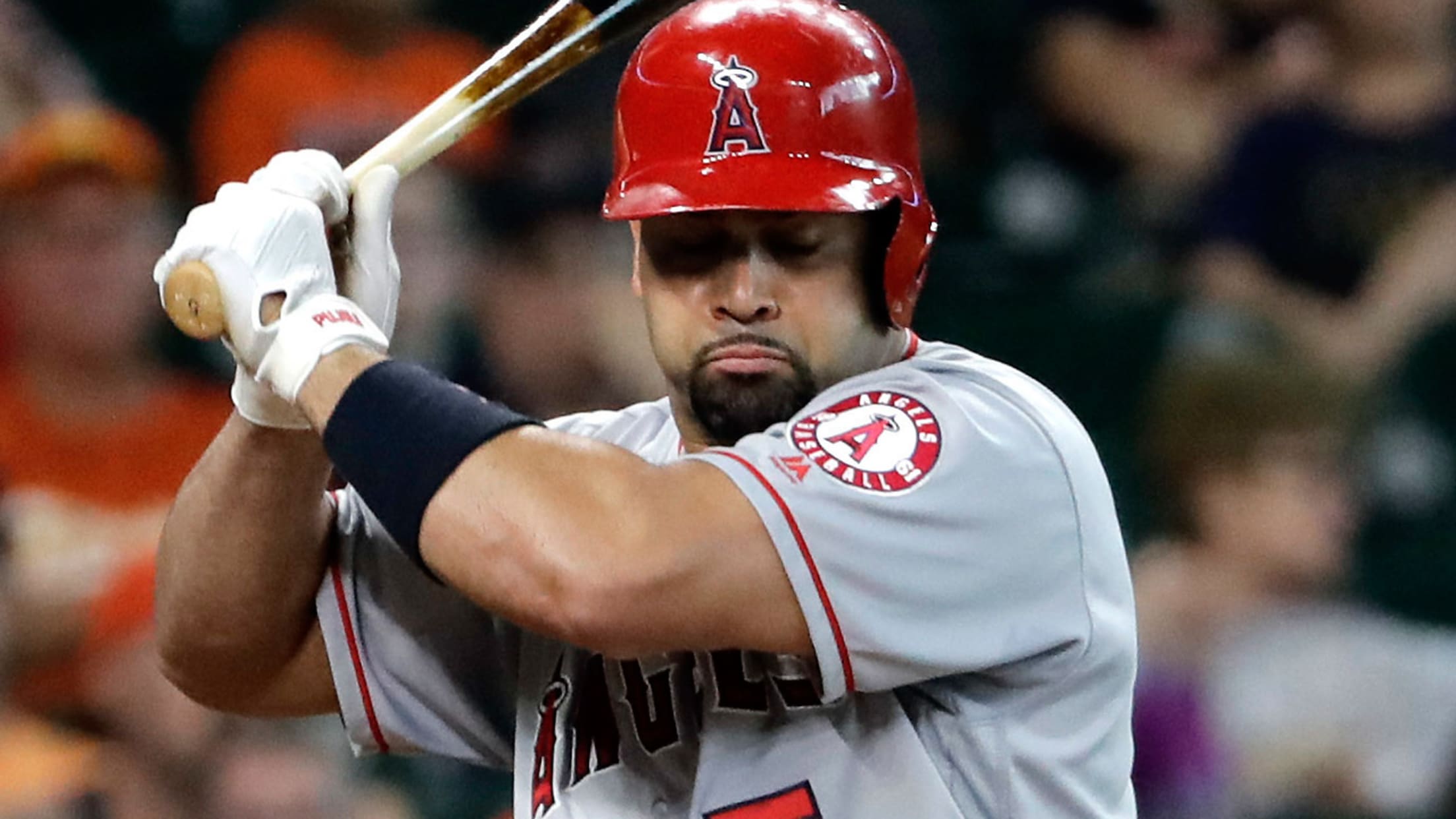 Albert Pujols has gone 1-for-5 in the two losses to the Astros, including grounding into a key double play Friday. (AP)
HOUSTON -- Time is running out for the Angels, who are on the outside looking in for an American League Wild Card berth. They're down to eight games remaining in the regular season and have some serious ground to make up on the Twins for the second Wild Card spot.On
HOUSTON -- Time is running out for the Angels, who are on the outside looking in for an American League Wild Card berth. They're down to eight games remaining in the regular season and have some serious ground to make up on the Twins for the second Wild Card spot.
On Saturday, the Angels' losing streak reached six following a 6-2 loss to the Astros at Minute Maid Park. The Angels managed only five hits, with two being home runs from Justin Upton, who has 34 on the season.
"Right now, there are a number of guys not having hits fall in, they're struggling," Angels manager Mike Scioscia said. "We missed a lot of pitches today. Hopefully, it's going to take that one spark [to] get these guys to get some momentum and pressure other teams.
"There are a number of guys that are out of sync a little bit, they're searching for timing."
Runs lately have been hard to come by for the Angels, who were shut out by the Astros and Justin Verlander, 3-0, on Friday. On Thursday, the Angels lost to the Indians, 4-1. The Angels have been outscored 29-13 in their last six games.
"Obviously, it's tough," said Michael Trout. "We just have to keep grinding."
With the late-season additions of Upton and Brandon Phillips, the Angels' lineup has gotten longer. But the team overall is slumping -- and not at a good time. Kole Calhoun is 1-for-7 in the first two games of the series, while Jose Pujols is 1-for-5.
"We're just missing pitches," Trout said. "It just comes down to that. It's about getting your pitch and not missing."
In the sixth inning against Charlie Morton, Trout came to the plate with Luis Valbuena at third and C.J. Cron at first with two outs. The two-time AL MVP Award winner was called out looking to end the inning.
"It's frustrating," said Trout, who went 0-for-4 Saturday after also going 0-for-4 Friday. "There's still eight games left. We have to finish off strong."
The three-game series with Houston concludes on Sunday night. The Angels then play the White Sox on the road for four games, followed by three games at home against the Mariners.
"It's winding down, but we're not out of it," Cron said. "We just have to find our bearings and string together quite a few wins in a row. We're going to stay positive."
Richard Dean is a contributor to MLB.com based in Houston.