One breakout player from every team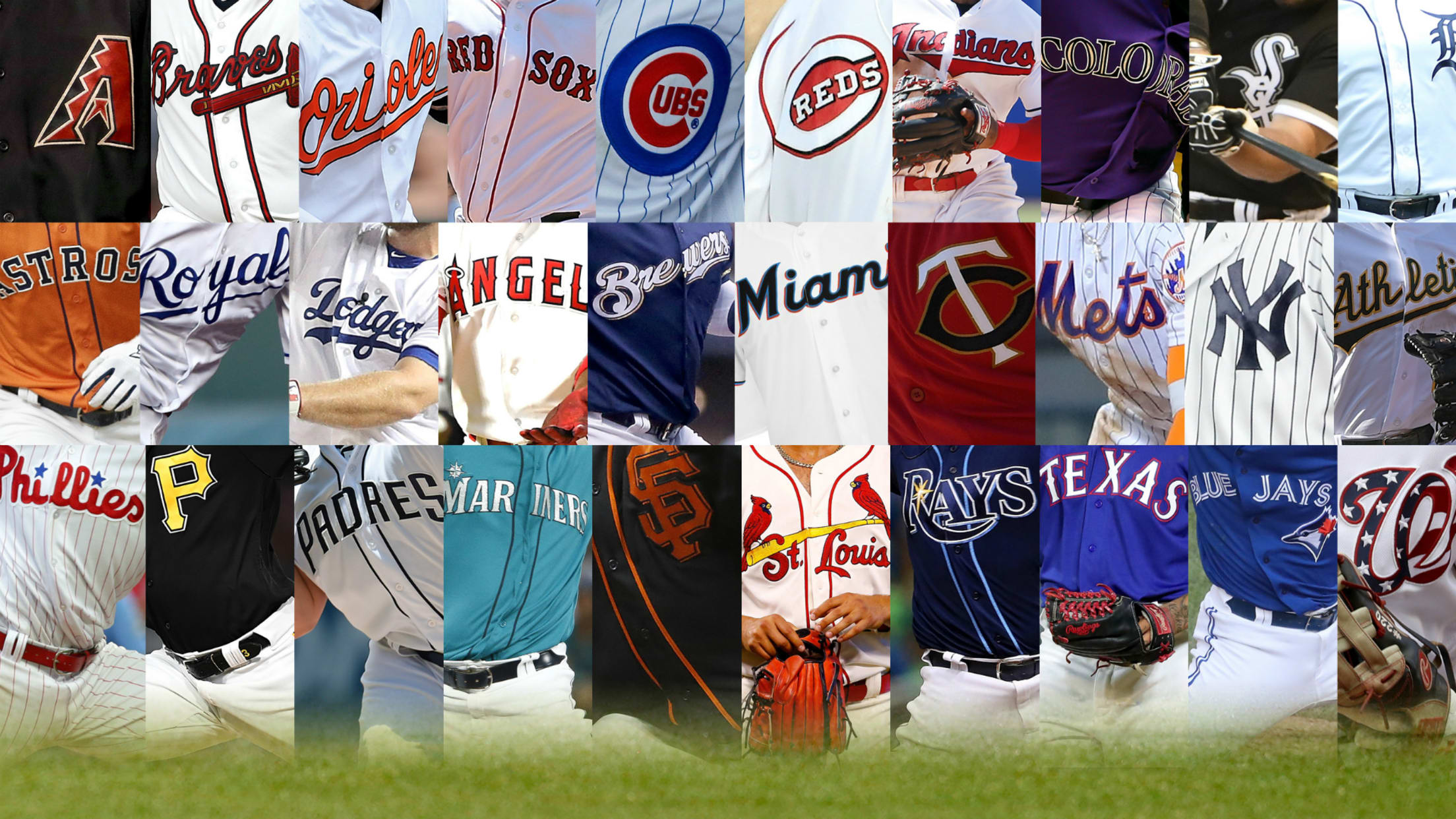 Not every player hits the ground running the minute they arrive in the Majors. Remember, Mike Trout hit .220 in his first season in the big leagues. But once he became Mike Trout, everyone knew it. He had his breakthrough season. And when you have your breakthrough season, it's impossible
Not every player hits the ground running the minute they arrive in the Majors. Remember, Mike Trout hit .220 in his first season in the big leagues. But once he became Mike Trout, everyone knew it. He had his breakthrough season. And when you have your breakthrough season, it's impossible for anyone to deny it.
So, today at the Thirty, we look at the players who broke through in 2019, who established themselves as players we'll be talking about for a long time. For the sake of clarity, we'll ignore rookies in this exercise. We're looking for someone who had made their way to the Majors … but this year made it clear they're not leaving any time soon.
AMERICAN LEAGUE EAST
Blue Jays -- Lourdes Gurriel Jr., OF, age 25: He actually had a bit of a tumultuous year, with injuries and positional changes, but not once did he ever stop hitting, improving his OPS from .755 to .891. Is it possible he's the most established hitter this young team will have in 2020?
Orioles -- Pedro Severino, C, age 26: Severino finally got a chance for some regular playing time this year, and he has taken advantage of it, showing off power we hadn't seen from him in the Majors before. His .422 slugging percentage is a very solid mark for a catcher.
Rays -- Austin Meadows, OF, age 24: To think that he was the other guy in the Chris Archer trade last year. Now he's an All-Star and maybe the Rays' best player. He leads the team in WAR (3.9), per FanGraphs.
Red Sox -- Rafael Devers, 3B, age 22: We all knew that the kid was going to bust loose one of these years. But did anyone see this coming (more than 30 homers and 50 doubles), and it coming so quickly?
Yankees -- Gleyber Torres, SS, age 22: On a team full of exciting young players, Torres might end up being the best of the bunch. He leads the Yankees in homers this year (38, up from 24 last year), and you wonder if he's going to do that for many, many years to come.
AMERICAN LEAGUE CENTRAL
Indians -- Shane Bieber, RHP, age 24: Not many people had Bieber as Cleveland's ace this year, but he has emerged as perhaps the most stable part of this once-vaunted rotation. Not only does he own a 3.23 ERA and 1.03 WHIP, his 1.7 walks per nine innings leads the league.
Royals -- Jorge Soler, RF, age 27: After waiting a couple of seasons on him, the Royals got all they could have hoped for out of Soler. He didn't just break the franchise home run record, he obliterated it, and is now tied with Trout for the AL home run lead at 45.
Tigers -- Matthew Boyd, LHP, age 28: When you've lost as many games as the Tigers have, it's tough to find many pearls, but Boyd has shown Detroit something this year many teams didn't know he had, striking out 31 percent of the batters he's faced.
Twins -- Jorge Polanco, SS, age 26: The Twins obviously liked Polanco before the season, considering they signed him to a contract extension right before camp opened. But did they know they were getting a stealth star who would hit 22 homers with an .852 OPS heading into the final week of the regular season?
White Sox -- Yoán Moncada, INF, age 24: Moncada cut his strikeout rate way down, from 33.4 percent to 27.7 percent, but kept his power, even increasing it. He's now a .300 hitter who can hit 25 homers as well … and he's still improving. Look out.
AMERICAN LEAGUE WEST
Angels -- Brian Goodwin, OF, age 28: The Angels are just looking for above-average players to fit in around Trout. Have they found one in the well-traveled Goodwin? They'll hope a 16-homer, .797-OPS season is just the beginning for him.
Astros -- Yuli Gurriel, 1B, age 35: Is 35 too old to break out? Maybe, but it's impossible to ignore 30 homers, 102 RBIs and a .900 OPS. Quite the year for the Gurriel family.
Athletics -- Mark Canha, OF/3B, age 30: Canha has been a big bat that no one, probably not even the A's, could have possibly been expecting. His .928 OPS and 26 homers have helped fuel the A's to the verge of their second consecutive postseason appearance.
Mariners -- Daniel Vogelbach, 1B/DH, age 26: With his 30 homers in 451 at-bats, this was the season we were all waiting for from him, and now he can settle in and have the Matt Stairs career he was always destined for.
Rangers -- Joey Gallo, INF/OF, age 25: He has been injured so long that you can forget just what a massive leap he made this season. Don't forget that .986 OPS, or the 22 homers he hit in just 241 at-bats. This is upper-level superstar material here, and we learned that this year.
NATIONAL LEAGUE EAST
Braves -- Max Fried, LHP, age 25: Even if you don't care about pitcher wins … Max Fried is not the guy anyone would have thought would be fighting for the league lead in pitcher wins this year, currently sitting on 17.
Marlins -- Sandy Alcantara, RHP, age 24: Marcell Ozuna may move on from St. Louis this year, but the newly minted All-Star Alcantara will be a centerpiece of the Marlins' rotation for a while. Since the start of August, he owns a 2.93 ERA, and opposing batters are hitting .195 against him.
Mets -- Jeff McNeil, INF/OF, age 27: He's still an over-.300 hitter, but now he has added power to his game, slugging .534 with 23 homers.
Nationals -- Juan Soto, LF, age 20: He clearly broke out as a rookie last year … but who in the world thought he'd be better this year? Not even 21 yet, he's increased his OPS year-over-year by nearly 40 points, to go along with 14 more homers.
Phillies -- Scott Kingery, INF/OF, age 25: The rookie year wasn't what anyone wanted, but this is the guy they'll want sticking around for the next near-decade, the guy who has 19 homers and 13 steals on the year to go along with an OPS nearing .800.
NATIONAL LEAGUE CENTRAL
Brewers -- Zach Davies, RHP, age 26: A team that desperately needed innings out of its starting pitchers has gotten 154 2/3 of them from Davies, who has quietly had the best season of his career with a 3.61 ERA.
Cardinals -- Kolten Wong, 2B, age 28: Wong's defense has long been elite, but now his bat has him hitting second in the order. He's posted a .784 OPS with 11 homers and 24 steals, and is the physical representation of the improvements the team has made under manager Mike Shildt.
Cubs -- Kyle Schwarber, OF, age 26: This might seem a strange thing to stay about the 2016 World Series hero, but … is this the year he finally started hitting the way we've all been expecting Kyle Schwarber to hit? His .523 slugging percentage and 37 homers suggest it very well might be.
Pirates -- Josh Bell, 1B, age 27: That untapped potential the Pirates had been looking forward to has finally been tapped, to the tune of 37 homers and 116 RBIs.
Reds -- Luis Castillo, RHP, age 26: Now that's the pitcher the Reds thought they had in his rookie year back in 2017. With his 3.25 ERA and 28 percent strikeout rate this season, Castillo and the Reds are going to be much more dangerous in 2020 than most people think.
NATIONAL LEAGUE WEST
D-Backs -- Ketel Marte, INF/OF, age 25: Suddenly you look around and realize … Marte is one of the most exciting young players in baseball. This is the absolute definition of a breakout player: a .329/.389/.592 slash line with 32 homers in 144 games.
Dodgers -- Cody Bellinger, 1B/OF, age 24: Remember, Bellinger only hit .260 with 25 homers last year. It felt like he had that many in May this year (he actually had 20 by the end of May, but who's counting?). He's gone from .260 with 25 homers to .302 with 46 homers entering the final week of the regular season.
Giants -- Austin Slater, 1B/OF, age 26: This is the sort of low-cost, quietly productive homegrown product one suspects we'll be seeing a lot of in San Francisco in the coming years. In 64 games, Slater is slashing .252/.350/.440.
Padres -- Kirby Yates, LHP, age 32: He was excellent last year, and has always been good in San Diego. But he's now maybe the best reliever in baseball, entering the final week of the season with a 1.19 ERA and 41 saves. Kirby Yates!
Rockies -- Carlos Estévez, RHP, age 26: Almost nothing has gone right in Colorado this year, but there's something to be said for a 26-year-old reliever who can keep his ERA under 4.00 in Denver -- it's 3.68 going into the final week.