Angels activate Canning, option Rodriguez
Mejia placed on restricted list; Jewel recalled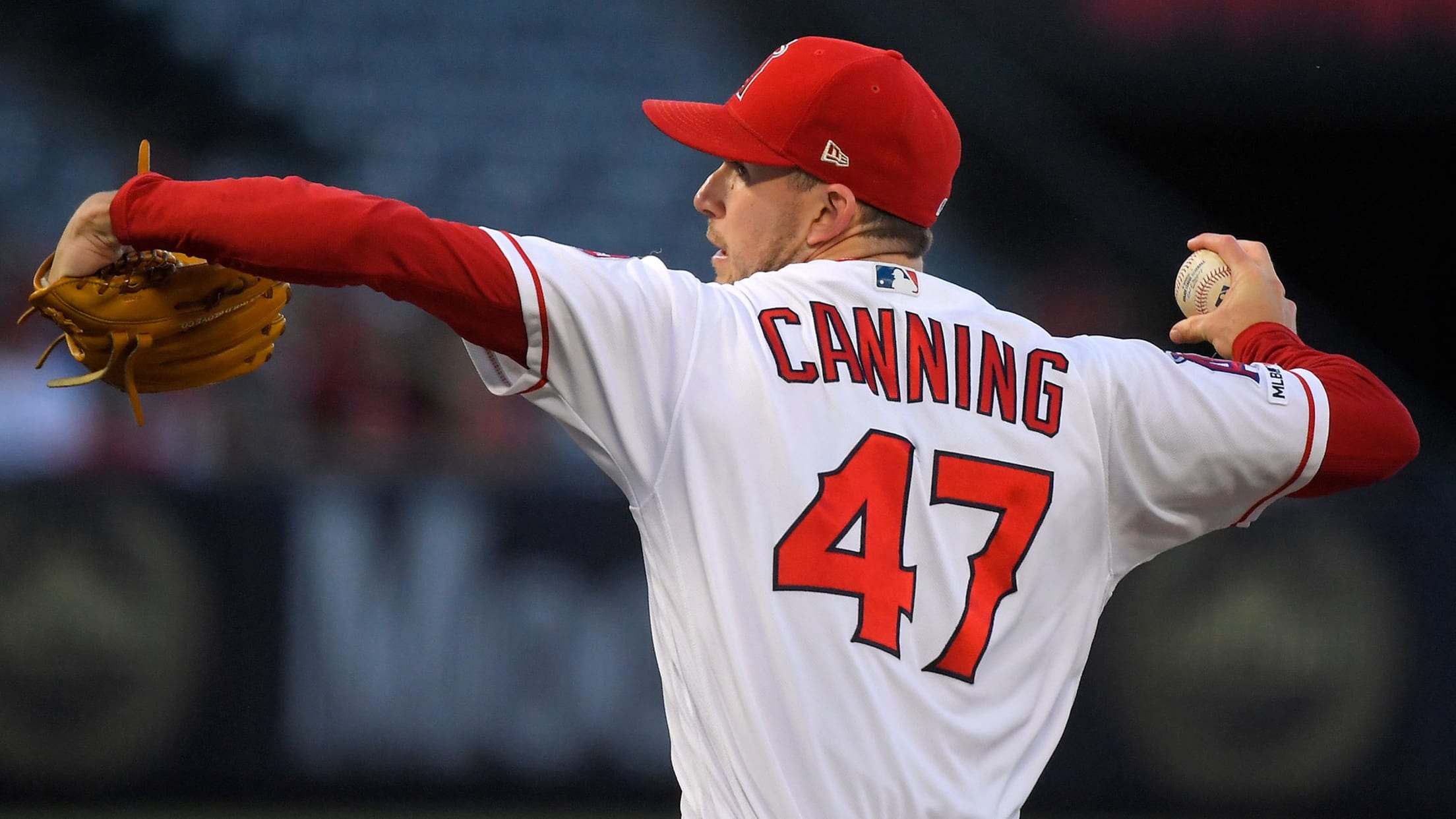 ANAHEIM -- The Angels made two roster moves Tuesday, with another on the horizon before the team's next series begins Thursday against the White Sox. In order to get right-hander Griffin Canning on the active roster to start Tuesday's game against the Pirates, right-hander Jose Rodriguez was optioned to Triple-A
ANAHEIM -- The Angels made two roster moves Tuesday, with another on the horizon before the team's next series begins Thursday against the White Sox.
In order to get right-hander Griffin Canning on the active roster to start Tuesday's game against the Pirates, right-hander Jose Rodriguez was optioned to Triple-A Salt Lake. In addition, left-hander Adalberto Mejía was placed on the restricted list to tend to a personal matter, while right-hander Jake Jewell was recalled.
Later this week, right-hander Noe Ramirez, who's been suffering from a stomach virus, is expected to be activated from the 10-day injured list, but he then will have to serve a three-day suspension for plunking the Astros' Jake Marisnick with a pitch.
Ramirez pitched in a simulated game at Angel Stadium on Tuesday, along with right-hander Luke Bard, who is on the IL with a triceps contusion. Manager Brad Ausmus raved about both pitchers, especially Ramirez.
"He felt good. He looked strong," Ausmus said. "Sometime in the next 48 hours we should be doing something with it."
Canning hadn't pitched since July 30 because of right elbow inflammation. He is 4-6 in his rookie season with a 4.76 ERA and has made 15 of his 16 appearances as a starter. Rodriguez was optioned one day after he was recalled and pitched four innings against the Pirates in his second career appearance. He gave up three runs, all on solo home runs.
Mejia has pitched in two games for the Angels since he was claimed off waivers from the St. Louis Cardinals last week. He recorded just one out in those two outings against the Red Sox, giving up three runs (two earned). It was the second time he was claimed off waivers by the Angels this season.
"I don't really have any other information or comment other than it's a personal matter that he has to tend to," Ausmus said.
Suarez stays
Left-hander Jose Suarez, who struggled in his start against the Pirates, will stay in the rotation, for now. Suarez gave up six runs (four earned) over three innings to the Pirates on Monday, one start after he gave up six earned runs in five innings against the Reds. He has a 10.22 ERA over his last three starts (12 1/3 innings).
"Well, I mean, part if it is the pitching situation that we are in and the starters we have available," Ausmus said. "We still have to have a starter out there every fifth day. We do want him to maintain his confidence, and that can be difficult when you get hit around. But for the foreseeable future, he's going to be in the rotation."
The rookie is 2-4 with a 6.57 ERA over the first 11 starts of his career.
Glove work
Ausmus admits that the Matt Thaiss experiment at third base has been bumpy, but he is determined to have patience. Thaiss had two errors Monday to give him six in 18 games at third, but Ausmus wants to give the rookie the space he needs as he learns a new position with infield coach Mike Gallego.
"It's been what, two months at third base?" Ausmus said of the natural first baseman. "You can't experience every ground-ball angle, every different type of ground ball in two months. And there are other things that go into it, knowing the speed of runner, the speed of the hitter. The longer you play, the better honed your internal clock is."
Throw day
Shohei Ohtani, who continues to recover from Tommy John surgery nearly a year ago, threw a bullpen session Tuesday. It is the ninth bullpen session for the two-way player since he started throwing from a mound again.
Ohtani continues to throw just fastballs and remains at about 80 percent of full velocity as he continues in his quest to pitch during the 2020 season.