Looking back at top 2017 Draft picks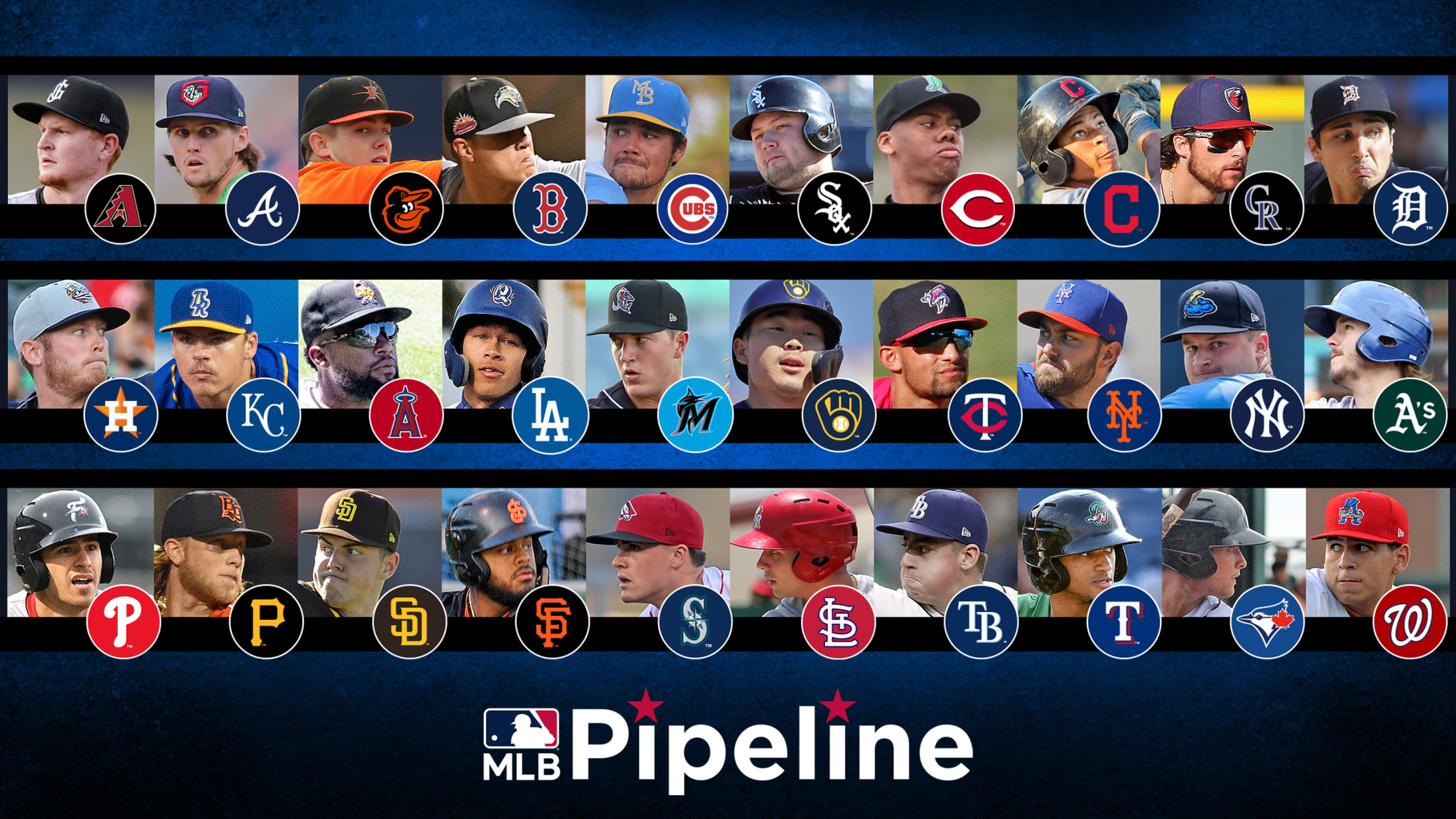 The 2017 Draft has yet to make much of an impact on the big leagues. Three years later, just nine players have reached baseball's highest level, and only No. 9 overall choice Keston Hiura (Brewers) has put up eye-popping numbers in more than a small sample size. Four first-round picks
The 2017 Draft has yet to make much of an impact on the big leagues. Three years later, just nine players have reached baseball's highest level, and only No. 9 overall choice Keston Hiura (Brewers) has put up eye-popping numbers in more than a small sample size.
Four first-round picks have reached the Majors: Brendan McKay (Rays, No. 4 overall), Kyle Wright (Braves, No. 5), Adam Haseley (Phillies, No. 8) and Hiura. That's only one more than the total of longshots who have climbed the summit: Padres seventh-rounder Nick Margevicius, Indians ninth-rounder James Karinchak and Astros 26th-rounder Josh Rojas.
All that said, the best should be yet to come. Four of the first nine prospects on MLB Pipeline's Top 100 hail from the 2017 Draft -- Padres left-hander MacKenzie Gore (No. 3 overall), Angels outfielder Jo Adell (No. 10), Blue Jays right-hander Nate Pearson (No. 28) and Twins shortstop Royce Lewis (No. 1) -- as do 15 other members of the list.
Here's a look at the status of each team's top selection from three years ago:
AMERICAN LEAGUE EAST
Blue Jays: Logan Warmoth, SS/2B
Possessing two first-round picks in 2017, Toronto took Warmoth, a North Carolina shortstop, at No. 22 overall before landing hard-throwing right-hander Nate Pearson, the club's current top prospect, at No. 28. Warmoth opened 2018 at No. 5 on the Blue Jays Top 30 list but has since fallen off, batting just .242 with four homers in 180 games across his first two full seasons.
Orioles: DL Hall, LHP (No. 3/MLB No. 69)
Hall was the second-best high school lefty in this Draft class, behind only MacKenzie Gore, and Hall is now on the back end of the Top 10 LHP Prospects list, headed by Gore. Hall continues to have premium stuff that hitters haven't squared up throughout his pro career, including at the Futures Game in 2019, and he just needs to keep refining his command to become a frontline starter.
Rays: Brendan McKay, LHP/DH (No. 2/MLB No. 15)
Selected with the No. 4 overall pick in the '17 Draft after a storied career at Louisville that included a trio of John Olerud Two-Way Player of the Year Awards, McKay bounced back from an injury-plagued first full season to ascend from Double-A to the Majors in 2019, posting a 5.14 ERA with 56 strikeouts across 49 innings en route a spot on the Rays' postseason roster.
Red Sox: Tanner Houck, RHP (No. 10)
Houck has moved quickly as expected, reaching Triple-A two years after going 24th overall out of Missouri, and the Red Sox remain committed to developing him as a starter despite a low arm slot that some scouts outside the organization believe will make him a reliever in the long term. His best pitches remain his heavy 92-96 mph sinker and sweeping slider, and he has made some progress with his changeup, putting him on the cusp of reaching the big leagues.
Yankees: Clarke Schmidt, RHP (No. 2/MLB No. 88)
Though Schmidt had Tommy John surgery a month before the 2017 Draft, the Yankees still took the South Carolina product 16th overall and used the savings to give second-round right-hander Matt Sauer an over-slot bonus. Schmidt since has developed into New York's best pitching prospect, with his 92-97 mph fastball, low-80s curveball and tumbling changeup all grading as plus pitches at their best.
AMERICAN LEAGUE CENTRAL
Indians: Quentin Holmes, OF
Cleveland surrendered its 2017 first-rounder as compensation for signing free agent Edwin Encarnación and used its top choice (second round) on Holmes, a New York high schooler and the fastest player in the Draft. But he has proved the adage that you can't steal first base by hitting .176/.242/.275 in his first three pro seasons.
Royals: Nick Pratto, 1B (No. 12)
Pratto, whom the Royals took with the No. 14 pick, had a big up arrow next to his name after he batted .280/.343/.443 with 49 extra-base hits and 22 stolen bases in his first full season. But the move up to Class A Advanced Wilmington in '19 proved a challenge for the 20-year-old, leading to an underwhelming .191/.278/.310 line and a nearly 35 percent strikeout rate.
Tigers: Alex Faedo, RHP (No. 9)
Selected with the No. 18 pick in the 2017 Draft, Faedo ranked as MLB Pipeline's No. 59 overall prospect ahead of his pro debut but lost much of his prospect shimmer as the season unfolded, with the right-hander showing lesser velocity and overall stuff and struggled in his first Double-A exposure. The 24-year-old righty did, however, rebound successfully in '19, compiling a 3.90 ERA and 134/25 K/BB in his return to the Eastern League.
Twins: Royce Lewis, SS (No. 1/MLB No. 9)
The No. 1 overall pick in the Draft, Lewis has more or less lived up to the expectations, reaching Double-A as a 20-year-old and going to the Futures Game. He put an uneven 2019 season behind him by winning MVP honors in the Arizona Fall League. His combination of tools, instincts and smarts all point to him being an impact player, perhaps at multiple positions.
White Sox: Jake Burger, 3B (No. 15)
The first Missouri State position player ever selected in the first round, Burger went 11th overall on the basis of his right-handed power. He hasn't played since the summer of 2017, however, because he ruptured his left Achilles tendon in Feburary 2018, tore it again during rehab three months later and lost last season to a severely bruised left heel.
AMERICAN LEAGUE WEST
Angels: Jo Adell, OF (No. 1/MLB No. 6)
Even though he missed a couple of months at the start of the 2019 season, Adell made it to Triple-A at age 20 and then showed why he was the No. 10 overall pick in this Draft. He has incredible raw power that he will undoubtedly get to consistently, and while there is some swing-and-miss to his game, he's shown the ability to make enough adjustments for it not to be an issue. He's just about ready to knock down the big league door.
Athletics: Austin Beck, OF (No. 18)
Beck had missed his summer showcase circuit season with a torn ACL but showed off enough athleticism and raw tools as a high school senior in North Carolina for the A's to take a chance on him No. 6 overall. After making some adjustments and playing relatively well in his first full season, he regressed in 2019, striking out in more than 34 percent of his plate appearances. He has trouble recognizing breaking stuff and can sell out for power too much.
Astros: J.B. Bukauskas, RHP (D-backs No. 10)
Bukauskas' explosive mid-90s fastball and sharp mid-80s slider gave him one of the best 1-2 punches in the Draft and landed him with Houston as the 15th overall choice out of North Carolina. Inconsistency and an automobile accident that left him with a slipped disc have slowed his progress, and the Astros shipped him to Arizona last July as part of the Zack Greinke trade.
Mariners: Evan White, 1B (No. 4/MLB No. 56)
If we were in the middle of a normal season, White would have already graduated off of prospect lists. The Mariners had so much confidence in he Kentucky product, who went No. 17 overall, that they signed him to a six-year contract before he'd played a game above Double-A. The best defensive first baseman in the Minors, he's ready to take over the position in Seattle right now.
Rangers: Bubba Thompson, OF (No. 15)
A star Alabama prep quarterback recruited by Southeastern Conference football programs, Thompson was one of the best athletes in the Draft but a series of injuries has hampered him as he tries to translate his five-tool potential into production. The 26th overall selection, he has the bat speed, strength and well-above-average foot speed to become a 25-25 player, but he needs to refine his pitch recognition and plate discipline to get there.
NATIONAL LEAGUE EAST
Braves: Kyle Wright, RHP (No. 4/MLB No. 52)
The No. 5 overall pick out of Vanderbilt, Wright did live up to billing as an advanced college arm who could move quickly by making his big league debut just over a year after being drafted. He's had trouble establishing himself in Atlanta since, but still shows off the legit four-pitch mix that made him such a high Draft pick in the first place. His command has been inconsistent in his time with the Braves, the main obstacle keeping him from being a solid big league starter.
Marlins: Trevor Rogers, LHP (No. 8)
The 13th overall choice, Rogers was the highest-drafted New Mexico high school pitcher since Duane Ward went ninth in 1982. He didn't make his pro debut until May 2018, when he was already 20 1/2, but made up for lost time by climbing to Double-A last year while working mainly off a deceptive 90-96 mph fastball and a solid changeup.
Mets: David Peterson, LHP (No. 10)
Taken 20th overall in the 2017 Draft, Peterson made the jump to Double-A last season and struck out 122 batters while tossing 116 innings of 4.19-ERA ball and posting the Eastern League's third-best ground-ball rate. As the Mets' most advanced pitching prospect, Peterson, with his strike-throwing ability and extreme ground-ball tendencies, is nearly ready to join the team's big league rotation.
Nationals: Seth Romero, LHP (No. 9)
Getting kicked off the University of Houston team as a junior didn't stop the Nationals from taking Romero, a left-hander with some of the best pure stuff in the class, with the 25th overall pick. Off-the-field issues cropped up again in early 2018, leading to Romero's dismissal from Minor League camp, and Tommy John surgery in the fall wiped out his entire '19 campaign. The southpaw made a healthy return during fall instructional league and impressed club officials by flashing three above-average or better pitches in his lone outing.
Phillies: Adam Haseley, OF
Haseley was a two-way player at Virginia when the Phillies took him No. 8 overall for his bat. He hit his way to Double-A in his first full season and was up in the big leagues in June of 2019, contributing as a solid rookie in the Phillies' lineup and becoming one of the few on this list of 2017 draftees to graduate off of prospect lists.
NATIONAL LEAGUE CENTRAL
Brewers: Keston Hiura, 2B
Billed as the top hitter in the 2017 Draft before the Brewers selected him ninth overall, Hiura, a UC Irvine product, raked his way up to Double-A in his first full season and continued to crush the ball at Triple-A in 2019, leading to his first big league callup in mid-May. The rookie second baseman went on to compile 2.0 WAR in 84 games for the Brewers, slashing .303/.368/.570 with 19 homers and 23 doubles.
Cardinals: Scott Hurst, OF
Stripped of their first- and second-round picks in 2017 as punishment for the previous year's hacking scandal, the Cardinals used their first overall pick (third round) on Hurst, a left-handed-hitting outfielder from Cal State Fullerton. He had a promising first full season but struggled against more advanced competition in 2019, producing a .217/.287/.299 line between Class A Advanced Palm Beach and Double-A Springfield.
Cubs: Brendon Little, LHP (No. 29)
After working just four innings as a North Carolina freshman in 2016, Little broke out in the Cape Cod League that summer and emerged as the 27th overall pick in 2017 after transferring to the State JC of Florida, Manatee-Sarasota. He still can flash the lively 91-96 mph fastball and low-80s hammer curveball that made him a first-rounder, but he doesn't do so or throw strikes on a consistent basis. Chicago used a second first-rounder (30th overall) on Louisiana State right-hander Alex Lange, though he underwhelmed before going to the Tigers in a trade for Nicholas Castellanos last July.
Pirates: Shane Baz, RHP (Rays No. 5/MLB No. 90)
The Pirates took Baz out of the Texas high school ranks as the No. 12 overall pick, but won't get to see what he becomes in black and gold. He was the player to be named later in the Chris Archer trade in 2018 and is now one of the best pitching prospects in a stacked Rays system. He pitched well in his full-season debut in 2019 and showed off premium stuff against older competition in the Arizona Fall League.
Reds: Hunter Greene, RHP (No. 2/MLB No. 53)
Greene and his premium power stuff went No. 2 overall in this Draft. He showed off that stuff during the first half of his first full season, especially with a Futures Game performance that featured many fastballs over 100 mph. Unfortunately, an elbow strain led to Tommy John surgery after rehab was unsuccessful, forcing him out for all of the 2019 season. The good news is all reports of his progress post-surgery have been good and he doesn't turn 21 until August.
NATIONAL LEAGUE WEST
D-backs: Pavin Smith, 1B/OF (No. 24)
One of the top prospects in the 2017 class, Smith batted .342/.427/.570 and homered more often than he struck out in his three years at Virginia before going to the D-backs with the seventh-overall pick. After a relatively nondescript start to his career, the 24-year-old finally turned the corner last year in Double-A, batting .337/.407/.548 with seven bombs and 15 doubles over his final 60 contests while producing some of the better exit velocities in the organization.
Dodgers: Jeren Kendall, OF
Kendall had the best all-around tools of any college player in the 2017 Draft and Los Angeles thought it had gotten a steal when signability and swing-and-miss concerns dropped the Vanderbilt star into its lap with the 23rd overall choice. But he has hit .223/.309/.413 with a 32 percent strikeout rate in three seasons while failing to advance past high Class A.
Giants: Heliot Ramos, OF (No. 3/MLB No. 65)
The best Puerto Rican prospect in the Class of 2017, Ramos has lived up to expectations since turning pro as the 19th overall pick. He reached Double-A at age 19 last season and fits the right-field profile nicely with his ability to hit for average and power and his plus arm.
Padres: MacKenzie Gore, LHP (No. 1/MLB No. 5)
The 2017 Gatorade National Player of the Year signed for $6.7 million after the Padres selected him with the No. 3 pick. He ranked as MLB Pipeline's No. 19 overall prospect ahead of the 2018 season and had moved up to No. 15 on the list in 2019, when the precocious southpaw paced the Minors (100 IP min.) in ERA (1.69) and WHIP (0.83), ranked second in opponent average (.164), third in strikeout-to-walk rate (28.3 percent) and fifth in strikeout rate (35.7 percent) en route to MLB Pipeline's Pitching Prospect of the Year honors.
Rockies: Ryan Vilade, 3B (No. 4)
The Rockies didn't have a first-round pick in 2017, with Vilade being their first selection at No. 48 overall. While he's gotten off to slow starts in the first half of his two full seasons, he's finished strong and really started to click in the second half of the 2019 season, showing off excellent hit and power tools. He's moved around defensively a bit, adding the outfield last year, but it's pretty clear he has a first-round-caliber bat that will play somewhere soon.