Astros Foundation Share2Care 50/50 Raffle
presented by LGI Homes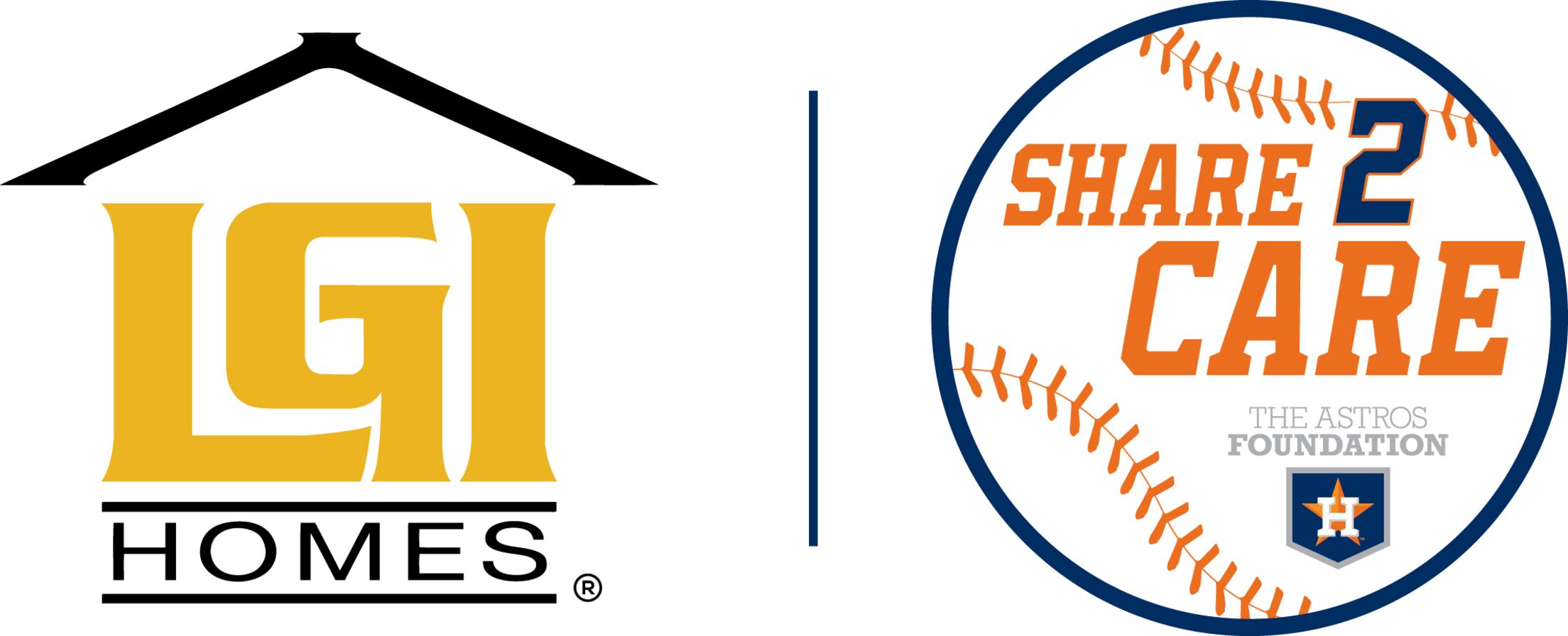 Support the Astros Foundation by participating in our 50/50 Raffle, presented by LGI Homes. Purchase tickets throughout the ballpark during all home games at Minute Maid Park. One lucky fan will win big every time!
The one winning ticket will be selected each game with the winner receiving half of that game's net raffle proceeds and the Astros Foundation receiving the other half! The Astros Foundation seeks to harness the passion of baseball fans to support youth sports and education programs, the recognition/honor of our nation's military, childhood cancer and domestic violence awareness and efforts to reduce homelessness.
Prize claims may be made at the Community Clubhouse located near Section 109 by presenting the winning ticket during the game or by emailing [email protected] to schedule a time to claim the raffle prize during normal business hours at the Astros Foundation Office. All prize claims must be made within 30 days of the raffle that the prize was awarded during.
The Astros Foundation is looking for enthusiastic individuals to sell charitable 50/50 raffle tickets during Astros home games this season.
Minor League Affiliates
| Game | Winning Ticket | Winning Amount | Prize Claimed? | Total Raised | Winner | Charity |
| --- | --- | --- | --- | --- | --- | --- |
| October 23 vs. Rangers | O-8427732 | $59,113 | No | $118,226 | | Astros Foundation |
| October 22 vs. Rangers | W-3991833 | $68,527 | Yes | $137,054 | Kennethjo Kelley | Astros Foundation |
| October 16 vs. Rangers | T-4252933 | $45,554 | Yes | $91,107 | John Bollmer | Astros Foundation |
| October 15 vs. Rangers | N-7194800 | $72,055 | Yes | $144,110 | Astros Foundation | Astros Foundation |
| October 8 vs. Twins | I-8628132 | $52,884 | Yes | $105,768 | Wayne Love | Astros Foundation |
| October 7 | W-8724346 | $58,847 | Yes | $117,694 | Bobbie Fortier | Astros Foundation |
| September 24 vs. Royals | A-1388886 | $20,358 | Yes | $40,716 | Lisa Wallace | Coaches Outreach |
| September 23 vs. Royals | Z-5066375 | $25,596 | Yes | $51,192 | Maureen & Donna | Astros Foundation |
| September 22 vs. Royals | Y-6422404 | $24,192 | Yes | $48,384 | Cynthia Poetz | Astros Foundation |
| September 20 vs. Orioles | X-4821682 | $21,632 | Yes | $43,263 | Astros Foundation | Astros Foundation |
| September 19 vs. Orioles | W-4451482 | $15,615 | Yes | $31,230 | Patricio Saenz, III | Camp Hope |
| September 18 vs. Orioles | V-5026634 | $14,567 | Yes | $29,133 | Astros Foundation | Astros Foundation |
| September 13 vs. Athletics | U-5623627 | $22,451 | Yes | $44,901 | Roberto Sosa | New Danville |
| September 12 vs. Athletics | T-8709932 | $12,398 | Yes | $24,795 | Vicki Martin | Astros Foundation |
| September 11 vs. Athletics | S-3592008 | $11,291 | Yes | $22,581 | David Hogue | Astros Foundation |
| September 10 vs. Padres | R-7816747 | $19,895 | Yes | $39,789 | Paola Montaya | Fire Fighters Foundation of Houston |
| September 9 vs. Padres | Q-8841720 | $26,604 | Yes | $53,208 | Patricio Saenz, III | Astros Foundation |
| September 8 vs. Padres | P-2265333 | $20,768 | Yes | $41,535 | John Castillo | Astros Foundation |
| September 3 vs. Yankees | O-3704228 | $23,391 | Yes | $46,782 | Travious Lewis | Astros Foundation |
| September 2 vs. Yankees | N-7065898 | $20,597 | Yes | $41,193 | Sherry Lee | Astros Foundation |
| September 1 vs. Yankees | M-3920649 | $22,932 | Yes | $45,864 | Jaime Acosta | Yes to Youth |
| August 24 vs. Red Sox | L-3290094 | $15,953 | Yes | $31,905 | Rhonda Sykes | Astros Foundation |
| August 23 vs. Red Sox | K-6099085 | $22,370 | Yes | $44,739 | Cynthia Cameron | Astros Foundation |
| August 22 vs. Red Sox | J-2764487 | $13,941 | Yes | $27,882 | John Spath | Astros Foundation |
| August 21 vs. Red Sox | I-2249933 | $15,768 | Yes | $31,536 | Juan Aguinaga | Astros Foundation |