Opportunity for Reed to earn roster spot
First baseman sheds some weight, ready to contribute in 2018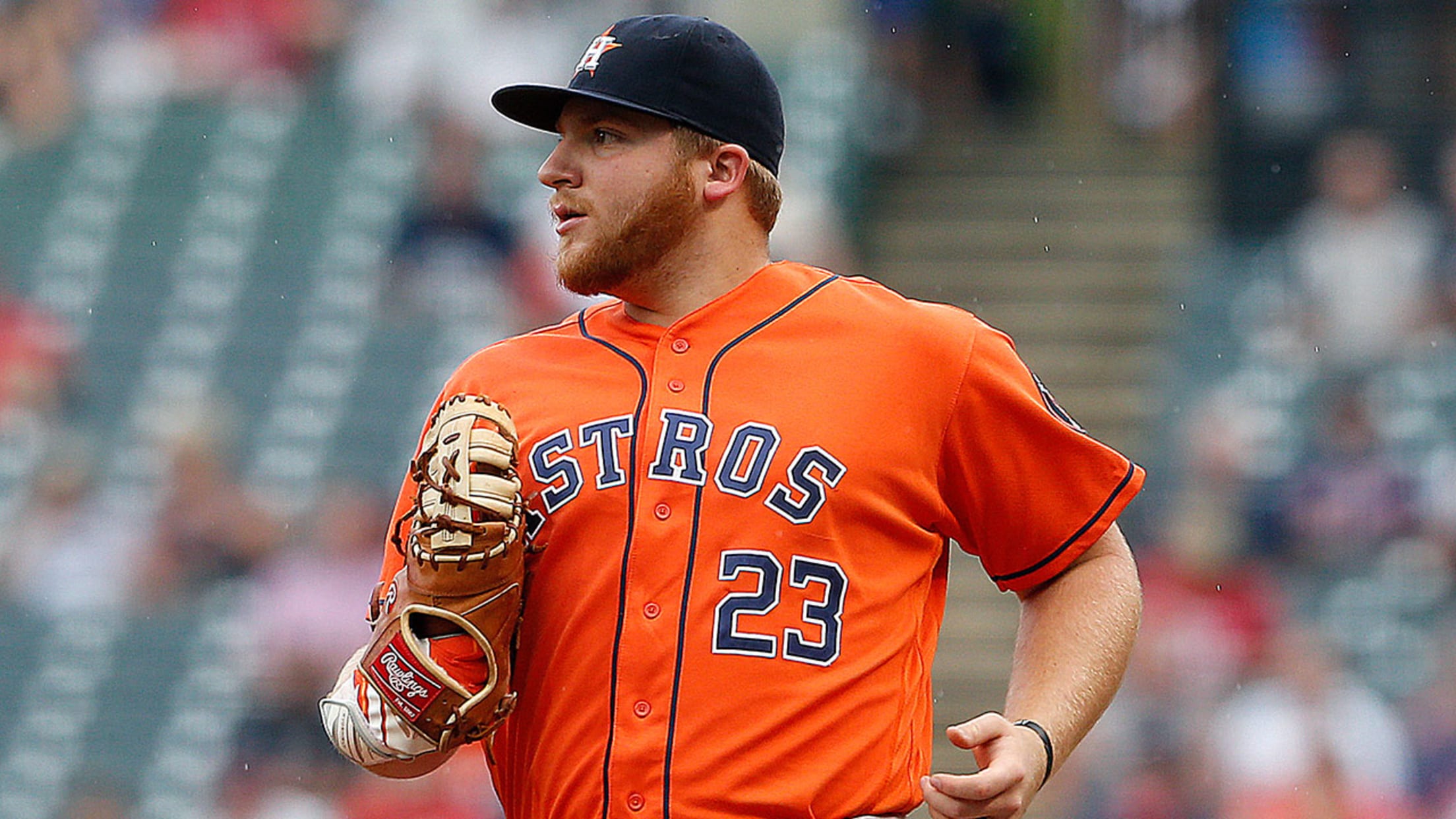 WEST PALM BEACH, Fla. -- The Astros still have confidence in first base prospect A.J. Reed, and the club's second round pick in the 2014 Draft remains a viable piece of the 2018 puzzle. Another left-handed bat with power is what Reed hopes to provide for the Astros this season.Manager
WEST PALM BEACH, Fla. -- The Astros still have confidence in first base prospect A.J. Reed, and the club's second round pick in the 2014 Draft remains a viable piece of the 2018 puzzle. Another left-handed bat with power is what Reed hopes to provide for the Astros this season.
Manager A.J. Hinch met with Reed on Tuesday to tell him he will have every opportunity to make the team coming out of camp. With starting first baseman Yuli Gurriel beginning the season on a five-game suspension, Reed will certainly have his chance to earn a roster spot.
• Astros Spring Training information
"I don't think Reed's been given full opportunity to show what he can do," Hinch said. "We're a tough team to crack; the at-bats are really hard to come by. I told him that." After a solid second half of the 2017 season with Triple-A Fresno, Reed fully expected to be called up to the Astros' expanded roster. But that call never came.
"It was upsetting," Reed said. "I felt like it was going to happen, and then it didn't. That's something that I've just got to get over. I feel like I did what I needed to do in the off season to show improvement."
Reed dropped 25 pounds and is hoping to make a fresh start in camp.
"I really like that he's taking his career seriously," Hinch said. "He's trimmed down a little bit. He's happy, and I think he's starting to grow up,
"We didn't call him up in September because the at-bats were sparse, and we wanted to keep a small clubhouse. He warranted a callup last year. He warrants a callup this year. I wanted to let him know face-to-face that's why we didn't call him up."
Friday's starter to be named on Wednesday
Hinch said that he wanted to take a look at live batting practice on Tuesday before making a decision on a starting pitcher to open Grapefruit League play on Friday. He said he'd probably name a starter on Wednesday.
:: Spring Training coverage presented by Camping World ::
First impressions
With position players joining pitchers and catchers on Monday, Hinch was afforded his first look at a full workout. For the most part, he liked what he saw.
"I thought James Hoyt came to camp in really good shape," Hinch said of the right-handed reliever vying for the final bullpen spot. "I thought he threw the ball pretty well,
"Tony Sipp threw some pretty good splits [Monday]. I think that's encouraging. It's the first day, and the first time these guys are seeing hitters. So I'm trying not to draw too many conclusions."
Smith, Keuchel throw bullpens
Joe Smith and Dallas Keuchel threw bullpens on Tuesday and will get back into the rotation to throw live BP when their turn comes around.
Rondon's role to be determined
Newly acquired right-handed reliever Hector Rondon has worn many hats out of the bullpen over his five-year career, all with the Cubs. What role he'll assume in an Astros uniform will be determined by what he shows in camp.
"There's a very good likelihood that he's pitching leverage innings," Hinch said on Tuesday. "We're going to ask all of our guys to be selfless in the innings that they're used. So if I have to use him in the middle of the game that's important, I will. But he's going to be a big part of our 'pen."
Rondon was signed as a free agent on Dec. 15.
"I expect him to come in, work on his slider," Hinch said. "He's got a great presence about him. He's very confident. He's very routine-based, which I've watched over the first few days here."
Glenn Sattell is a contributor to MLB.com.