Feliz optioned day after 107-pitch relief outing
Astros call up righty Devenski from Triple-A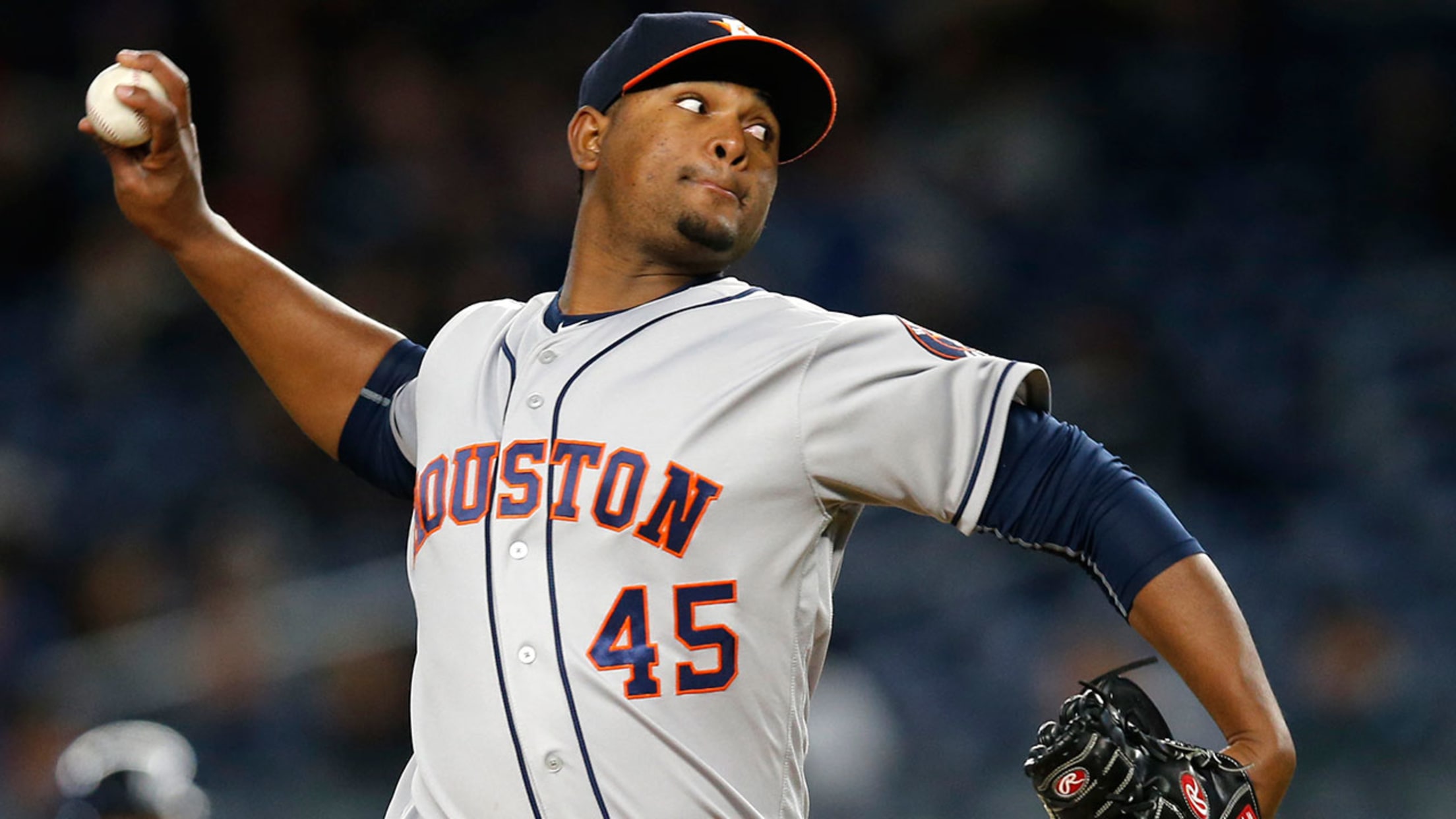 Michael Feliz pitched 4 1/3 innings against the Yankees on Wednesday. (AP)
NEW YORK -- After throwing 107 pitches in a relief role Wednesday night, Astros right-hander Michael Feliz was optioned to Triple-A Fresno on Thursday. The team purchased the contract of right-hander Chris Devenski, who was scheduled to start the Grizzlies' season opener Thursday night in Las Vegas.Astros manager A.J. Hinch
NEW YORK -- After throwing 107 pitches in a relief role Wednesday night, Astros right-hander Michael Feliz was optioned to Triple-A Fresno on Thursday. The team purchased the contract of right-hander Chris Devenski, who was scheduled to start the Grizzlies' season opener Thursday night in Las Vegas.
Astros manager A.J. Hinch didn't want to be without a long reliever after having to extend Feliz, especially with rain delays possible Thursday. Collin McHugh, who started Wednesday's game, allowed six runs (five earned) in one-third of an inning, and Feliz followed with 4 1/3 innings in a 16-6 loss to the Yankees.
"A game like last night always creates a debate on how much pithing you have moving forward," Hinch said. "We have another 10 games in a row before the off-day. We decided to make a move and bring in another arm.
"... This spot in the bullpen has a chance to be a back-and-forth scenario when stuff like this happens, and we have some flexibility with guys. Getting Devenski up here is a nice addition. He made a nice run at the end of camp to factor into the decision, and his length and his ability to get righties and lefties out and what he showed with his changeup in camp, his energy that he will bring, will be a good addition."
Devenski, 25, spent last season at Double-A Corpus Christi, going 7-4 with a 3.01 ERA and two saves in 24 games (17 starts). When the Hooks' season was done, he was summoned to Fresno for the playoffs, throwing seven scoreless innings with nine strikeouts and one hit in the Triple-A National Championship.
In the past 10 days, Feliz was told he was being sent to Minor League camp, told he was coming back to big league camp, told he made the Opening Day roster, pitched against the Yankees and was sent out again as a necessity.
"Where he's at in his career, he understands he's got some work left to do, but nobody likes it," Hinch said. "Certainly that type of game creates a situation. If we hadn't had that kind of game, we're not having this conversation. Feliz woke up as a big leaguer and now he's going to be at Triple-A to meet the team for the opener of his season. It's difficult and the way of the world for guys like him at this point in his career, but we'll take the team needs first."