Fister proud of Fresno State NCAA tourney team
Right-hander pitched for Bulldogs before being drafted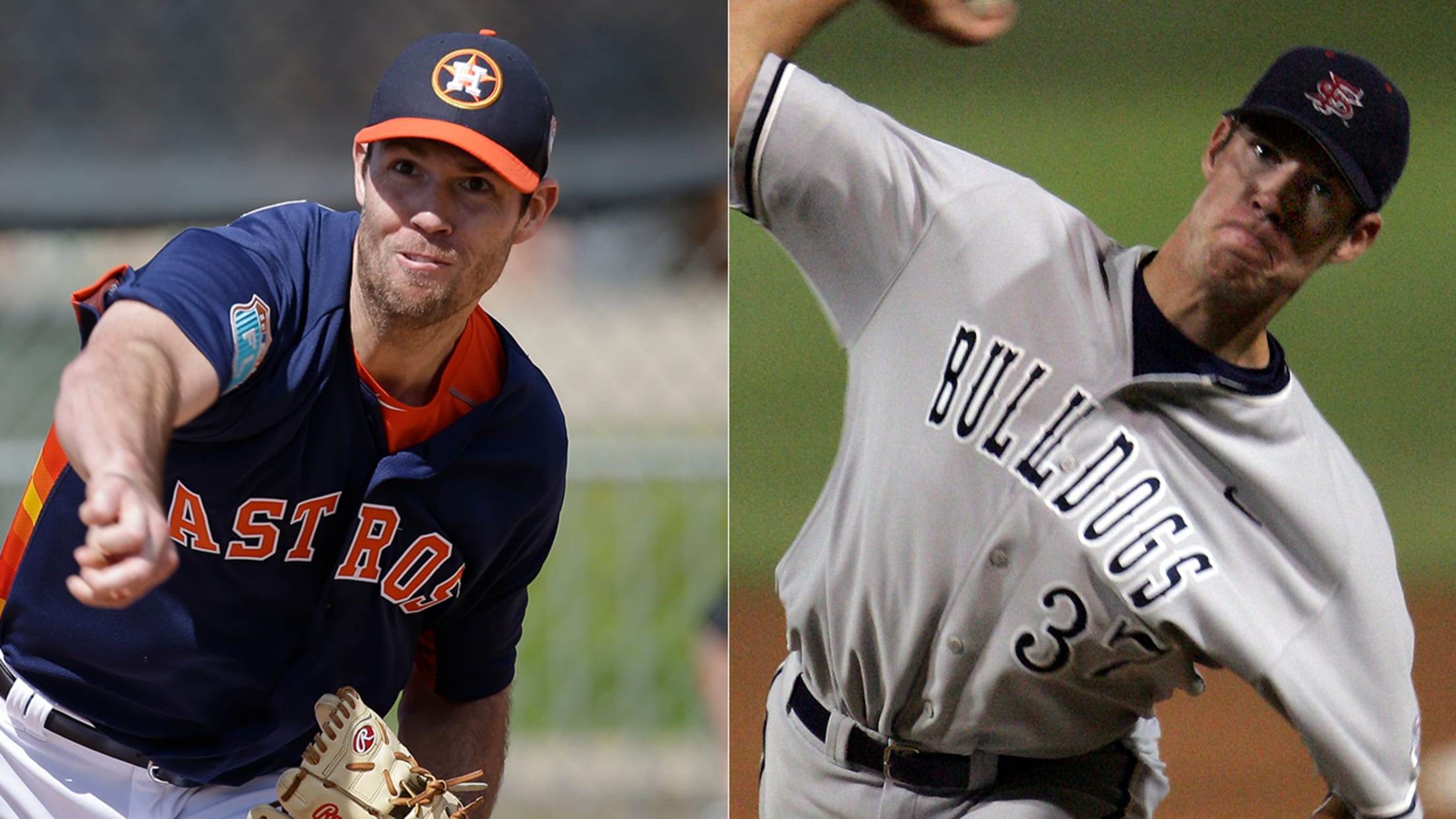 Astros right-hander Doug Fister was drafted by the Mariners out of Fresno State. (AP Images)
KISSIMMEE, Fla. -- Don't sleep on his Bulldogs. That's the message from Astros pitcher Doug Fister, a proud Fresno State alum who is taking great pride in the men's basketball team reaching the NCAA Tournament for the first time in 15 years.Fresno State beat San Diego State in the Mountain
KISSIMMEE, Fla. -- Don't sleep on his Bulldogs. That's the message from Astros pitcher Doug Fister, a proud Fresno State alum who is taking great pride in the men's basketball team reaching the NCAA Tournament for the first time in 15 years.
Fresno State beat San Diego State in the Mountain West Conference tournament championship game Saturday, punching the Bulldogs' first ticket to the big dance since 1991. Fister was 17 years old at the time and wouldn't enroll at Fresno State until a few years later, so he understands the significance of his team in March Madness.
"I'm pretty sure they've got a decent chance," said Fister when asked if he was going to pick the Bulldogs to advance in the tournament. "I don't know exactly how it's going to play out. I think the field is pretty even this year, and that's going to be a good thing. It will be interesting to see."
Fister grew up and lives in Merced, Calif., which is about an hour from Fresno. He graduated from Golden Valley High School in Merced and played two years at Merced Junior College (2003-04) before transferring to Fresno State, where his father, Larry, played football in 1976-77. Both his sisters went there as well.
Fister won 15 games and posted a 4.20 ERA in two seasons at Fresno State before being drafted in the seventh round by the Mariners in 2006.
"When you go to a school, especially like Fresno State, you have a lot of Bulldog pride," he said. "You back each other. You're a student-athlete there and obviously a student comes first, but the athletes there are something special. They do a lot for our community back home and that's a wonderful thing. For these guys to make it to the tournament this year, it's such an uplifting time and the students get involved. It's a goosebumpy-type feeling for a lot of people."
Fister said he'll be glued to the TV when the Bulldogs play later this week.
"Obviously, when it comes time for the tournament, you pay a lot more attention, but at the same time I spend a lot of time watching the baseball team there, too, and sticking with those guys," Fister said.