Gattis, Stassi ignite Astros in win over Braves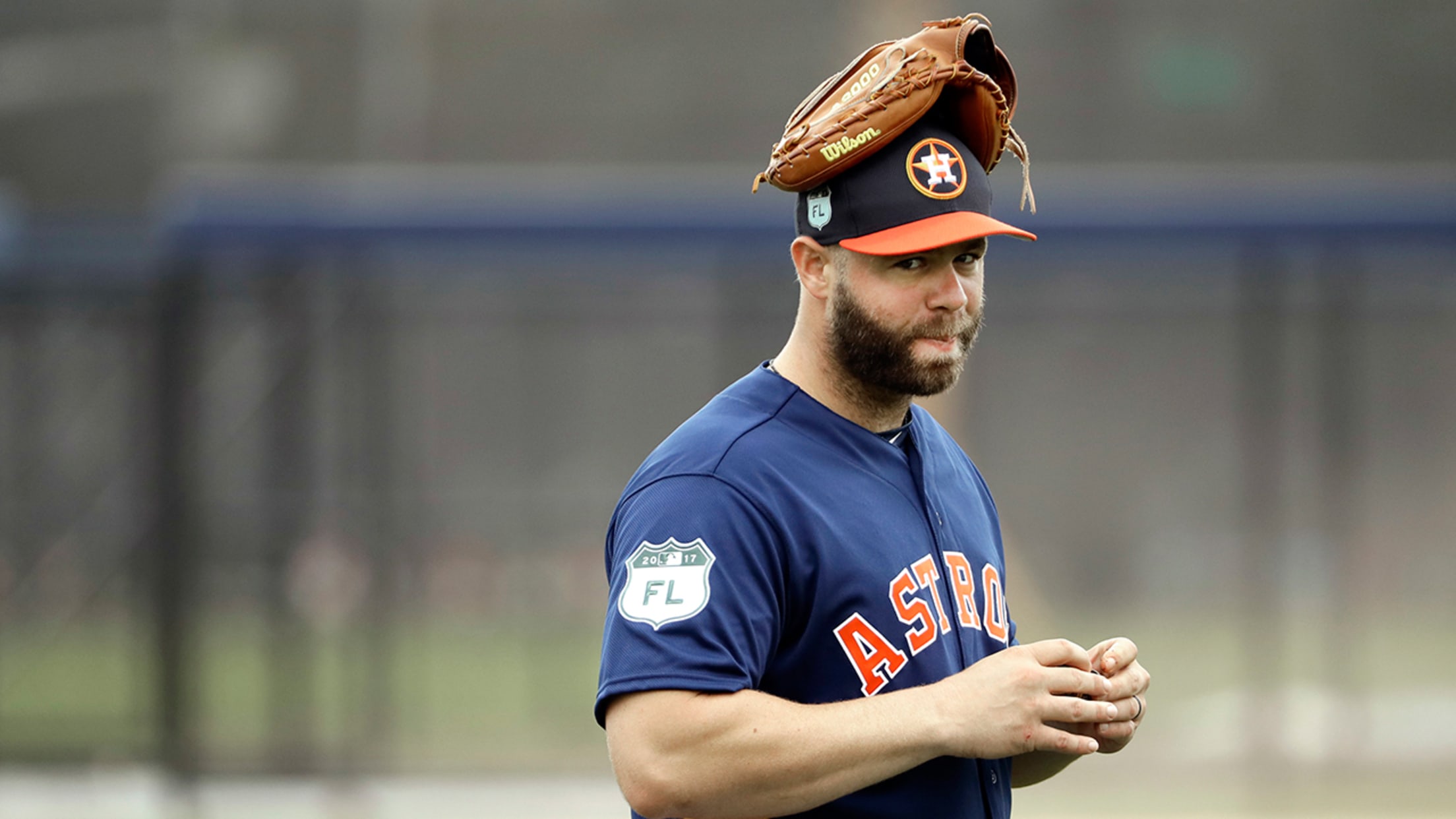 Evan Gattis knocked in the Astros' first run of the game with a single. (AP)
LAKE BUENA VISTA, Fla. -- Freddie Freeman recorded two hits and his former Atlanta teammate Evan Gattis enjoyed his return to ESPN's Wide World of Sports complex on Sunday, as the Astros used Max Stassi's two-run homer in the eighth inning to claim a 3-2 win over the Braves.Stassi's two-run
LAKE BUENA VISTA, Fla. -- Freddie Freeman recorded two hits and his former Atlanta teammate Evan Gattis enjoyed his return to ESPN's Wide World of Sports complex on Sunday, as the Astros used Max Stassi's two-run homer in the eighth inning to claim a 3-2 win over the Braves.
Stassi's two-run shot off Jose Ramirez proved decisive for the Astros as they claimed their first win of the Grapefruit League season. Ramirez notched a pair of strikeouts in a scoreless seventh inning, but he retired just two of five batters faced in the eighth.
Prepping to play for Canada in the World Baseball Classic, Freeman began his two-hit performance with a first-inning RBI single that scored Ender Inciarte, who had reached with a leadoff double off Astros starter Brady Rodgers. Matt Kemp concluded the first with a double-play groundout, and Rodgers finished his two-inning spring debut with a perfect second inning.
• Inspired by teammates, Rodgers 'taking notes'
"I felt really good warming up, just didn't carry it over to the first inning," Rodgers said. "I was a little tense. I wasn't happy with the first inning. But I did make some pitches, made a pitch to Kemp and got a couple plays to end the inning, and then second inning, I was more relaxed and felt like myself."
Braves starting pitcher Julio Teheran allowed one hit over two scoreless innings, and he took a step closer toward preparing himself to pitch for Colombia in the World Baseball Classic. Teheran narrowly avoided Norichika Aoki's line-drive single to begin the game and stranded two runners in the first inning.
• A.J. Hinch admires Aoki's 'meticulous nature'
"[Teheran] was pretty good," Braves manager Brian Snitker said. "He threw some pretty good breaking balls behind in the count and kept the ball down really well. He popped a few fastballs for his first time out. It was a good outing for Julio."
Playing in his final Grapefruit League game before traveling to Japan for the World Baseball Classic, Aoki walked against Aaron Blair to begin the third inning and scored on a game-tying single by Gattis, who was one of the Braves' most popular players before he was traded to the Astros before the 2015 season.
UP NEXT
Astros: Outfielders George Springer and Josh Reddick and first baseman Yulieski Gurriel will make their Grapefruit League debuts when the Astros travel to Port St. Lucie to face the Mets at 12:10 p.m. CT on Monday. Joe Musgrove, one of the favorites for the fifth-starter spot, will start the game for Houston.
Braves:R.A. Dickey will test his knuckleball as he makes his first Grapefruit League start when Atlanta travels to Lakeland on Monday to play the Tigers at 1:05 p.m. ET. After getting a chance to rest on Sunday, shortstop Dansby Swanson is expected to be back in the Braves' lineup, which will face Jordan Zimmermann.
Watch every out-of-market regular-season game live on MLB.TV.
Mark Bowman has covered the Braves for MLB.com since 2001.