Altuve takes significant step toward returning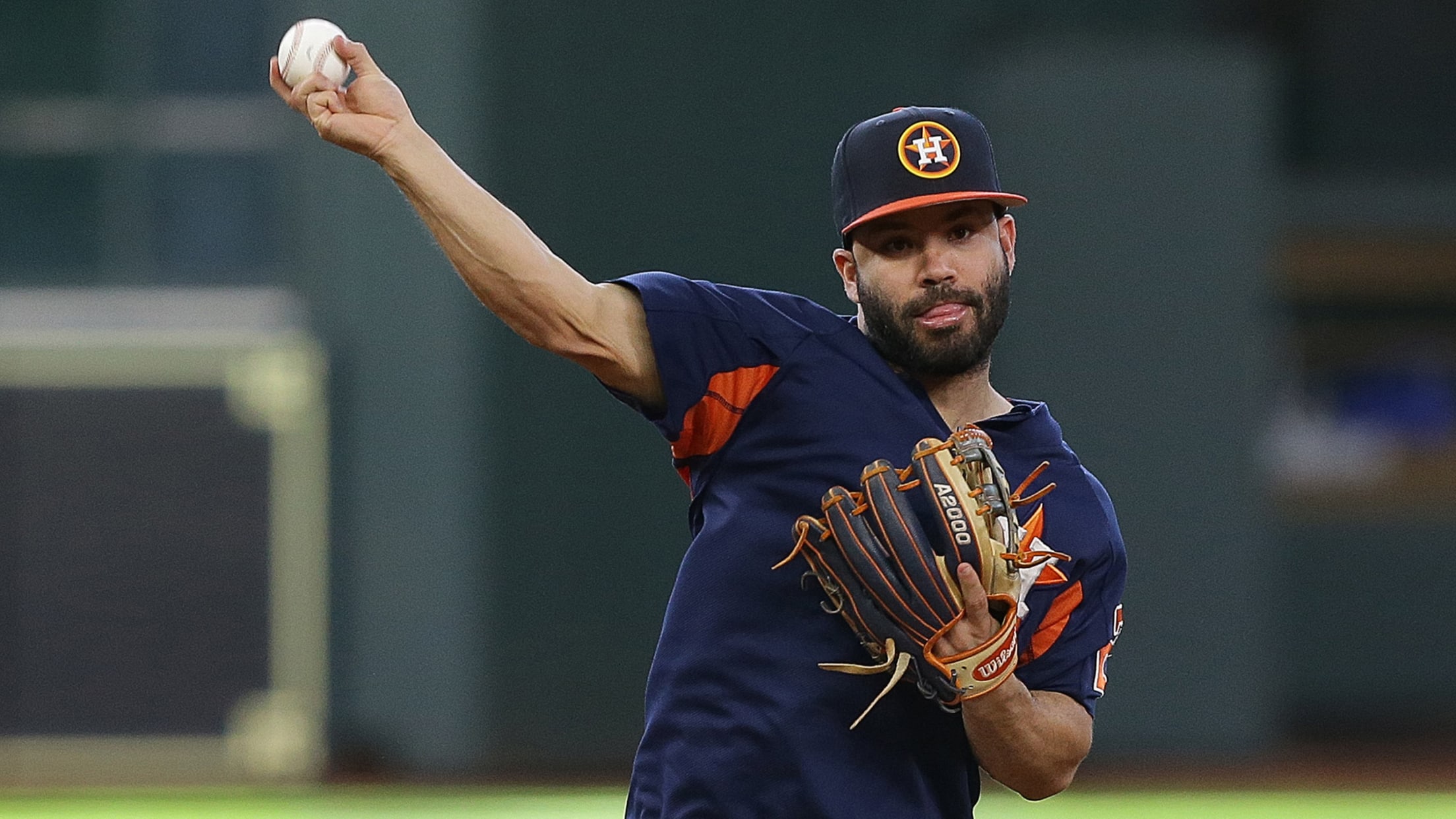 HOUSTON, TX - AUGUST 15: Jose Altuve #27 of the Houston Astros throws to first base during infield practice before a baseball game against the Colorado Rockies at Minute Maid Park on August 15, 2018 in Houston, Texas. Altuve is on the disabled list with no date of return. (Photo by Bob Levey/Getty Images) (Bob Levey/Getty Images)
HOUSTON -- All-Star second baseman Jose Altuve took a significant step towards returning from the disabled list when he fielded grounders and took practice on the field at Minute Maid Park prior to Wednesday's game against the Rockies.Altuve, who's been out since July 25 with a sore right knee, declined
HOUSTON -- All-Star second baseman Jose Altuve took a significant step towards returning from the disabled list when he fielded grounders and took practice on the field at Minute Maid Park prior to Wednesday's game against the Rockies.
Altuve, who's been out since July 25 with a sore right knee, declined to talk to reporters, but manager AJ Hinch said, "we had a really good day with Jose." Hinch said Altuve also ran on the field earlier in the day.
"It's a good step," he said. "Look, anything he does moving forward towards playing is a good sign. Everybody wants to know a timeline. I do, too; so does he. We're going to meet after all this activity and put the next step in order."
Even though the Astros are off on Thursday [and flying to San Francisco in advance of the Oakland series], Altuve will work out again at Minute Maid Park, Hinch said. He's expected to travel with the team on its road trip.
Worth noting
• Hinch said the Astros might not name a starting pitcher for Tuesday's game in Seattle until Monday, though it's likely to come earlier. The Astros have been taking advantage of off-days in the schedule to use a four-man pitching rotation since Lance McCullers went on the disabled list Aug. 5 with a muscle strain in his right forearm, but they'll need another starter on Tuesday.
The Astros have a pair of former starters in the bullpen in Collin McHugh and Brad Peacock, but they could also call up a pitcher from the Minor Leagues.
"If it's internally on our current team, we can make the decision up 'til exchanging the lineups [Tuesday]," Hinch said. "We might, based on how we use the pitching over the weekend and in the first game against Seattle. Obviously, we'd have to make some arrangements if it was somebody from our Minor League system. We'll talk about it over the weekend. I'm not going to limit myself with any of the candidates."
• Hinch said All-Star outfielder George Springer is "almost certain" to be activated from the disabled list prior to Friday's series opener against the A's in Oakland. Springer has been out since spraining his left thumb on Aug. 5 against the Dodgers, but has been doing full baseball activities pregame for a couple of days.
• Right-hander Chris Devenski threw two-thirds of an inning Tuesday night in his first rehab outing at Triple-A Fresno and will throw again Friday. Devenski is on the disabled list with right hamstring tightness.