Players Alliance offers help at Houston event
HOUSTON -- Last summer, a group of Black Major League players, past and present, banded together to form the Players Alliance, a non-profit group intended to improve representation of Black Americans in all levels of baseball. One of its most impactful projects is ongoing: a 33-city tour helping underserved communities
HOUSTON -- Last summer, a group of Black Major League players, past and present, banded together to form the Players Alliance, a non-profit group intended to improve representation of Black Americans in all levels of baseball. One of its most impactful projects is ongoing: a 33-city tour helping underserved communities hit hard by the COVID-19 pandemic.
The two-month tour, which features a partnership between the Players Alliance and Pull Up Neighbor -- a Black-owned community response team -- has been traveling the country since Dec. 1, providing food, COVID-19 resources and baseball equipment to families in need.
• Players Alliance forges ahead for change | Viral star gets more gear
On Saturday, the tour rolled through Houston, home to dozens of Major League players, some retired and others who are just beginning their careers. Several were on hand to participate in the event, which took place in a neighborhood approximately three miles north of downtown Houston.
"Houston's a major city, and there are a lot of baseball players here that like to show support for the city and do things on their own," said former outfielder Chris Young, a native of Houston. "For us to have something this large come through the city, I think it's amazing."
A huge thank you to the @Player_Alliance and the Pull Up Neighbor Tour for a great day of giving back in the Houston community! #ForTheH pic.twitter.com/HxkoQAFIhC

— Houston Astros (@astros) January 9, 2021
Michael Bourn and Jason Bourgeois joined Young on the list of former players who participated in the event. Pirates third baseman Ke'Bryan Hayes, a budding star who posted a 1.124 OPS and hit five home runs in his debut season in 2020, represented the current players, as did veteran outfielder Jay Bruce (a free agent) and Twins right-hander Tyler Duffey.
Among the Minor League players who attended were pitcher Simeon Woods Richardson, the Blue Jays' No. 4 prospect, per MLB Pipeline, and pitcher/shortstop Masyn Winn, the Cardinals' No. 7 prospect.
"This is awesome, to do this right after the holidays," Hayes said. "The guys from the Players Alliance came up with this idea to do this. For me, growing up here my whole life, being able to come out here and serve the people where I'm from is great."
The Pull Up Neighbor setup was accessible and efficient. A parking lot was converted into an assembly line of food; personal protective equipment (PPE) such as masks, hand sanitizer and disinfectant; and baseball equipment, much of which was donated by Major League Baseball in conjunction with the Alliance's Gear For Good program.
Members of the community were invited to drive through and pick up what they needed -- no strings attached, no registration or ID required.
"You don't need to prove anything to come and collect," Young said. "It's literally for the community, to bring something positive in a time where a lot of people are stressed."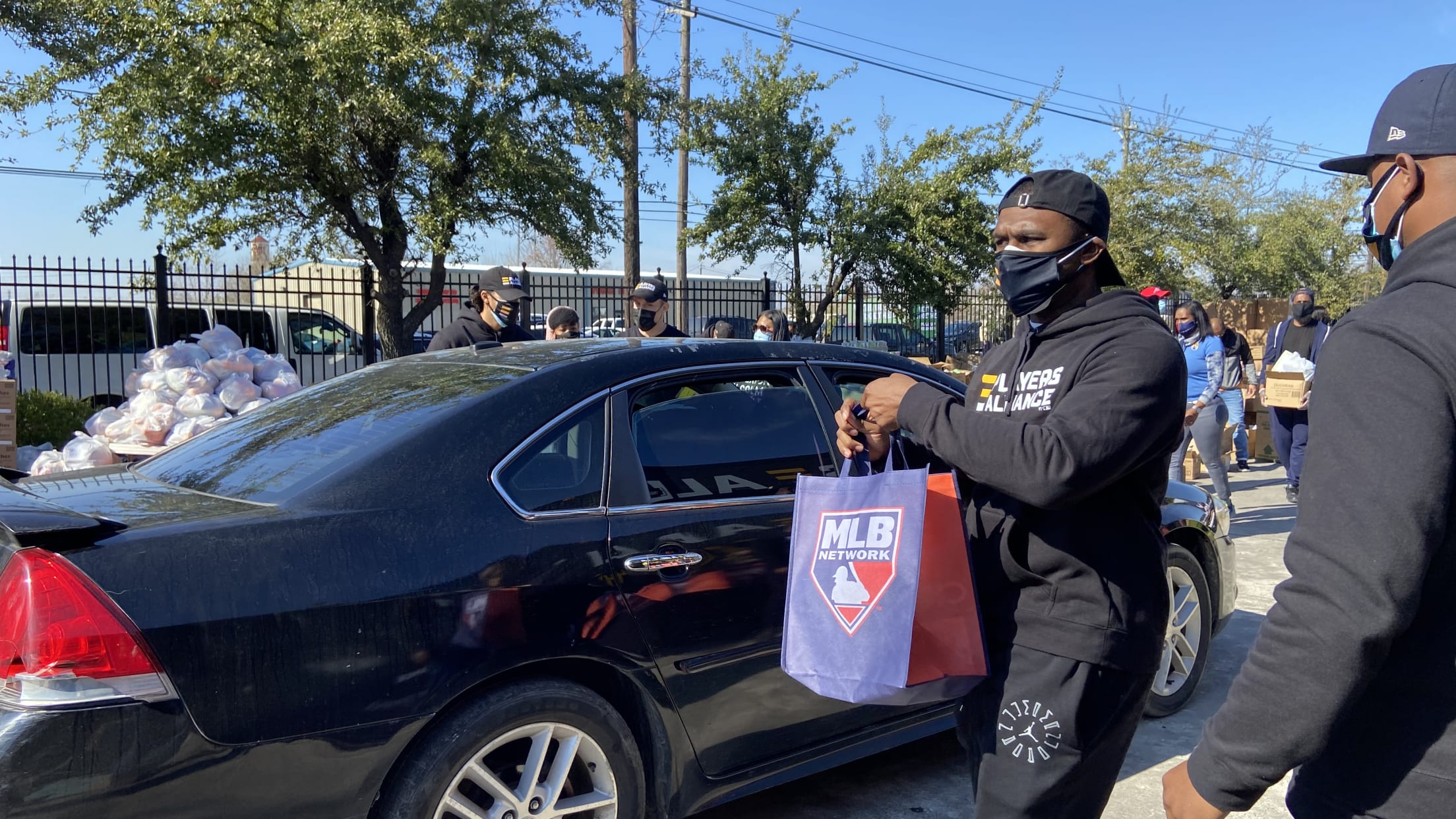 The idea for this event was hatched last season, during the Jackie Robinson Day celebrations. Players donated their salaries to The Players Alliance, and MLB matched those donations. The total was about $2 million, which was converted into the items currently being handed out during the Pull Up Neighbor tour.
"We're trying to help out the Black communities," said Bourn, who played for six teams during an 11-year career. "I played Little League baseball in Houston from 5 to 14, until I couldn't play anymore, at Smokey Jasper Park in the inner city in Houston. I loved it. So for me, this is a big thing.
"We want to help, to give back to the community any way we can and provide for those who can't provide for themselves."
Bourgeois, Bourn's Little League teammate who spent eight years in the big leagues, is optimistic that the gift of baseball equipment will encourage more kids to play.
"Here today, these parents are going to pull up with their kids, and, hopefully, we can impact them in a way where they want to play baseball and be a part of something special," Bourgeois said. "Hopefully, we can pass the baton."
Bruce, a native of Beaumont, Texas, also viewed the event as a good way to reach scores of kids quickly.
"You feel almost an obligation to come and help grow the game and introduce it to kids who may otherwise not be able to," he said. "It's really important to me -- not only grow the game, but we're providing other essential things to the families that are coming through, too. I feel fortunate to have the opportunity to come here and I'm glad the Players Alliance is doing something like this."