Sox sock HRs in Sale's debut; Astros rally late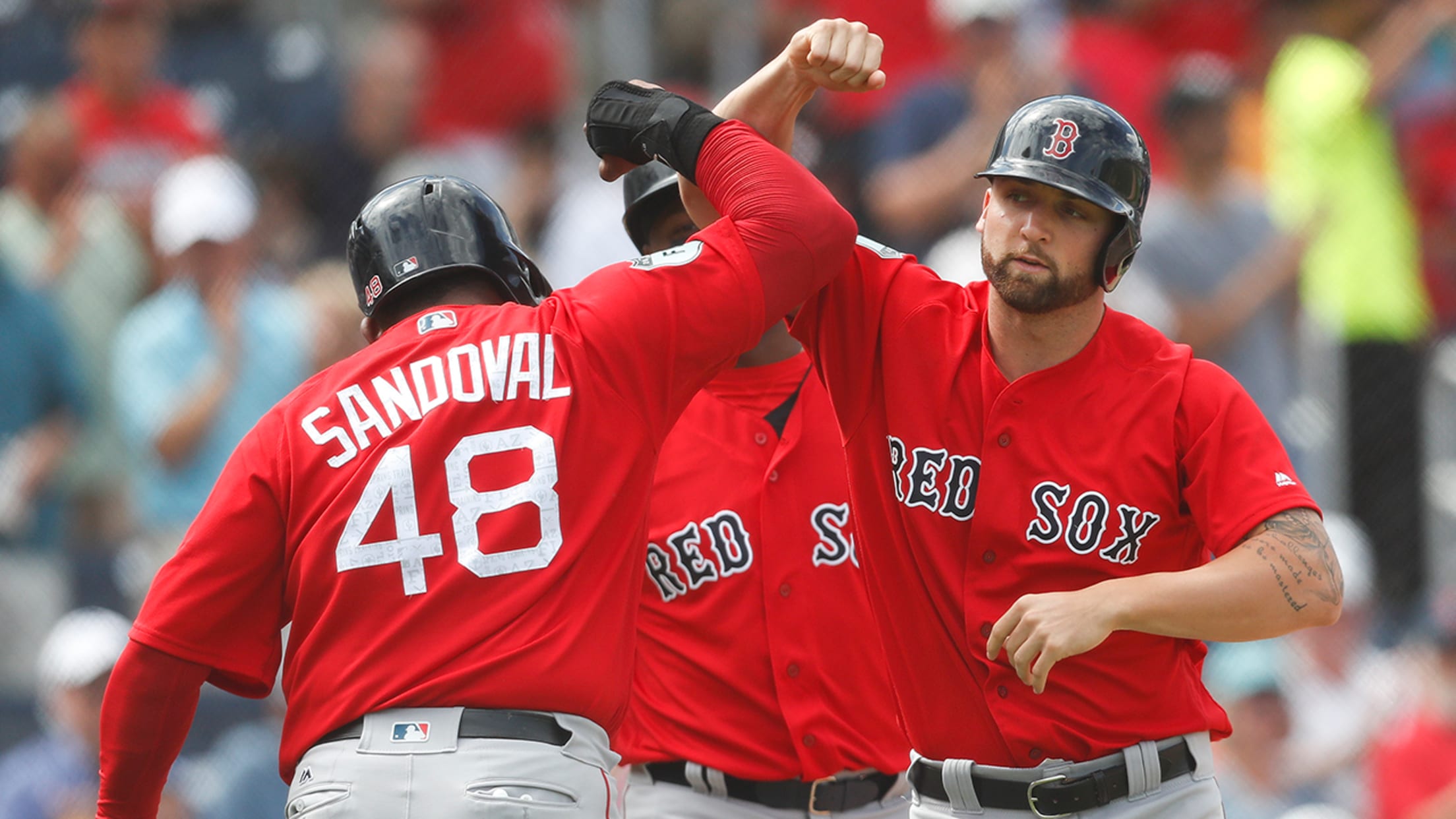 Sam Travis hit his second spring homer, a three-run shot, on Monday against the Astros. (AP)
WEST PALM BEACH, Fla. -- Red Sox left-hander Chris Sale allowed four hits and two runs (one earned) in two innings in his Grapefruit League debut, and Sam Travis blasted a three-run homer in a 5-5 tie between Boston and Houston on Monday afternoon at Ballpark of the Palm Beaches.Sale
WEST PALM BEACH, Fla. -- Red Sox left-hander Chris Sale allowed four hits and two runs (one earned) in two innings in his Grapefruit League debut, and Sam Travis blasted a three-run homer in a 5-5 tie between Boston and Houston on Monday afternoon at Ballpark of the Palm Beaches.
Sale gave up an unearned run in the first inning when Travis dropped a popup off the bat of George Springer that swirled in the wind, with Springer eventually scoring. Springer's RBI single in the second made it 2-0 against Sale, who threw 26 of his 37 pitches for strikes.
• Alex Bregman brimming with anticipation for Classic
"Awesome. Really good actually," Sale said of pitching in his first game for the Red Sox. "I've been waiting for this for a while. It's tough just sitting around just doing practice and things like that. This is why we're here. Today was fun to get out there and get the ball rolling."
Astros starter Chris Devenski coasted through two innings, striking out the side in the second, and he recorded two quick outs in the third before Pablo Sandoval and Hanley Ramirez reached on singles. Travis followed with a three-run homer to give the Red Sox the lead, 3-2.
• Hanley starting to test right shoulder
Steve Selsky led off the fourth inning with a home run to left off Michael Feliz to make it 4-2. The Astros cut the lead to one when Tony Kemp grounded out in the fifth inning to score Derek Fisher, and they tied it on Alejandro Garcia's seventh-inning single.
The see-saw continued when the Red Sox regained the lead in the top of the eighth on Rusney Castillo's double. The Astros' Colin Moran smacked a solo homer in the bottom of the inning to tie it again at 5.
Red Sox Up Next: The Red Sox will be in West Palm Beach for the second consecutive day on Tuesday, but this time they'll face the Nationals in a 1:05 p.m. ET contest on MLB.TV. Left-hander Eduardo Rodriguez will make the start. A strong contingent of regulars will play for Boston, including Dustin Pedroia, Mookie Betts, Jackie Bradley Jr., Ramirez, Sandoval and Mitch Moreland.
Astros Up Next: The Astros are off Tuesday before taking on a split Mets squad at 12:05 p.m. CT Wednesday on Gameday Audio at the Ballpark of the Palm Beaches. Charlie Morton will make his second start of the spring.
Watch every out-of-market regular-season game live on MLB.TV.