Astros activate Osuna following suspension
Reliever served 75 games for violation of MLB-MLBPA Joint Domestic Violence, Sexual Assault and Child Abuse policy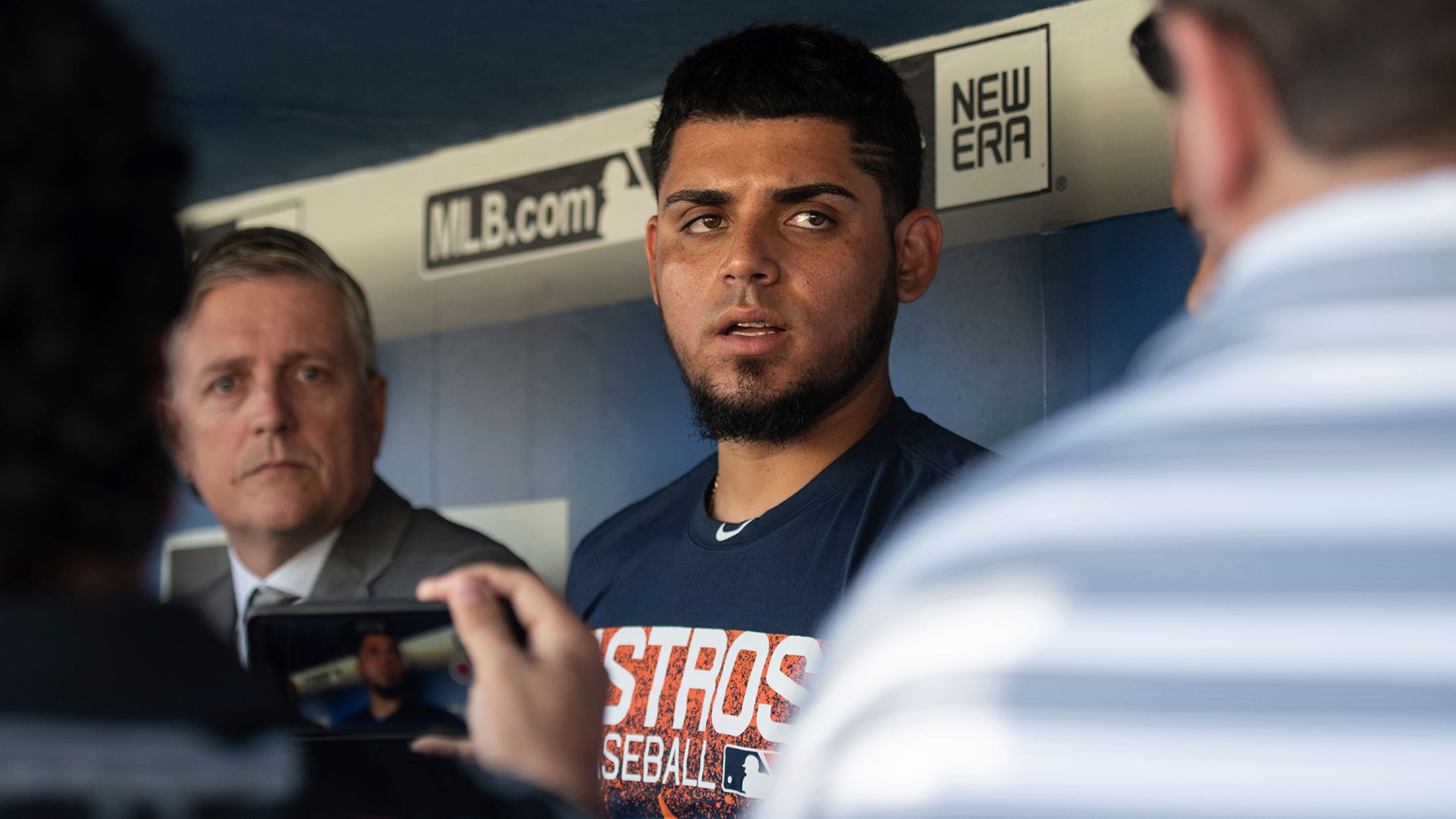 LOS ANGELES -- The Astros took the first steps to welcoming newly acquired closer Roberto Osuna onto their team on Sunday when the former All-Star met with manager AJ Hinch in a closed-door meeting before standing up in front of his new teammates and letting them know he was eager
LOS ANGELES -- The Astros took the first steps to welcoming newly acquired closer Roberto Osuna onto their team on Sunday when the former All-Star met with manager AJ Hinch in a closed-door meeting before standing up in front of his new teammates and letting them know he was eager for a new start.
Osuna, acquired from the Blue Jays nearly a week ago, comes to the Astros after serving a 75-game suspension under the MLB-MLBPA Joint Domestic Violence, Sexual Assault and Child Abuse policy that ended Saturday. Osuna, sitting between president of baseball operations and general manager Jeff Luhnow and interpreter Oz Ocampo in the visitor's dugout at Dodger Stadium, spoke mostly about his new teammates.
"I'm pleased to be part of this World Series championship team and I would do my best to win another World Series this year," he said.
Hinch said he spoke personally with Osuna for about 12 minutes in his office before a 10-minute meeting with the team in the Dodger Stadium clubhouse.
"It was as good as it needed to be to get to the next step of incorporating him on our team," Hinch said. "It's hard because I know the topic, I know the reaction, I know the difficulties on everybody to be humans in this, to be on a personal side, a professional side and baseball side. He had to stand up in front of a team and get introduced and begin the process of being incorporated onto this team during some of the toughest times in his life and certainly the toughest topic I've had to deal with as a manager."
Luhnow said he felt comfortable giving Osuna "a second chance" based on the homework the club did regarding the pitcher, while admitting the path to complete acceptance will be a long one.
"We're going to have to prove whether this works or not by what happens on the field and what happens off the field," Luhnow said. "I believe in Roberto as a person. I believe he's going to do everything to help us on the field and redeem himself off the field and his reputation off the field, and I think the organization will support him and hopefully turn this into a positive."
The Astros released the following statement: pic.twitter.com/y7ijZ3nzHw

— Houston Astros (@astros) August 5, 2018
Osuna was arrested in early May in Toronto and charged with assault in connection to an alleged domestic incident and was subsequently suspended by MLB. Osuna has a Sept. 5 court date, and his lawyer told reporters earlier this week he plans to plead not guilty.
When asked Sunday what led to the suspension, Osuna declined to elaborate.
"I understand that it's a delicate situation and it's difficult, but I also understand the reaction that people will have," Osuna said.
The Astros released a statement Sunday explaining how the team did its homework before making the trade while understanding the difficulty of the situation. The statement said the Astros are focused on ensuring Osuna makes a positive impact off the field. The team said it would significantly increase its support, raise awareness, and influence change regarding the issues of domestic violence and abuse of any kind.
"We have engaged with Houston Area Women's Center, Texas Council on Family Violence, and National Network to End Domestic Violence and look forward to working with them," the statement read.
Many of Osuna's new teammates had scattered by the time the media was permitted into the clubhouse Sunday morning. All-Star third baseman Alex Bregman said he personally welcomed Osuna to the team.
"I think it's a tough situation," Bregman said. "My dad is a defense attorney, so until you're proven guiltily of something you're innocent, as far as I'm concerned. I definitely believe in second chances."
Luhnow said he wouldn't have made the trade had the Astros' clubhouse not been so strong, and that sentiment was echoed by veteran pitcher Collin McHugh.
"I think it's a great opportunity to come into," McHugh said. "He's been in big situations and knows how to pitch, and to be able to come into this clubhouse with the character we have in here and the variety of different guys from different cultures and different backgrounds is only going to be good for him and hopefully be fantastic for us as well."
Osuna said he felt welcomed in the clubhouse.
"I felt that they were very good teammates and very good people and people that were very helpful. I feel very good to be part of his team, and very appreciative," he said. "Certainly, I feel grateful for this opportunity and feel grateful to be part of this team and I'm ready to pitch again to put my best foot forward and win another World Series."
Osuna, 23, appeared in 15 games for the Blue Jays this year, saving nine games with a 2.93 ERA. Last year, he saved 39 games and posted a 3.38 ERA in his All-Star season. He's expected to eventually become the Astros' closer, but Hinch said Sunday that Hector Rondon remains the closer for now.