Inbox: Short season's roster, prospect impact
A's beat reporter Martin Gallegos answers fans' questions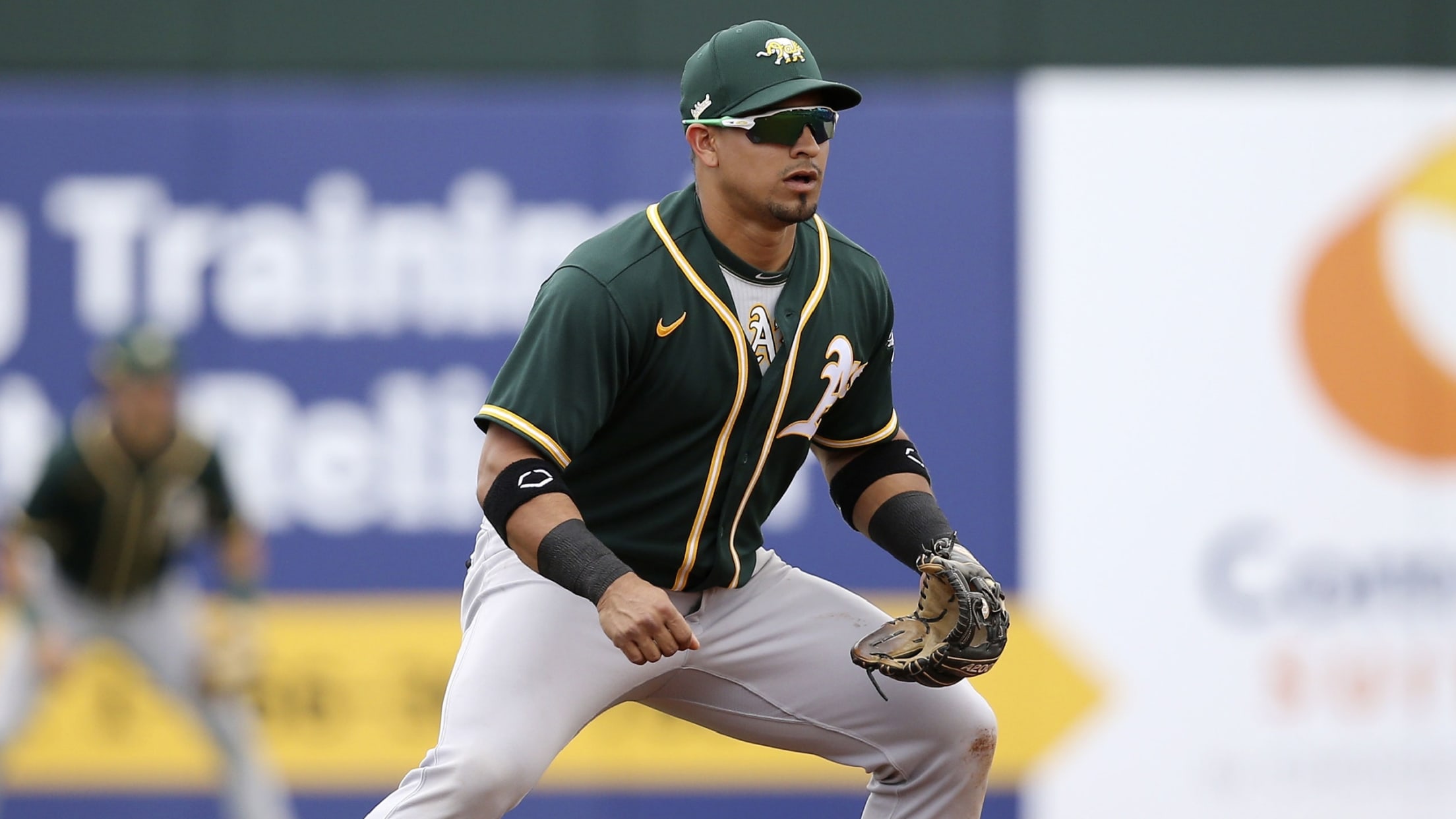 OAKLAND -- With baseball now officially back, the A's will have some roster battles that were left unresolved back in Spring Training to sort out before Opening Day on July 23 or 24. For weeks, there has been plenty of speculation about how this modified season might look. Here are
OAKLAND -- With baseball now officially back, the A's will have some roster battles that were left unresolved back in Spring Training to sort out before Opening Day on July 23 or 24.
For weeks, there has been plenty of speculation about how this modified season might look. Here are answers to some of those questions about what comes next in the 60-game 2020 season:
The way the rosters are going to work with the extra spots, how much does that impact the ability of the A's to hold on to the trio of Franklin Barreto, Jorge Mateo and Vimael Machin?
-- @EastBay_Sports
Barreto was expected to make the team out of Spring Training. With the trade of Mateo to the Padres on Tuesday, Machín stands to benefit the most from active rosters expanded to 30 players for Opening Day. The way things were playing out in the spring, Machín was in a battle with Mateo for the final spot on the roster. Given that Machín is a Rule 5 Draft pick, the A's would have to return him to his original club in the Cubs if he did not make the Opening Day roster.
Barring an injury, Machín should make the club on Opening Day. He impressed in the Cactus League, both at the plate and with his ability to adequately play all four infield spots, making him the perfect utility-type player the A's were hoping to use one of their final roster spots on.
• FAQ: All you need to know about 2020 season
Will J.B. Wendelken finally get a full season to show us what he can do? Also, will there be an inning/pitch limit for A.J. Puk or Jesús Luzardo or a game limit for Sean Murphy?
-- @CallieTsai
Wendelken's numbers weren't great at Triple-A Las Vegas last year, something true for most pitchers who pitch in that beautiful ballpark that is prone to many home runs, but he pitched well once called up to Oakland in September. This came after a September 2018 stretch in Oakland in which he was nearly unhittable. The A's believe he can be a quality Major League reliever who can handle high-leverage situations, so expect to see more of Wendelken this season.
When asked about limitations for Luzardo and Puk during a conference call last week, A's general manager David Forst said it was too early to get into specifics on most on-field topics. We'll get a better idea as summer camp begins, but I would expect the shortened season will allow the A's to let Luzardo and Puk loose a bit more, as long as they remain healthy. There was never a specific game limit on Murphy, though you can expect him to get a healthy amount of rest coming off left knee surgery as the A's have two catchers they feel comfortable with in Austin Allen and Jonah Heim.
Any surprise prospects who can make the 60-man player pool other than Robert Puason?
@ChappyForMVP
Puason, the A's No. 4 prospect, was not in the A's initial player pool, though he could be added later in the week. Now that he's signed, 2020 first-round pick Tyler Soderstrom also could join that pool of players. Plenty of top A's prospects were among the original list of players expected to train at the club's alternate site, including Daulton Jefferies, Nick Allen and 2019 first-round pick Logan Davidson.
When will the schedule be out, and what are the rules for media on pre/postgame interviews?
-- @realtorbb
There is no official date for a schedule release right now, though I've heard an announcement could come during the first week of summer camp, which for the A's begins on Saturday. As far as pre/postgame interviews, don't expect to see videos of the usual reporter scrums in the dugout or clubhouse. For the protection of everyone involved, player and manager interviews will mostly be conducted via video calls.
• New rules, features, protocols for 2020 MLB season
How are the players going to react to no fans in the stands?
-- @As_Fan_Radio
This is an interesting question, because every player is different. Some players thrive in loud and hostile environments, while others have difficulty with it. With no fans, players will adjust at their own pace, but this shouldn't be too much of an issue.
In conversations with pitchers, one answer I've commonly received when discussing the topic is that even with large crowds making noise, they're able to block all of that out once they throw that first pitch. If anything, having no fans in the ballpark could make it easier for players to concentrate.
What is your projected starting rotation, in order?
-- @buzzard_max
For the first time in a while, the A's entered Spring Training not having to piece together a starting rotation. There really are six or seven options for the five spots right now. If we're going in order, the projected Opening Day starter this spring was looking to be Mike Fiers. That could easily change now if the A's wanted to go with certain matchups for their new opponents of the modified 60-game schedule. We'll stick with Fiers in the No. 1 slot for now, followed by Sean Manaea, Frankie Montas, Luzardo and Puk. Chris Bassitt would be a strong option if the A's wanted to implement a six-man rotation early on.