Murray: I'd play baseball and football 'if possible'
A's first-round Draft pick named finalist for Heisman Trophy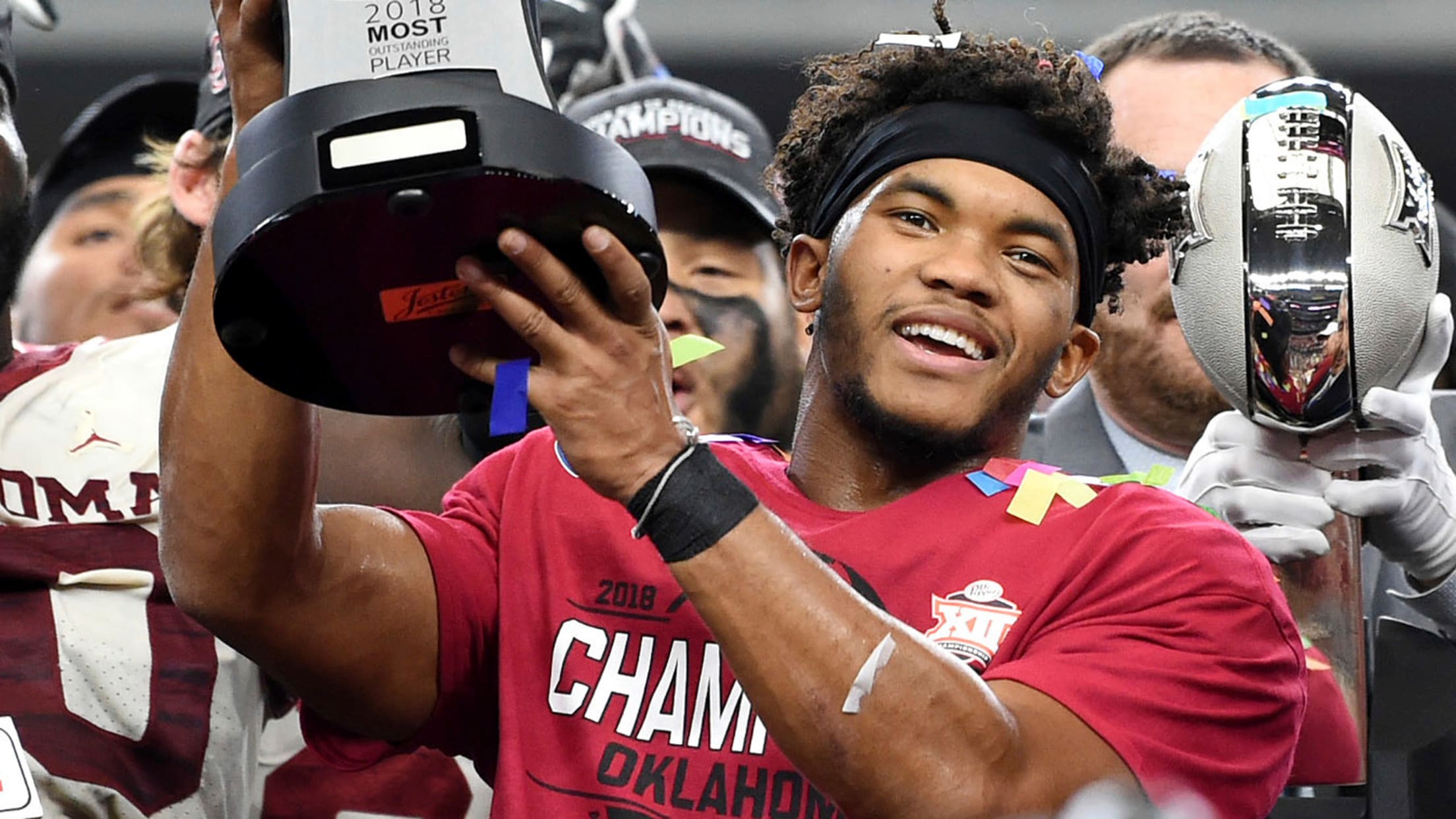 Ever since the A's drafted and signed Kyler Murray in June, the two-sport star has maintained that he's going to play professional baseball, even as he's continued to excel on the football field.But what about baseball and football, instead of baseball over football?At his media availability the day before Saturday's
Ever since the A's drafted and signed Kyler Murray in June, the two-sport star has maintained that he's going to play professional baseball, even as he's continued to excel on the football field.
But what about baseball and football, instead of baseball over football?
At his media availability the day before Saturday's Heisman Trophy presentation -- Murray is a finalist for the award, given annually to college football's top player -- Murray addressed the possibility of continuing to play both sports at the professional level.
"I'd like to do both [football and baseball] if possible," Murray said Friday, per Sports Illustrated's Andy Staples. "But I don't know how possible that is."
Murray received a $4.66 million signing bonus after being selected ninth overall by Oakland, with an agreement that he would play one more year of college football, during which he would succeed Baker Mayfield as the Oklahoma Sooners' starting quarterback, before turning his attention to baseball full-time.
What will he do? Only #KylerKnows. pic.twitter.com/0Hy8zoFEWe

— MLB (@MLB) December 7, 2018
Murray certainly has the talent to try both. On the diamond, he's Oakland's No. 4 prospect, per MLB Pipeline. On the gridiron, he's not only a Heisman Trophy finalist. He was also named The Associated Press' college football Player of the Year this week and has led Oklahoma to a berth in the upcoming College Football Playoff.
MLB-NFL dual-sport athletes are rare -- there have been only a handful in recent history -- but there are, of course, some famous examples, with Bo Jackson and Deion Sanders being the most prominent.
As far as Murray's plans, his agent Scott Boras told the San Francisco Chronicle on Thursday that "Kyler has every intention of fulfilling his agreement with the A's, and he's grateful he has had the chance to pursue his college goals. He will be in Spring Training with the A's."
Murray himself had made similar comments on Monday, saying, "I feel like I could play in the NFL, but as far as giving it up, as of now, yeah, that's the plan." But in an ESPN College GameDay interview, he also told Tim Tebow -- who's in the midst of a multi-sport effort of his own, as he attempts to make the Major Leagues with the Mets after his NFL career -- that, "I think that's something me and my family will talk about at the end of the season and weigh out the options of what the NFL thinks of me."