---
We've spent the last year engaging in community dialogue with over 100 public officials, 80 community-based organizations, and 500 Oakland residents and community leaders. Our conversations with leaders in business, labor, government, and faith, in addition to neighborhood residents, have underscored the desire for this project to deliver real economic, civic, and cultural benefits, including job creation and training opportunities; an inclusive approach to economic and community development; and new civic, cultural, and recreational amenities. We are also committed to delivering a baseball experience for our fans like no other. Our proposed two-project approach will enable us to deliver on our promises to both our fans and community.
-- Oakland A's President, Dave Kaval
---
What We Heard: West Oakland
"An engine for economic equity with diverse, mixed income housing on top of small business that are focused on culture and creativity."
"Preserve the history. Keep the growth of West Oakland going. Ballpark could do a lot to the area."
"Locals should have jobs here."
"A lot of work is needed to make a healthy place here."
"Provide opportunities for local businesses to keep this area alive."
"Access is the most important consideration at Howard Terminal."
"The more we can bring people down here, the more we can help businesses in Jack London Square and in West Oakland."
What We Heard: East Oakland
"Jobs, recreation for youth, real affordable housing, and home ownership pathways for residents of East Oakland."
"Let's invest in deep East Oakland."
"A's can be a great model for true equitable development that addresses the community's immediate needs."
"We need a safe place to play!"
"A great spot with lots of potential by re-vitalizing the site, creating jobs for residents, let's invest in East Oakland!"
What We Heard: Public Agency Meetings
"A's are invested in the community and have made it clear that this project is bigger than baseball"
"I am very pleased with what the team has done thus far as it relates to community feedback and I urge [BCDC] to help make this project a reality"
"I can attest not only to the extensive outreach the A's have conducted but also to their responsiveness and willingness to work with the community to address any and all concerns or comments"
"The environmental piece of the is project is not a community benefit, it is what Oakland residents are entitled to"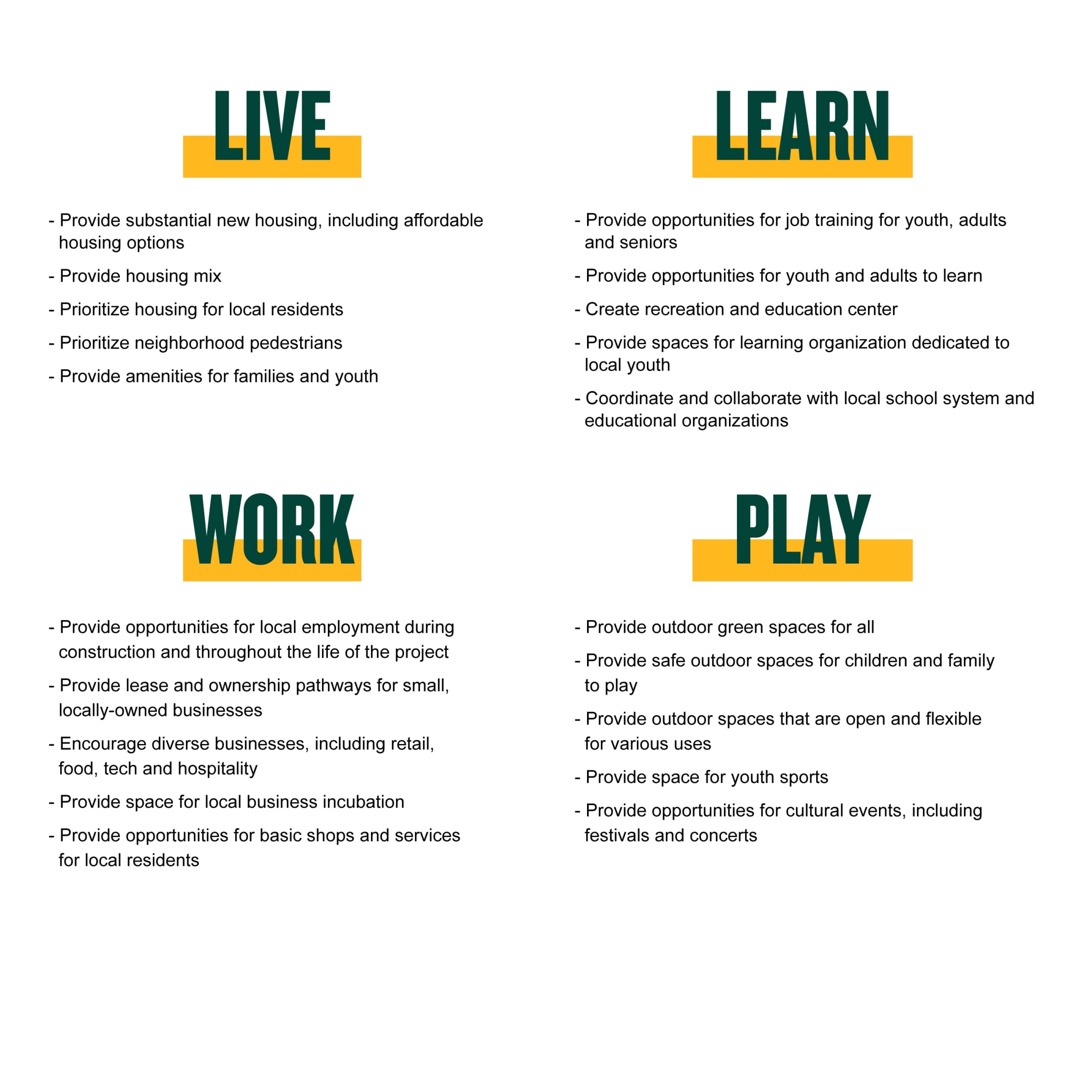 Community Groups the A's Have Engaged
100 Black Men of the Bay Area
510 Media
Abode Services
AC Transit
Acorn Town Center and Courtyards
Acta Non Verba
ACTC
Acts Full Gospel Church
Alameda Chamber of Commerce
Alameda County Family Justice Center
Alameda County First 5
Allen Temple Arms Senior Living
Allen Temple Baptist Church
Amtrak
Ashland Cherryland Healthy Communities Collaborative
Asian Health Services
BAAQMD
BACS
Bay Area Sports Hall of Fame
Bayporte Village Neighborhood Watch
Beth Eden Baptist Church
Bike East Bay
Bike Walk Alameda
Bikes 4 Life
Black Elected Officials
Black Joy Parade
BOSS Service Team
Boys & Girls Club Oakland
Brookfield Senior Center
BUILD
Building and Constructions Trades Council (Alameda County)
BWOPA/TILE (Black Women of Political Action/Training Institute for Leadership Enrichment)
California Department of Transportation
California Trucking Association
Campbell Village
Capitol Corridor Joint Powers Authority
Castlemont High School
CIM Group
City Slicker Farms
City Towers Apartments
CityTeam
Civicorps
Coaching Corps
Coalition of Black Excellence
College Bound
Community Foods Market
Concerned Parents Alliance Inc.
CPUC
Cypress Mandela Training Center
Cypress Village Apartments
DeFremery Recreation Center
Downtown Oakland Association
Downtown Streets Team
DSTC (California Department of Toxic Substances Control)
East Bay Alliance for a Sustainable Economy
East Bay Asian Local Development Corporation
East Bay Community Foundation
East Bay Economic Development Alliance
East Bay Regional Parks
East Oakland Collective
East Oakland Community Project
East Oakland Health Center
East Oakland Senior Center
East Oakland Youth Development Center
Eastmont Senior Center
Eastside Arts Alliance
Eat Real Festival
ENOI (East Oakland Neighborhood Initiatives)
Fam 1st Family Foundation
First 5 Alameda County
Friends of Cal Crew
Friends of Hoover Durant Library
Friendship Christian Center
Gardens at Lake Merritt
Gateway Shopping Center
Gray Bowen Scott
Greenlining Institute
H Jones Consulting
Harbor Trucking Association
Healthy Havenscourt Collaborative
Hoover District Resident Action Council
Ira Jinkins Recreation Center
Jack London Business Improvement District
Jobs and Housing Coalition
Justa Causa
Laney College
League of Women Voters of Oakland
Leukemia & Lymphoma Society
Life is Living Festival
Lincoln Center
Lovelife Foundation
Mandela Food Cooperative
Mohr 1 Apartments
Multi-Ethnic Sports Hall of Fame
Museum of the African Diaspora
My Brother's Keeper - Obama Foundation
NAACP
National Electrical Contractors Association
NCPC 10X (Golden Gate)
NCPC 10Y (10Y Neighborhood Council)
NCPC 11X (Shattuck)
NCPC 27X (Melrose-High Hopes)
NCPC 27Y (Rainbow)
NCPC 2X 5X (Lowell/Acorn & Five on the West Side)
NCPC 2Y/5Y (Prescott)
NCPC 30 X (66-82)
NCPC 31X (Coliseum Business Alert - Merchant Community)
NCPC 31Y/31Z (Brookfield/Columbian Garden/Sobrante Park RAC)
NCPC 32Y (MacArthur Corridor)
NCPC 33X/34X (Beat 33X/34X Neighborhood Improvement Council)
NCPC 35Y (South Hills NCPC)
NCPC 3X (Chinatown)
NCPC 3Y (Old Oakland Neighbors)
NCPC 4X (Uptown/Gold Coast)
Neighborhood Watch
North Oakland/South Oakland Little League
Northern Lights School
Oak Center Apartments
Oak Center Cultural Center
Oak Center Neighborhood Association
Oakland African-American Chamber of Commerce
Oakland and the World Enterprises
Oakland Bay Area Links
Oakland Black Cowboy Association
Oakland Children's Fairyland
Oakland Chinatown Chamber of Commerce
Oakland Department of Transportation
Oakland Fire Department
Oakland Housing Authority
Oakland Latino Chamber of Commerce
Oakland McClymonds High School
Oakland Metropolitan Chamber
Oakland Midnight Basketball League
Oakland Museum of California
Oakland Parks and Recreation
Oakland Police Department
Oakland Post
Oakland Private Industry Council
Oakland Promise
Oakland Public Library (Various branches throughout East and West Oakland)
Oakland Unified School District
Odell Johnson Performing Arts Center
Old Oakland Neighbors
One Toyota of Oakland
Operation Dignity
Overcomers With Hope Studios, Inc.
Pacific Boychoir Academy
Panoramic Interests
People for the Ethical Treatment of Animals
Peralta Colleges Foundation
PG&E
Playworks Education Energized
PMSA (Pacific Merchant Shipping Association)
Positive Coaching Alliance
Positively Prescott
Prescott Community Association
Propeller Club Board
Ray's Electric
Reverend Dr. Hames
ROOTS Community Health Center
San Francisco Bar Pilots
San Joaquin Joint Powers Authority
Save Oakland Sports
Save the Bay
Schnitzer Steel
SCJ Alliance
Shiloh Church
Sierra Club SF
Sinkler Miller Medical Association
Skyline High School
SPUR
SSA Terminals
St. Mary's Center
St. Vincent de Paul Community Center
The Earth Island Institute
The Hidden Genius Project
The MADE (Museum of Art and Digital Entertainment)
The One Glove Foundation
The Unity Council
The Vincent Academy
Training Institute for Leadership Enrichment
True Vine Ministries
UCSF Benioff Children's Hospital
Union Pacific
UNITE Here
Uptown Rotary Club
Urojas Ministries
Visit Oakland
VISTRA
Water Emergency Transportation Authority
West Alameda Business Association
West Oakland Commerce Association
West Oakland Environmental Indicators Project
West Oakland Health Council
West Oakland Job Resource Center
West Oakland Keepers Emerge
West Oakland Neighbors
West Oakland Network
West Oakland Senior Center
West Oakland Walk
YMCA Oakland