Starters and rosters for 2018 All-Star Game
Astros, Indians, Red Sox lead way with 5 picks; Braves atop NL with 4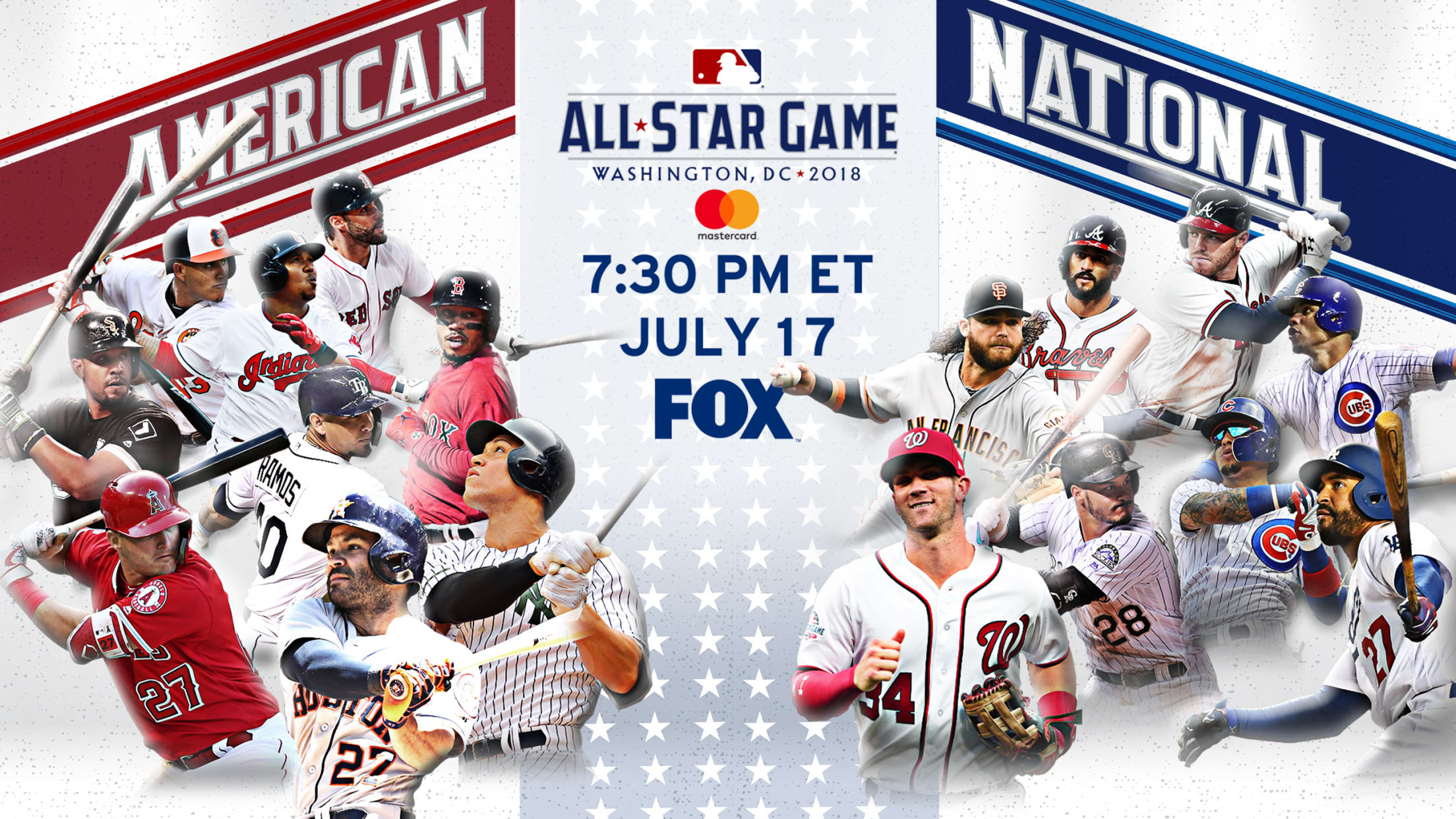 Nationals Park, situated less than two miles due south of the United States Capitol, will be baseball's House of Representatives on Tuesday, July 17, when the 89th All-Star Game presented by Mastercard gets underway at 7:30 p.m. ET on FOX.• VOTE: 2018 Camping World MLB Final VoteOn Sunday, we learned
Nationals Park, situated less than two miles due south of the United States Capitol, will be baseball's House of Representatives on Tuesday, July 17, when the 89th All-Star Game presented by Mastercard gets underway at 7:30 p.m. ET on FOX.
• VOTE: 2018 Camping World MLB Final Vote
On Sunday, we learned the results of the mostly democratic process that selected those reps, and the American League and National League rosters feature a fascinating mix of tried-and-true talent, up-and-coming kids and surprise stalwarts from this 2018 season.
:: Complete All-Star Game coverage ::
The Astros, Indians and Red Sox lead the way with five selections apiece, and the Braves lead the NL with four players. There are a combined 25 first-time selections between the two squads.
But the rosters aren't complete yet. Balloting is now underway through 4 p.m. ET on Wednesday in the 2018 Camping World MLB All-Star Final Vote.
• DYK: Facts about the 2018 All-Star Game rosters
Here are the rosters, with starting positions based on fan voting and pitchers and reserves as picked by Player Ballots and MLB selections. For pitchers and reserves, * denotes a player-elected pick. All other pitchers and reserves were selected by MLB.
• Here's a GIF of each starter in the All-Star Game | Photos
All stats included were from the start of Sunday's play.
FIRST BASE
AL: Jose Abreu, White Sox
A second-time All-Star and first-time starter, Abreu has been a bright spot for the Sox this season, with a .766 OPS, 12 homers and 27 doubles. He fended off a late charge from the Astros' Yuli Gurriel in the voting, garnering 1.83 million votes to Gurriel's 1.65 million.
NL: Freddie Freeman, Braves
An early MVP candidate for the reborn Braves, Freeman was the top vote-getter in the NL, with a grand total of 4,039,219 votes. Freeman is a third-time All-Star but making his first start and his first appearance since 2014. He came into the week with a .938 OPS, 16 homers and 58 RBIs.
SECOND BASE
AL: Jose Altuve, Astros
We've grown accustomed to seeing Altuve - a sixth-time All-Star selection who will be making his fourth straight start - in this spot, but this year he had the added bonus of receiving more votes (4,849,630) than anybody in baseball. The reigning AL MVP has a .339/.406/.482 slash this season.
NL: Javier Baez, Cubs
The Braves' Ozzie Albies led this race the majority of the way, but Cubs fans backed Baez big-time in the final weeks of the vote (he edged Albies by 132,000 votes) to get him to his first Midsummer Classic. Baez has matured into one of the most consistent forces on the Cubs, raising his OPS nearly 100 points (.892) by showing improved power and some improved plate discipline, all while making his customary dynamic plays in the field.
THIRD BASE
AL: Jose Ramirez, Indians
Ramirez's starting spot in the AL lineup and third-place finish in the AL MVP voting last year have proved to be no fluke. This year, the little guy with the George Jefferson strut has taken his power game to an elite level (24 homers, 25 doubles) for the AL Central leaders.
NL: Nolan Arenado, Rockies
Consistency has been a hallmark of Arenado's incredible career. Five straight Gold Gloves. Three straight Silver Slugger Awards. And now four straight All-Star selections and two consecutive starts. A marvel on both sides of the ball, Arenado has a typically stellar .306/.389/.587 slash this season.
SHORTSTOP
AL: Manny Machado, Orioles
Because of his prominent position in the July trade market, Machado, a four-time All-Star, was going to be a star of the summer whether he was voted into this game by the fans or not. He wound up beating the Astros' Carlos Correa by just 56,629 votes (the smallest margin of victory for any of the starters). Now the question is whether he'll be dealt before the Midsummer Classic -- perhaps even to an NL club, in which case the league would have to decide if he's eligible to serve as a reserve.
NL: Brandon Crawford, Giants
The three-time Gold Glove winner is a second-time All-Star in the midst of a major offensive surge. Already known as one of the premier defenders at his position, Crawford's .847 OPS is 124 points north of his career norm.
OUTFIELD
AL: Mookie Betts, Red Sox
Betts, a third-time All-Star starter, has not yet turned 26 but slugged his 100th career homer last week and is having an even better season than his MVP runner-up performance in 2016. Betts entered Sunday leading the Majors in batting average (.343), slugging percentage (.679) and OPS (1.112) and garnered more votes (4,286,994) than any outfielder in either league.
AL: Michael Trout, Angels
Baseball's best player is having his best season, so he was a lock to be selected to his seventh All-Star squad. This is the sixth straight year the fans have voted Trout in, though he had to miss last year's game because of injury. With a 6.8 WAR (as calculated by Baseball Reference), Trout has already exceeded his 2017 mark, putting him on pace for one of the greatest individual seasons in history.
AL: Aaron Judge, Yankees
Sophomore slump? What sophomore slump? With a .970 OPS and 25 homers, Judge has basically been every bit the impact player he was in his historic rookie year. He has said he won't be defending his T-Mobile Home Run Derby crown but he is now 2-for-2 in starting in the AL outfield in his career.
NL: Nick Markakis, Braves
After more than 2,000 career hits, 900 RBIs, 800 walks, 1,000 runs and 450 doubles, Markakis finally has his rightful recognition as one of the game's best. With a resurgent offensive season (.886 OPS, NL-high 112 hits) for the surprise Braves, Markakis was overwhelmingly supported by the fans (3,556,469) for his first All-Star nod.
NL: Matt Kemp, Dodgers
It's crazy to look back and remember the Dodgers reacquired Kemp with no serious thought to actually rostering him in 2018. But he wound up starting for them, and now he's starting for the NL squad for the first time since 2011 (he was also a reserve in 2012). Kemp earned it with a .317/.355/.550 slash here in his age-33 season.
NL: Bryce Harper, Nationals
It has been a frustrating year for Harper, who took a .219 average into Sunday. But he'll be in his customary spot in the NL outfield with the game taking place in his home park. This is Harper's sixth All-Star selection in seven big league seasons and fifth start (including four in a row). He has already publicly committed to participating in the T-Mobile Home Run Derby.
CATCHER
AL: Wilson Ramos, Rays
A terrible knee injury abruptly ended Ramos' first All-Star season in 2016, but he's bounced back in a big way in his first full season since surgery. With a .289/.340/.462 slash, he beat out the Astros' Brian McCann by nearly 1 million votes.
NL: Willson Contreras, Cubs
For the first time since 2014, somebody other than Buster Posey will be behind the dish for the NL at the start of the All-Star Game. Posey had to settle for a reserve selection after Contreras surged past him in the final week of voting, winning by a margin of 253,716. This is the first career selection for Contreras, who has an .841 OPS.
DESIGNATED HITTER
AL: J.D. Martinez, Red Sox
Think the Red Sox are happy with their spring investment in Martinez's booming bat? He's responded with a .329/.392/.646 slash, 27 homers and 74 RBIs in his first season in Boston and earned his second All-Star selection and first start.
AL PITCHERS
Trevor Bauer, Indians
One of the more studious players in the game, Bauer has used his attention to detail and embrace of analytics to engineer the best season of his career (2.45 ERA, 156 strikeouts, 18 starts) and become a first-time All-Star.
Jose Berrios, Twins
The Twins' lone rep has made great strides in this first full season in the bigs after debuting in 2016. He's got a 3.54 ERA and 0.997 WHIP in 18 starts, including two complete games and a shutout. This first All-Star selection adds to a year in which Berrios returned to his native land for a stellar start in the Puerto Rico Series.
Albertin Chapman, Yankees*
A recent bout with left knee tendinitis aside, Chapman is still routinely bringing the 100-mph heat and locking down late leads with a 1.42 ERA, 0.842 WHIP and 15.6 strikeouts per nine innings. This is his fifth All-Star selection and first since 2015 with the Reds.
Gerrit Cole, Astros*
An offseason trade from Pittsburgh has helped Cole tap back into the potential he displayed in his lone previous All-Star season in 2015. He has contributed to that great Astros rotation with a 2.70 ERA, 0.969 WHIP and 158 strikeouts in 116 2/3 innings across 18 starts.
Edwin Diaz, Mariners*
The Mariners' abnormally awesome record in one-run games is in large part a testament to the first-time All-Star Diaz's ninth-inning fortitude. He's having a potentially record-breaking season with 34 saves (the all-time high is Francisco Rodriguez's 62 in 2008) with a miniscule 0.826 WHIP.
J.A. Happ, Blue Jays
Though two poor July starts have inflated Happ's ERA to 4.44, this first All-Star selection can be viewed as recognition of a four-year track record in which Happ has posted an ERA+ 17 percent better than league average. He's generally been a reliable rotation weapon for the Blue Jays in his free-agent walk year, which means there's a good chance he'll be acquired by a contending club before the July 31 non-waiver Trade Deadline.
Joe Jimenez, Tigers
For a transitioning Tigers team, Jimenez's strong sophomore season (2.85 ERA, 46 strikeouts in 41 innings) has been a bright spot. An injury to Shane Greene has temporarily thrust Jimenez into the Detroit closing role.
Craig Kimbrel, Red Sox*
A rare beacon of long-term consistency in a volatile role, Kimbrel has earned his seventh All-Star selection (and third in the AL) with a 2.02 ERA, 26 saves and a 0.897 WHIP through 36 appearances.
Corey Kluber, Indians*
The stoic Kluber won't be showy in celebrating his third straight All-Star selection, but his 2.49 ERA, 8.2 strikeout-to-walk ratio and league-high 126 1/3 innings earn him this spot on the AL club and put him in the early running for his third AL Cy Young.
Chris Sale, Red Sox*
Like clockwork, Sale finds himself in the throes of the Cy Young race and on the AL All-Star roster each year. This is his seventh season as a starter in the bigs and his seventh selection to this squad. His previous six seasons have all seen him finish anywhere from second to sixth in the Cy voting. With a 2.36 ERA, 13 strikeouts per nine and a 0.893 WHIP through 19 starts, this seventh figures to be no different.
Luis Severino, Yankees*
Not all of the "Baby Bombers" amaze with their bats. Severino is the homegrown pitching product who has matured into an elite ace. This is his second All-Star selection, and he's a candidate to start the game, given his 14-2 record, 2.12 ERA and league-best 201 ERA+ through 19 starts.
Blake Treinen, A's
Dealt from the Nats to the A's one year ago, Treinen return to Nationals Park having emerged as one of the best closers in baseball this season. With a 0.81 ERA, 0.896 WHIP and 54 strikeouts in 44 2/3 innings (including 14 multi-inning appearances), he's been an extremely valuable arm for Oakland and a deserving first-time All-Star.
Justin Verlander, Astros (inactive)*
Houston (and AL) manager AJ Hinch has already informed MLB that Verlander, who is scheduled to throw next Sunday, will not be eligible to pitch in the Midsummer Classic. But that does nothing to diminish the return to greatness that began shortly before he was dealt from the Tigers to the Astros last summer. At 35, Verlander is having one of his best seasons (2.15 ERA, 0.844 WHIP, 177 ERA+ in 19 starts).
AL RESERVES
1B: Mitch Moreland, Red Sox*
Having taken over for the slumping Hanley Ramirez at first, Moreland has asserted himself as one of the more productive first-base bats in the AL this season, with a .289/.358/.530 slash. This is the first All-Star selection for the nine-year veteran.
2B: Gleyber Torres, Yankees*
The right hip strain that landed him on the 10-day disabled list could compromise Torres' availability for the All-Star Game, but the rookie sensation was an obvious choice for this squad with his .294/.350/.555 slash and 15 homers through 63 games this season.
Wow what can I say...just a big thank you to all the fans who voted for me and my teammates. It's a humblling experience to be selected to my first All-Star game ⭐️

— Gleyber Torres (@TorresGleyber) July 9, 2018
3B: Alex Bregman, Astros*
His Game 5 World Series heroics having cemented his place in Houston lore, Bregman is now a first-time All-Star in the midst of a 2018 season in which he's logged a .284/.385/.523 slash, 17 homers and 29 doubles for the defending champs.
Thank y'all for the love and support all year long!! Accomplished a childhood dream of mine today!!! Very special!!!

— Alex Bregman (@ABREG_1) July 9, 2018
SS: Francisco Lindor, Indians*
Always smiling anyway, Lindor can now smile wider over his third consecutive All-Star selection. The Tribe's offensive and defensive dynamo continues to evolve at the plate, with a .301/.378/.572 slash, 23 homers and 27 doubles.
OF: Michael Brantley, Indians*
Brantley's 2017 All-Star selection was a great comeback story after he missed virtually all of 2016 with a shoulder injury, but he injured his ankle soon thereafter and was limited to 90 games. Now, he's been a great comeback tale yet again and earned his third overall selection to this squad with a .310/.355/.497 slash.
OF: Mitch Haniger, Mariners*
Who knew this future All-Star was lurking in the shadows when the Mariners made the swap for Jean Segura? A low-profile piece of that November 2016 trade with the D-backs, Haniger has been a healthy and productive piece of the Mariners' rise to contention after last year's injury issues. He's got an .852 OPS, 17 homers and 62 RBIs.
OF: George Springer, Astros*
The reigning World Series MVP gets his second consecutive selection to the AL squad with the vote of his peers. Springer has a .249/.332/.427 slash with 15 homers and 17 doubles.
OF: Shin-Soo Choo, Rangers
Choo had a 46-game on-base streak going into Sunday's play, and his season slash of .294/.402/.509 has put him on pace for one of the finest seasons of a very solid big league career that, 13 years after it began, has finally resulted in an All-Star selection for the South Korea native.
C: Salvador Perez, Royals*
Perez fills the Royals' spot on this roster as a pick by the players despite an offensive downturn that has seen him hit .213 with a .632 OPS this season. This is the respected catcher's sixth consecutive selection to the AL squad, though this is the first time since 2013 that he won't be starting the game.
DH: Nelson Cruz, Mariners*
The in-game photo he took with umpire Joe West was a highlight of last year's All-Star Game, and Cruz remains the picture of excellence in the DH role in Seattle. He has a .906 OPS and 22 homers to earn his sixth All-Star selection.
NL PITCHERS
Patrick Corbin, D-backs
Arizona's prominence in the NL West is in part due to Corbin's impact on a rotation that suffered some injury hits early in the year. He has a 3.05 ERA and 143 ERA+ through 18 starts, earning him his second All-Star selection and first since 2013.
Jacob deGrom, Mets*
Famously victimized by a lack of run support this season, deGrom's peers wisely looked past the four losses and nine no-decisions to see one of the NL's premier pitchers. deGrom, a second-time All-Star, has a Major League-best 1.79 ERA and 213 ERA+ through 18 starts.
Sean Doolittle, Nationals*
Doolittle earned the right to stay "home" for the break with a miniscule 1.45 ERA and 0.536 WHIP and absurd 16.3 strikeout-to-walk ratio through 35 appearances. He's saved 22 games and been every bit the bullpen boost the Nats hoped he'd be when they acquired him last summer.
Mike Foltynewicz, Braves*
The Braves couldn't have made their surge up the NL East standings without the development of some young pitchers, and Folty's emergence with a 2.37 ERA and 165 ERA+ through 17 starts has been especially instrumental for Atlanta. He's a first-time All-Star.
Josh Hader, Brewers*
No haters here. Hader is a pick of his peers because he has been one of baseball's biggest forces in this '18 season, delivering a 1.21 ERA and 0.739 WHIP across 44 2/3 innings in 29 appearances for the first-place Brew Crew. The sophomore is a first-time selection.
Brad Hand, Padres*
That's now back-to-back All-Star appearances for the 2016 waiver claim who has become one of the most valuable relievers in the game for San Diego. Hand has 24 saves, 13.3 strikeouts per nine and a 1.089 WHIP through 39 games.
Kenley Jansen, Dodgers
Early-season reports of Jansen's demise were greatly exaggerated. It's the same 'ol excellence from the three-time All-Star. Jansen has a 2.34 ERA and 24 saves for the Dodgers to maintain his position as one of the game's most feared closers.
Jonathan Lester, Cubs*
One of the more respected arms in the sport, Lester has bounced back from a 2017 season that was subpar, by his high standards, to post his fifth All-Star campaign. He's got an 11-2 record, 2.25 ERA and 186 ERA+ through 17 starts.
Miles Mikolas, Cardinals
After three seasons in Japan, Mikolas returned to the big leagues looking nothing like the guy who posted a 6.44 ERA for the Rangers in 2014. He's a first-time All-Star by virtue of his 2.63 ERA and 150 ERA+ through 17 starts.
Aaron Nola, Phillies*
The Phillies have gotten positive returns out of their signing of Jacob Arrieta, but their ace was in-house all along. Nola has built off last year's breakout to become one of the NL's best pitchers and a first-time All-Star. He is 11-2 with a 2.41 ERA and 168 ERA+ in 18 starts.
Max Scherzer, Nationals*
By year's end, he may have earned his fourth career Cy Young. In the meantime, a sixth consecutive All-Star selection (fourth straight in the NL) is pretty nice. Mad Max continues to amaze with an 11-5 record, 2.33 ERA and Major League-high 177 strikeouts in 127 2/3 innings. He could potentially get the starting nod for the second straight season -- and in a very familiar place.
Felipe Vazquez, Pirates
He might have changed his name from Felipe Rivero, but Vazquez has remained a ninth-inning weapon for the Buccos, for whom he's saved 17 games with 11.9 strikeouts per nine in 37 appearances. This is his first All-Star nod.
NL RESERVES
1B: Paul Goldschmidt, D-backs
Hard to believe Goldy had a .675 OPS and .198 average as recently as May 22, because there's no doubt he's deserving of this sixth consecutive All-Star appearance. Goldschmidt took a .277/.385/.538 slash with 20 homers into Sunday, amplifying that Arizona offense yet again.
1B: Joey Votto, Reds*
Hitting is an art; Votto is an artist. Votto's power numbers aren't what they were in his 2017 MVP bid, but, as tends to be the case, he's leading his league in on-base percentage (.428), en route to his sixth All-Star appearance.
2B: Ozzie Albies, Braves*
Though Albies came up just short in the fan vote in this first full season, his peers picked him up, taking note of the value his extra-base authority (including an NL-high 29 doubles and 196 total bases) has had on the Braves' bid to win the NL East.
2B: Scooter Gennett, Reds
Gennett had a pretty memorable four-homer, 10-RBI night in June 2017, but this first career All-Star selection is recognition of his emergence as one of the game's most consistent hitters. Gennett is leading the league with a .329 average to go with his 14 homers and 20 doubles.
SS: Trevor Story, Rockies*
Story lit up the baseball world (and opposing pitchers) with seven home runs in his first six games in his rookie year of 2016, but this is his first selection as an All-Star. His .282/.347/.522 slash, 16 homers and 23 doubles have paired quite well with Arenado's output on the left-hand side of the Colorado infield.
3B: Eugenio Suarez, Reds*
The Reds bought into Suarez's 2017 breakout with a seven-year contract extension, and he's responded with an even better '18. Suarez, a first-time All-Star, entered Sunday leading the NL in OPS (.982), OPS+ (161) and RBIs (66).
OF: Charlie Blackmon, Rockies*
Blackmon hasn't been quite the dynamo he was in 2017, when he led the Majors in batting average, total bases, runs and triples and set the record for RBIs by a leadoff hitter. But his peers recognized the bigger sample.
OF: Lorenzo Cain, Brewers*
No buyer's remorse on the part of the Brewers, who signed Cain to a five-year deal as a free agent seven years after trading him to the Royals. Cain was a 2015 All-Star for Kansas City, and he's a 2018 All-Star for Milwaukee thanks to his .291/.394/.438 slash and defensive value.
OF: Christian Yelich, Brewers*
The Brewers' other outfield acquisition has also worked out pretty well. A model of consistency going back to 2014 in Miami, Yelich has maintained his productive pace in a new setting this season and earned his first All-Star selection with a .282/.358/.458 slash.
C: Buster Posey, Giants*
Bumped from the starting spot but not from the roster, Posey makes his sixth appearance on the NL squad in the midst of an '18 season in which he's logged a .290/.371/.420 slash.
C: J.T. Realmuto, Marlins
Realmuto hasn't let persistent trade rumors affect his play. He's a deserving first-time All-Star with a .305/.358/.544 slash, 12 homers and 20 doubles for the Fish, which only adds to the defensive value he provides behind the dish.
The AL Final Vote candidates are outfielder Andrew Benintendi of the Red Sox; outfielder Eddie Rosario of the Twins; shortstop Jean Segura of the Mariners; shortstop Andrelton Simmons of the Angels; and outfielder Giancarlo Stanton of the Yankees.
The NL choices are first baseman Jesus Aguilar of the Brewers; first baseman Brandon Belt of the Giants; infielder Matt Carpenter of the Cardinals; utility man Player Page for Max Muncy of the Dodgers; and shortstop Trea Turner of the host Nationals.
Fans can cast votes for the final player on each league's roster -- on computers, tablets and smartphones -- exclusively online as part of the 2018 Camping World MLB Final Vote, as well as via the MLB At Bat and MLB Ballpark mobile apps, until Wednesday at 4 p.m. ET.
The winners, as chosen exclusively by online fan voting totals, will be announced during live on MLB Network at 8 p.m. Wednesday.
On Tuesday, July 17, while watching the 2018 All-Star Game presented by Mastercard live on FOX, fans can submit their choices for the Ted Williams Most Valuable Player Award presented by Chevrolet with the 2018 All-Star Game MLB.com MVP Vote.
The 89th Midsummer Classic, at Nationals Park in Washington, D.C., will be televised nationally by FOX Sports; in Canada by Rogers Sportsnet and RDS; and worldwide by partners in more than 180 countries. FOX Deportes will provide Spanish-language coverage in the United States, while ESPN Radio and ESPN Radio Deportes will provide exclusive national radio coverage of the All-Star Game. MLB Network, MLB.com and SiriusXM also will provide comprehensive All-Star Week coverage.
For more information about MLB All-Star Week and to purchase tickets, visit AllStarGame.com and follow @MLB and @AllStarGame on social media.