Alford talks Tebow; Donaldson, Pearce improving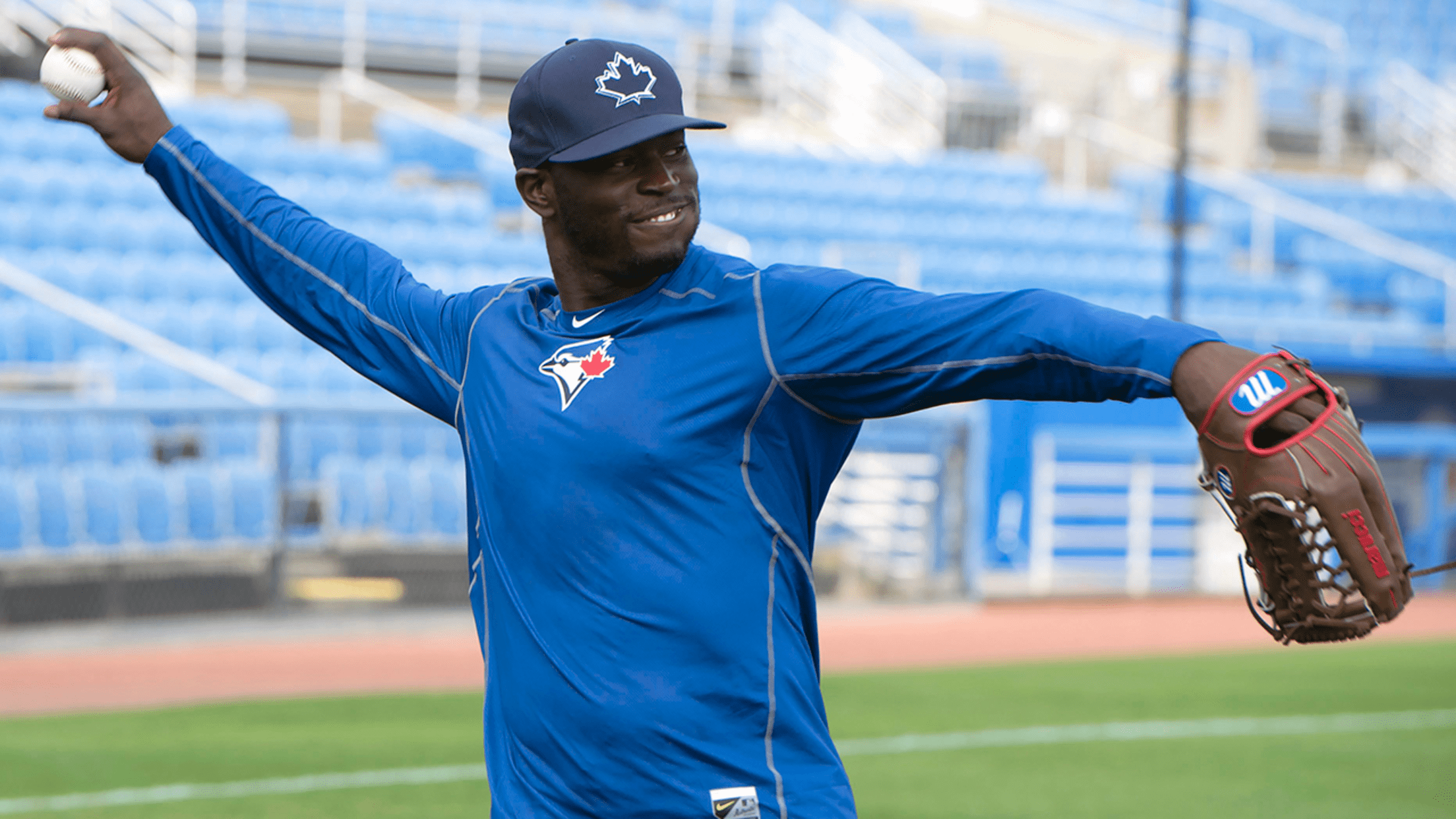 Before becoming the Blue Jays' No. 3 prospect, Anthony Alford was a standout college quarterback. (AP)
FORT MYERS, Fla. -- Nobody understands the challenges New York Mets Minor Leaguer Tim Tebow is facing in his transition from the football field to the baseball field better than Toronto Blue Jays outfielder Anthony Alford.Like Tebow, Alford was a college football star before turning his attention to baseball, first
FORT MYERS, Fla. -- Nobody understands the challenges New York Mets Minor Leaguer Tim Tebow is facing in his transition from the football field to the baseball field better than Toronto Blue Jays outfielder Anthony Alford.
Like Tebow, Alford was a college football star before turning his attention to baseball, first as a quarterback with the University of Southern Mississippi and then, after transferring his junior year, the University of Mississippi. Alford admits that the focus and day-to-day preparation required by a baseball player is much more demanding than it is with football.
• Spring:Tickets | Ballpark | 40-man roster | NRIs
"Baseball is definitely harder mentally," Alford said. "With football you really can let your athleticism take over, but I think it takes a special kind of person to play baseball."
Tebow picked up his first hit of the spring on Monday -- a single off Miami Marlins pitcher Kyle Lobstein. Alford, the Blue Jays' No. 3 prospect according to MLBPipeline.com, got the start in right field on Tuesday and went 1-for-2 with a triple and a run scored.
Alford, 22, played against Tebow in the Arizona Fall League where he saw marked improvement in a very short time period in Tebow's game.
"He's a true competitor. He wants to get better, he wants to be the best with whatever he does," Alford said. "I'm not saying he is going to be a superstar at the Major League level but I am saying he is going to make big strides and maybe surprise some people with his athleticism and competitive mindset that he has."
Pearce closer to playing the field
Outfielder/first baseman Steve Pearce continued to make progress toward his spring debut in the field, throwing long toss to 150 feet on Tuesday. The 33-year-old veteran, who signed a two-year, $12.5 million deal in December, is recovering from offseason surgery to repair a torn flexor mass tendon in his throwing elbow. Pearce could be ready to play the field at first base as early as Sunday.
"Shoot, we only have a couple weeks left down here so it's time," Blue Jays manager John Gibbons said.
Pearce got the start as the designated hitter against the Red Sox on Tuesday and went 1-for-4. He is batting .313 this spring with a double and two RBIs.
Donaldson, Liriano get work
Blue Jays third baseman Josh Donaldson, who has been dealing with a calf strain this spring, and pitcher Francisco Liriano did not make the trip to Fort Myers but did get some work in during a Minor League game against the Philadelphia Phillies in Clearwater. Donaldson, who served as the designated hitter and did not run the bases, went 1-for 3.
Gibbons said that if there were no setbacks from today's outing, he expects Donaldson to make his spring debut with the big league club "in the next few days."
"I think he'll be fine," Gibbons said. "I've been watching him move around the last few days and it was that time."
Liriano allowed just one hit in four innings of work, walking one while striking out two.
Roster moves
The Blue Jays announced Tuesday that pitcher Jarrett Grube, outfielder Dwight Smith and catcher Dan Jansen had been reassigned to the team's Minor League camp. Pitchers Ryan Borucki and Chris Smith were also optioned late Monday.
Smith was tied with Jose Bautista for the team lead in RBIs (6) this spring. Grube was 1-0 with a 5.40 ERA in five spring appearances.
J. Scott Butherus is a contributor to MLB.com.