Bullpen loses late lead again vs. Rays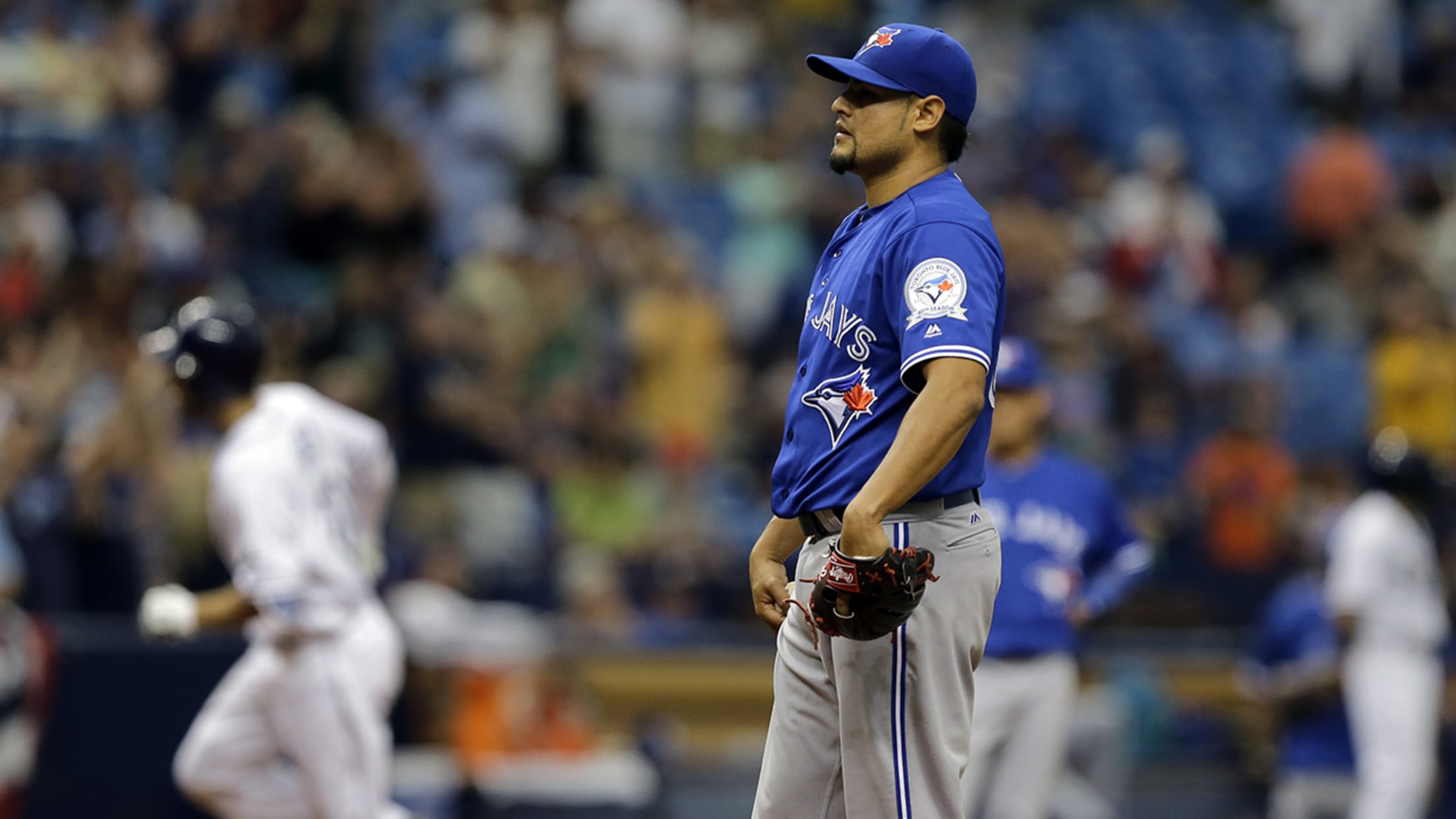 Arnold Leon gave up the go-ahead three-run homer to Steven Souza Jr. in the Blue Jays' 5-3 loss to the Rays. (AP) (Chris O'Meara/AP)
ST. PETERSBURG -- The bullpen is supposed to be one of the Blue Jays' biggest strengths this season, but it was a letdown in the final two games of the Opening Series against the Rays.For the second consecutive game, Toronto's relievers coughed up a lead in the eighth inning. This
ST. PETERSBURG -- The bullpen is supposed to be one of the Blue Jays' biggest strengths this season, but it was a letdown in the final two games of the Opening Series against the Rays.
For the second consecutive game, Toronto's relievers coughed up a lead in the eighth inning. This time, it was right-hander Arnold Leon who served up a three-run homer to Steven Souza Jr. in the Blue Jays' 5-3 loss on Wednesday afternoon at Tropicana Field.
The eighth inning typically belongs to right-hander Drew Storen, but he was noticeably absent during the series finale. Storen wasn't available after he either pitched or warmed up in Toronto's first three games of the season. Brett Cecil and Jesse Chavez also were unavailable for similar reasons.
The situation manager John Gibbons found himself in meant that he was forced to rely on a group of relievers that included Leon, Gavin Floyd and Franklin Morales. Those three will typically appear in games when the Blue Jays are trailing, but Wednesday posed high-leverage situations that didn't work out in their favor.
"He was up hot two out of the three nights and he was in one game," Gibbons said when asked about Storen. "You have to be conscious, as tempting as it is. All four games matter. You kill them now, you've got nothing. You have to find out about some other guys, too. He was down. Cecil and Chavez, [too]."
Toronto led, 3-2, when Floyd opened the eighth by giving up a leadoff single to Evan Longoria. Two batters later, he surrendered a bloop single to the opposite field. Just like that, Tampa Bay had runners on the corners with one out.
Gibbons hoped for a groundball and decided to hand things over to Leon. The 27-year-old right-hander quickly fell behind in the count, 3-0, before serving up a poorly located 83 mph slider that Souza crushed over the wall in left-center field for his second homer of the game.
Toronto could have left Florida with a four-game sweep. Instead, the club had to settle for a four-game split. Not how Gibbons wanted to head home after winning the first two games.
"Not a real good 24 hours, I'll put it that way," Gibbons said.