Inbox: Are any starters worth long-term deals?
Beat reporter Gregor Chisholm answers fan questions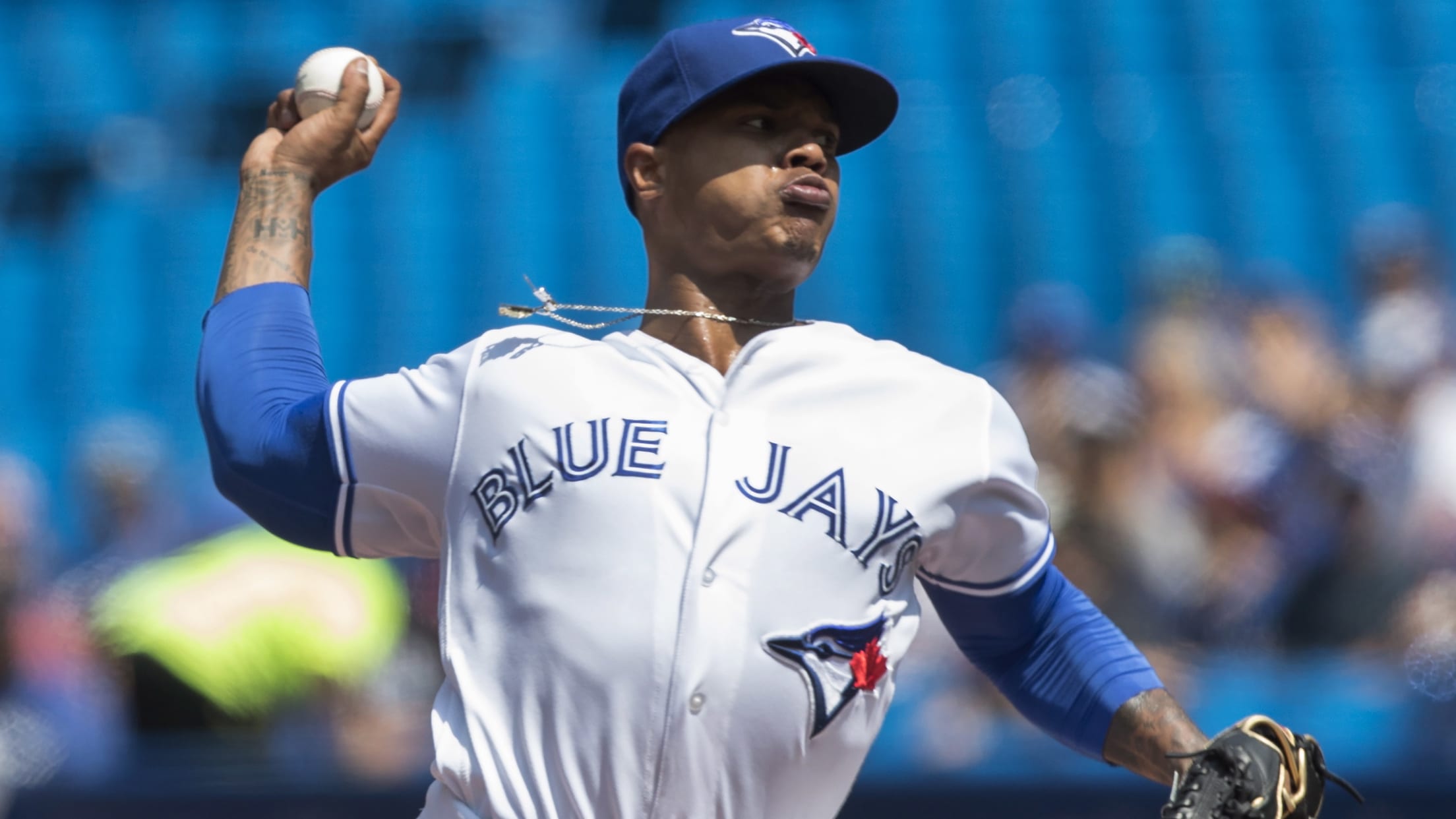 Toronto Blue Jays starting pitcher Marcus Stroman throws against the Tampa Bay Rays in the first inning of a baseball game in Toronto, Sunday, Aug. 12, 2018. (Fred Thornhill/The Canadian Press via AP) (Fred Thornhill/AP)
It's Hot Stove season, so let's dive into the latest Inbox.While you read a lot about trading Marcus Stroman and Aaron Sanchez, wouldn't the right approach be to sign one, or both, to favorable long-term deals? They are young enough, and their trade value is low. -- Seth P., Las
It's Hot Stove season, so let's dive into the latest Inbox.
While you read a lot about trading Marcus Stroman and Aaron Sanchez, wouldn't the right approach be to sign one, or both, to favorable long-term deals? They are young enough, and their trade value is low.
-- Seth P., Las Vegas
The Blue Jays need to add high-end pitching, not subtract, so I understand where you're coming from, but the answer is still no. In an ideal world, Toronto would explore long-term extensions, but that requires common ground between all parties, and to date there has been little evidence to suggest that's possible here.
• Submit a question to the Inbox
Let's start with Sanchez, who has been represented by Scott Boras for the last couple of years. Boras is one of the most high-profile agents in professional sports, and he frequently encourages clients to hit the open market. There are very few examples of Boras' clients signing team-friendly deals before free agency, and it's unlikely to happen here either. Some people might encourage Sanchez to limit his risk but bet on Boras convincing him he's one big year away from hitting the jackpot.
Stroman's representatives haven't been able to agree with the Blue Jays' front office on just about anything. The product of Duke has gone through arbitration each of the last two years, and there seemed to be some bad blood after Toronto won the case last offseason. If the two sides can't agree on value for one year, it's hard to believe they will find common ground on a multiyear deal.
With so many catchers available, Russell Martin's trade value takes a hit. Should the Blue Jays not worry about trading him right away and let him help Danny Jansen develop?
-- Hayden, Clearwater, Manitoba
Yasmani Grandal, Wilson Ramos, Caleb Joseph, James McCann, Jonathan Lucroy and A.J. Ellis are just some of the names available this offseason, so your point is well taken. The group lacks splashy names, but possesses plenty of depth, and that will make it more challenging to facilitate a deal.
Does the number of available catchers really hurt Martin's trade value though? Maybe a bit, but not much. Let's be clear about one thing: Toronto is not going to be able to get much of a return for Martin no matter what happens. Regardless of who is available, the best-case scenario for Toronto is that it eats the vast majority of Martin's salary and gets a lottery ticket in the form of a bad contract, or fringe prospect, in return.
There are hundreds of articles out that say, "Don't expect any splashy free-agent signings from the Blue Jays as they are in a rebuilding season." Can you explain the logic here? Given that Vlad Jr. and Bo Bichette have a six- to seven-year window before free agency and that this is the best free-agent class in recent memory, isn't this the exact time for the Blue Jays to make a big purchase?
-- Matt M., Winooski, Vt.
The reason you're reading so many articles about the lack of big moves is because that's what sources have been telling local reporters for months. It's not that beat reporters are taking a stance on what the Blue Jays should do, we're simply the messengers, and it's up to the fans to form their own opinions from there.
Every indication I have received from inside the organization is that Toronto will make incremental adds -- especially on the pitching side -- but that 2019 will be another year of development. It gives Toronto another 12 months to evaluate its in-house options before more significant additions are considered. Fans will -- and should -- debate whether this is the right approach, but that's why you're seeing the current tone from the media, because it's all about providing reliable information.
Any chance the Blue Jays plan a long-term extension for Vlad Jr. so there are no worries about service time?
-- Corey P., Fredericton, New Brunswick
If that was a realistic option, it would have been happened last season in order to facilitate an immediate callup. At this point, the Blue Jays only need to delay the arrival of MLB Pipeline's No. 1 overall prospect Vladamir Guerrero Jr. by another month to secure a seventh year of control. With such a short period of time to wait, there's not a ton of incentive to reach a long-term deal. That stance will change again in a couple of years when Toronto considers buying out some of Guerrero's free-agent seasons, but it seems unlikely to happen before his debut.
Do you see the Blue Jays trading some of their outfield surplus in maybe Dalton Pompey, J.D. Davis and Anthony Alford?
-- @tate_seb29
General manager Ross Atkins will definitely explore those types of deals, but none of those pieces are going to net much of a return. Toronto has been open to trading Pompey for more than a year, but a reasonable offer has yet to surface, and there's a good chance he will be designated for assignment at some point in the coming months.
Davis is intriguing because of his speed, but he projects as a backup outfielder and is typically the type of player who gets tossed into a much bigger deal. Alford is a possibility to be sent elsewhere, but his value took a big hit this year with a disappointing .656 OPS at Triple-A Buffalo, so it makes more sense to hold on to him and see where his career goes from here.
Given that he is likely to sign a 10-year contract, why shouldn't the Blue Jays try to get in the Bryce Harper sweepstakes? Seems to me that he would pair nicely with Vlad Jr. and help with attendance during the rebuilding years.
-- Rob M., Kitchener, Ontario
Harper would pair well with just about anybody, but his contract demands are so high he's practically in another orbit. Toronto's payroll is going down, not up, so that's the first reason this deal won't happen.
Second, teams going after Harper better be in a win-now mode. Sure, Harper would be signed for a long term, but teams would want to extract as much value as possible from his prime years in order to justify the back end of the deal. Finally, it's doubtful that Harper would have an interest in joining Toronto even if the club made a lucrative offer considering the number of contending teams that are already in the mix.