Answers to key FAQs about Blue Jays' offseason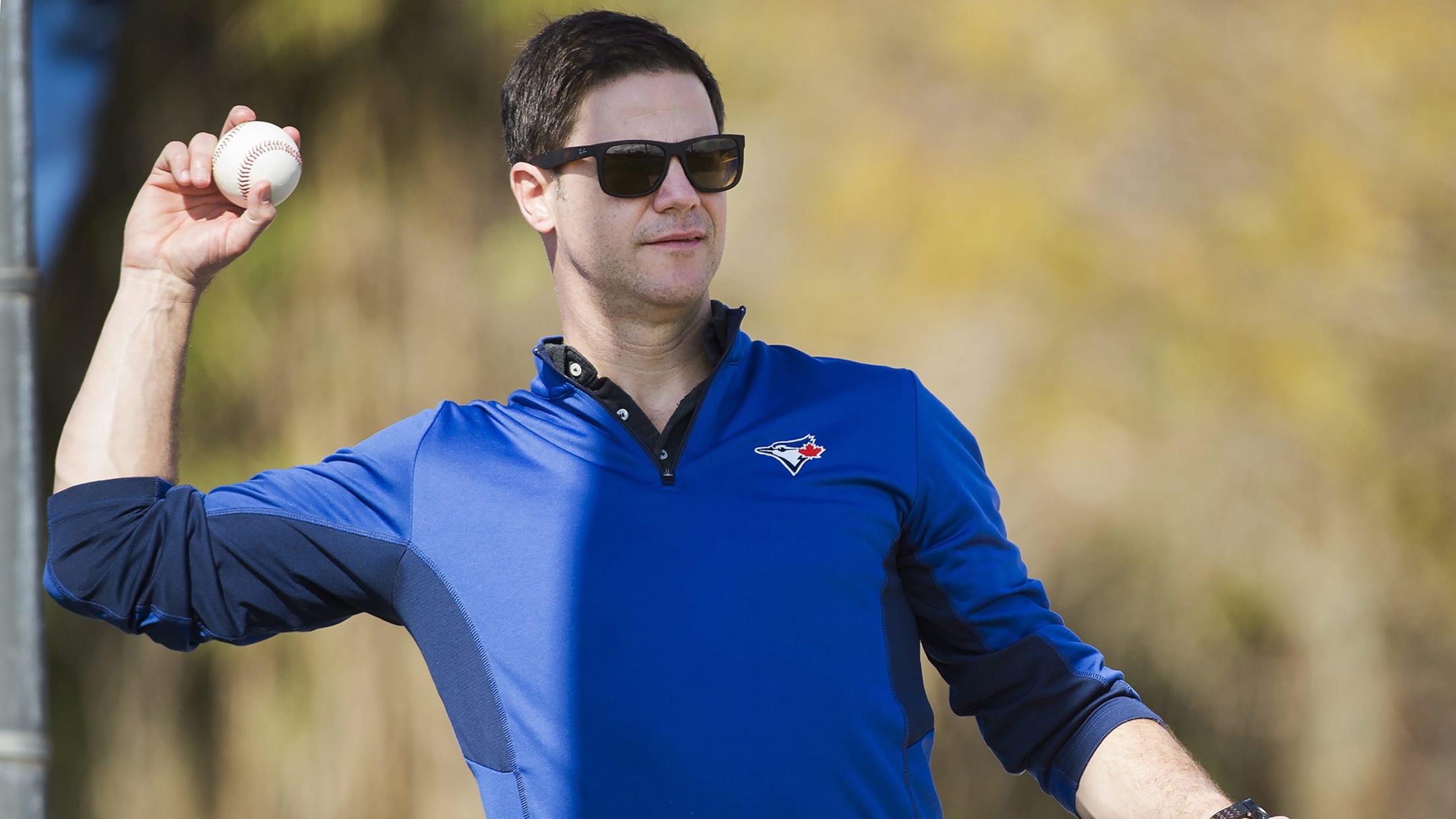 Toronto Blue Jays general manager Ross Atkins throws a ball during baseball spring training in Dunedin, Fla., on Sunday, Feb. 19, 2017. (Nathan Denette/The Canadian Press via AP) (Nathan Denette/AP)
TORONTO -- The Blue Jays' offseason will officially begin early next month, upon completion of the World Series, as Toronto takes the next step in its rebuilding process.General manager Ross Atkins should be expected to have a busy few months as he continues to lay a foundation for the future.
TORONTO -- The Blue Jays' offseason will officially begin early next month, upon completion of the World Series, as Toronto takes the next step in its rebuilding process.
General manager Ross Atkins should be expected to have a busy few months as he continues to lay a foundation for the future. Some of the veterans are gone, others will be on the way out and there's a clear focus on developing youth.
Here's a rundown of some frequently asked questions surrounding the Blue Jays' offseason:
Which players are eligible for free agency?
Right-handers Marco Estrada and Tyler Clippard.
Which players are eligible for arbitration?
Right-handers Marcus Stroman ($6.5 million in 2017), Aaron Sanchez ($2.7 million), Ken Giles ($4.6 million), Dennis Tepera ($575,000), Jake Petricka ($1.3 million) and Joe Biagini ($508,000), outfielders Kevin Pillar ($3.25 million) and Randal Grichuk ($2.8 million), infielder Brandon Drury ($620,000) and second baseman Devon Travis ($1.45 million).
Who are the non-tender candidates?
The Blue Jays can choose to avoid arbitration by non-tendering a player and letting him become a free agent. Everybody should be safe, except for possibly Pillar and Petricka. Even after a down season at the plate, Pillar will receive a significant raise on his $3.25 million salary, and the final cost might outweigh the production. The non-tender deadline is Nov. 20.
Which players have club options, and when do the Blue Jays have to decide if they will bring them back?
Justin Smoak and Yangervis Solarte have team options for 2019 and the Blue Jays have until five days after the completion of the World Series to guarantee their salaries for next season. Smoak's $8 million option can be bought out for $250,000, but the expectation here is that he will return as Toronto's starting first baseman in 2019.
Solarte's future is far less certain because of his $5.5 million option, which comes with a $750,000 buyout. The Blue Jays have a glut of infielders with Vladimir Guerrero Jr., Troy Tulowitzki, Aledmys Diaz, Lourdes Gurriel Jr., Travis and, to a lesser extent, Richard Urena all in the mix for next season. The sheer number of alternatives alone seem to indicate that Solarte's time with the Blue Jays has almost certainly come to an end.
Who needs to be protected from the Rule 5 Draft?
The Rule 5 Draft is for players who have been in the Minors for at least 4-5 years, with the specifics varying depending on the date and age at the time of their signing. Each pick costs $100,000, and the player must remain on the 25-man roster for the entire season or be offered back to the original team for $50,000.
Toronto has a large group of prospects who fall into this category. The group includes: right-handers Hector Perez, Patrick Murphy, Jon Harris, Yennsy Diaz, Jordan Romano, Jacob Waguespack, Corey Copping, left-hander Travis Bergen, outfielders Forrest Wall and Harold Ramirez and catcher Max Pentecost. That's 11 players, and there won't be room for even close to all of them. Atkins recently conceded the Blue Jays expect to lose someone through the Rule 5 Draft.
Who will come off the 40-man roster?
Toronto's 40-man roster is currently full, so Atkins will have to get creative this offseason. Estrada and Clippard will automatically come off the roster shortly after the postseason, but those spots will have to go to Tulowitzki and Drury, who are on the 60-day disabled list.
Jon Berti, Dalton Pompey, Solarte, Mark Leiter and Christopher Guerrieri all seem likely to be removed, and depending on how many spots are needed, that group could grow to include the likes of Sam Gaviglio, Danny Barnes, Petricka, Justin Shafer or possibly an outfielder like John Smith Tough decisions are looming.
How much money do the Blue Jays have to spend?
The Blue Jays' payroll is going down, but so far, the club has remained vague on specifics. Toronto opened each of the last two years with payrolls of more than $160 million, and that number is going to drop.
Toronto is expected to explore a similar market to the one it dipped into last winter when Atkins signed Jaime Garcia, Seunghwan Oh and Clippard to low-level deals. The only players with guaranteed contracts next season are Tulowitzki, Russell Martin and Kendrys Morales for a total of $52 million, but that number will skyrocket once arbitration cases and club options are factored in.
When will Vladimir Guerrero Jr. make his debut?
If the Blue Jays wait until at least April 12 -- 16 days after the start of the 2019 season -- they have the possibility of keeping Guerrero under club control for parts of seven seasons. If Toronto brings him up before then, it runs the risk of Guerrero becoming eligible for free agency after six years.
The front office has maintained all along that the delay in Guerrero's arrival has everything to do with development and nothing to do with service time, but realistically, it has to be considered the primary factor. Guerrero might not make his debut on that exact date, but the starting job at third base should be his by May.
What are the Blue Jays' top needs this offseason?
Pitching, pitching and more pitching. Toronto will be in the market for at least one starter and a couple of setup relievers. Look for the Blue Jays to take a similar approach to the one they took last offseason, which was sprinkling their available money around to multiple players, instead of trying to make one big splash in the market. The goal would be to then flip some of those assets at the non-waiver Trade Deadline for additional prospects. Through trade, Atkins should be expected to make some of his surplus position players available to target pitching as well.
What are some other key offseason dates to remember?
The General Managers Meetings will take place in Carlsbad, Calif., from Nov. 5-8. The annual Winter Meetings will then take place from Dec. 9-13 in Las Vegas.