Inbox: Blue Jays best suited for shorter season
Beat reporter Keegan Matheson answers fans' questions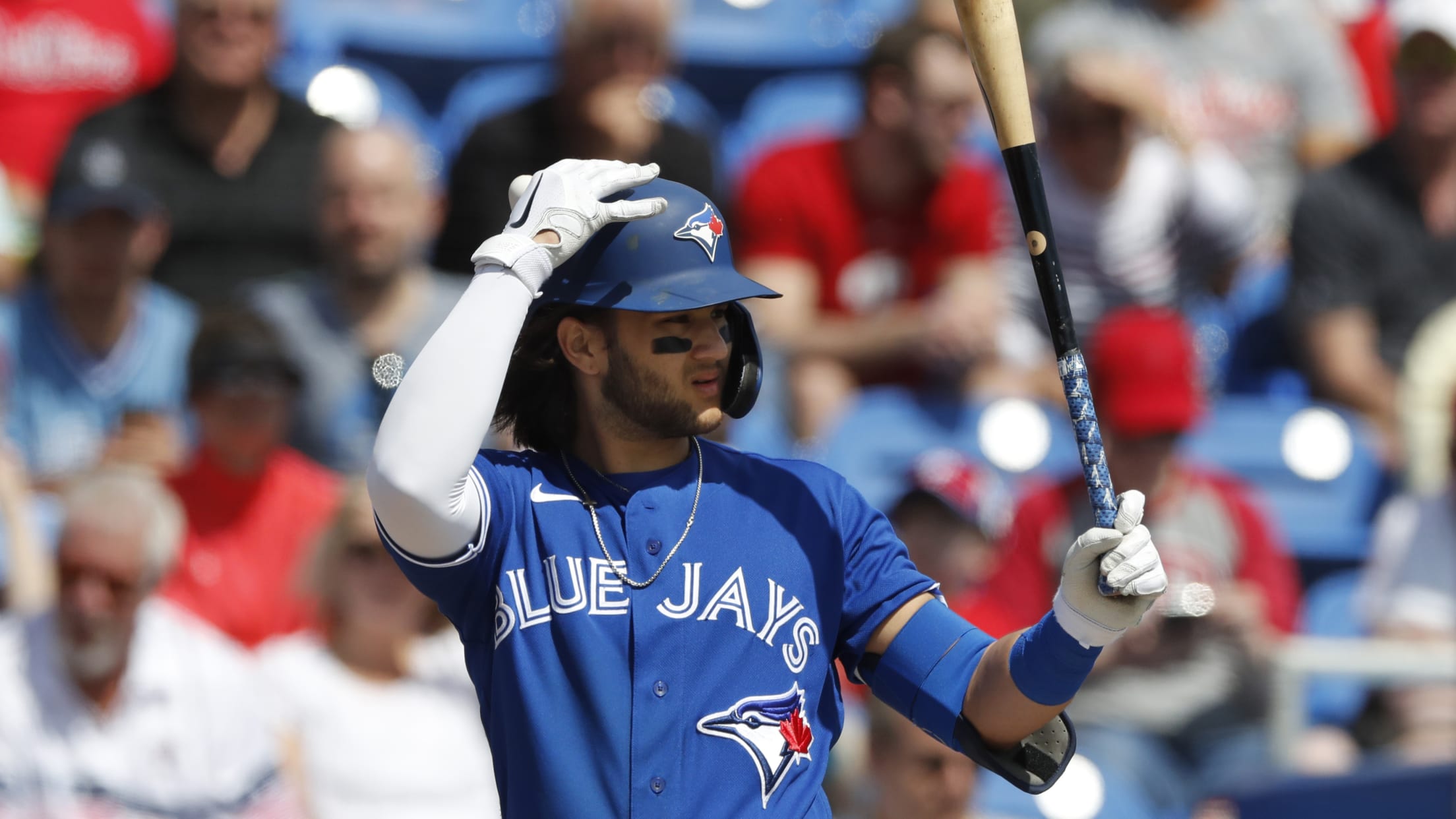 TORONTO -- The Blue Jays are back, and so are many of the storylines and roster battles from Spring Training. There are plenty of new wrinkles to explore ahead of clubs reporting to camp and the eventual start of the season, though, on July 23 or 24. Here are the
TORONTO -- The Blue Jays are back, and so are many of the storylines and roster battles from Spring Training. There are plenty of new wrinkles to explore ahead of clubs reporting to camp and the eventual start of the season, though, on July 23 or 24.
Here are the answers to some of your questions about what comes next in the 60-game 2020 season:
Out of Vladdy, Bo, and Biggio, who is better suited for a short season?
-- Roland M.
Suddenly, Bo Bichette's 46-game debut last season isn't such a "small sample." Vladimir Guerrero Jr. will bring the pop and Cavan Biggio will contribute his combination of on-base ability and power, but it's Bichette who could really make some noise over a two-month schedule. This season will be "all gas, no brakes" as Nate Pearson put it on Sunday, and no player fits that style of play more naturally than Bichette. Streaks can swing in both directions, of course, but Toronto's 22-year-old shortstop is built for a sprint.
What do you think the odds are that Ken Giles finishes the season with the Blue Jays given that his contract is up after this year? If he goes, who would be next in line for the 9th inning?
-- Leo K.
The Trade Deadline will be on Aug. 31 this season and only players in a club's 60-man player pool may be traded, so don't expect the same flurry of deals. Matching up using players only from that pool is more difficult and, frankly, any team that avoids a skid out of the gates will still think it is in the playoff race come late July.
Giles is an interesting case, though. I'd expect him to finish the season in Toronto -- with the caveat that things could change quickly -- and hit the free-agent market as one of the top arms available. Beyond Giles, you might be looking at someone like Rafael Dolis, who closed games in Japan and impressed in the spring. The Blue Jays don't necessarily have a "closer in waiting," though, so it could be a hot hand situation.
Before Spring Training was stopped early there was talk of Espinal making the 26. With how the rosters will be for this season he's a lock to be with the team. Where do you see him playing? I could see him being moved around the infield and outfield.
-- Pete
Santiago Espinal, at minimum, is a great fit for the travelling three-man taxi squad that all clubs will take on the road with them. These players won't be on the active roster, but they will be with the club in their controlled environment in case injuries hit, at which point they can be immediately activated. One needs to be a catcher and teams will surely carry a spare pitcher, so the position player involved needs some versatility. Enter Espinal.
The Blue Jays should feel comfortable with him filling in at second and third base, while shortstop and the outfield are on the table, too. It might take some injuries in front of him to stick on a 26-man roster by the time rosters shrink to that size, but he'll absolutely be on the edges with an opportunity to contribute. Manager Charlie Montoyo likes him.
Are there any development for the potential signing of Austin Martin? Do you think he will sign with the Blue Jays?
-- Line L.
The No. 5 overall pick, Martin is expected to sign, and when he does, it's possible he joins the Blue Jays' 60-man player pool, which still has two openings. It's highly unlikely that there will be any Minor League play for Martin to participate in this season, which could limit the urgency to some extent, but Toronto would love to start working with him. After Guerrero, Bichette, Biggio and now Pearson, Martin will keep the prospect hype train rolling in 2021.
Do you think the players who were diagnosed with COVID-19 will eventually be able to play this year? Or will they have the entire season off?
-- David D.
This is a good one to clarify. If a player tests positive for COVID-19, they will be placed on a separate Injured List with no minimum or maximum days (like the 10-day or 45-day). A player who tests positive will be isolated from the team and will not be eligible to return until they test negative two separate times, at least 24 hours apart, and show zero symptoms for 72 hours.
• FAQ: All you need to know about 2020 season
All players will be tested for COVID-19 every other day on top of twice-daily temperature and symptom checks. Antibody testing will be done monthly.
Should the Jays play Pearson, Austin Martin and Groshans this year?
-- Brad
Pearson, absolutely. His talent, especially condensed into a schedule where workload is less of a factor, could change the season. Martin would only be with the player pool for development purposes, if that's the direction the Blue Jays go, and it's still a little early to start Jordan Groshans' clock, given that he hasn't hit above Class A yet. I'd expect him to start making plenty of noise at Spring Training 2021, though.