Pearce's arm pain-free after playing first base
Veteran had been limited to DH role in spring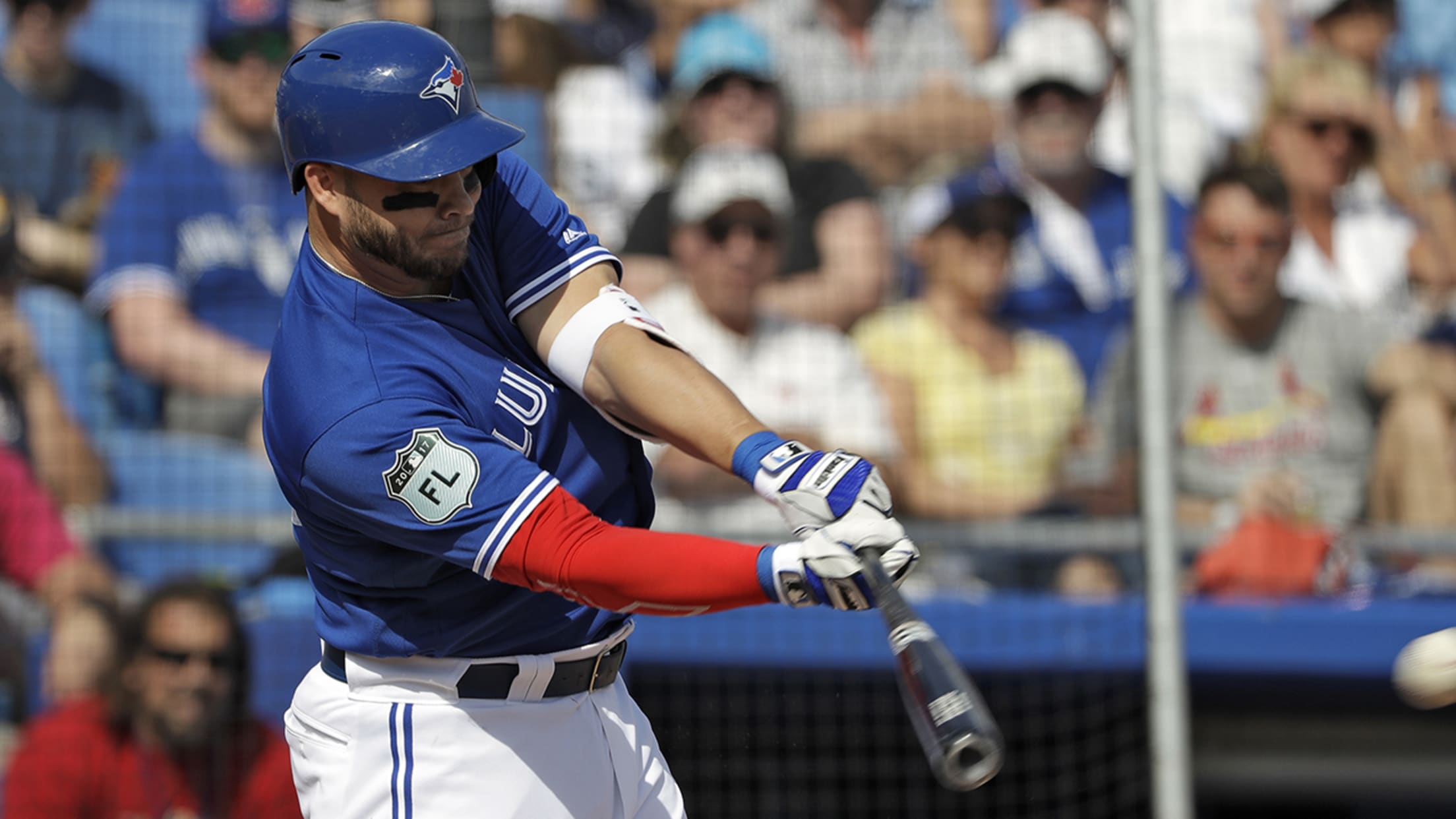 Steve Pearce joined the Blue Jays in the offseason on a two-year, $12.5 million deal and could emerge as the team's starter in left field on Opening Day. (AP) (Chris O'Meara/AP)
BRADENTON, Fla. -- After making his long-awaited debut in the field on Sunday against the Pirates, Blue Jays first baseman Steve Pearce made it simple when asked how he felt on a scale of one to 10."A 10," he said.Following months of rehabilitation from a procedure last September to repair
BRADENTON, Fla. -- After making his long-awaited debut in the field on Sunday against the Pirates, Blue Jays first baseman Steve Pearce made it simple when asked how he felt on a scale of one to 10.
"A 10," he said.
Following months of rehabilitation from a procedure last September to repair the flexor tendons in his right elbow, things went about as smoothly as Pearce and the Blue Jays could have hoped for in Toronto's 11-11 tie in nine innings at LECOM Park.
Limited to designated-hitter duties throughout Spring Training during his recovery, just getting a chance to test the arm in game conditions was nice for the versatile Pearce, who joined the Blue Jays in the offseason on a two-year, $12.5 million deal and could emerge as the team's starter in left field on Opening Day.
The fact he was able to throw, catch and move around pain-free and without any restrictions before being lifted in the sixth was a major plus.
"The adrenaline was running," said Pearce, who singled twice in three plate appearances and was thrown out at the plate trying to score on a hit by Darrell Ceciliani in the fourth.
"I'm just glad I'm back out there, and it felt good all around."
Blue Jays manager John Gibbons echoed his slugger's sentiments and said Pearce had been working at first base in practice drills to prepare, throwing around the infield without issues.
"He did fine," Gibbons said. "He felt good. That's a start."
With another significant step in the recovery process out of Pearce's way, it will be about continuing to work for the remainder of Spring Training and into the season to assure it doesn't arise as an issue down the road.
Pearce is confident it won't.
"It's just maintenance," he said. "Just have to stay on top of it, just continue to strengthen it and just monitor it, pretty much.
"Every player is different. You really have to stay on top of it and make sure that you're doing the necessary steps to keep it strong and healthy."
Jeff Odom is a contributor to MLB.com and covered the Blue Jays on Sunday.