Braves could look internally to fill closer's role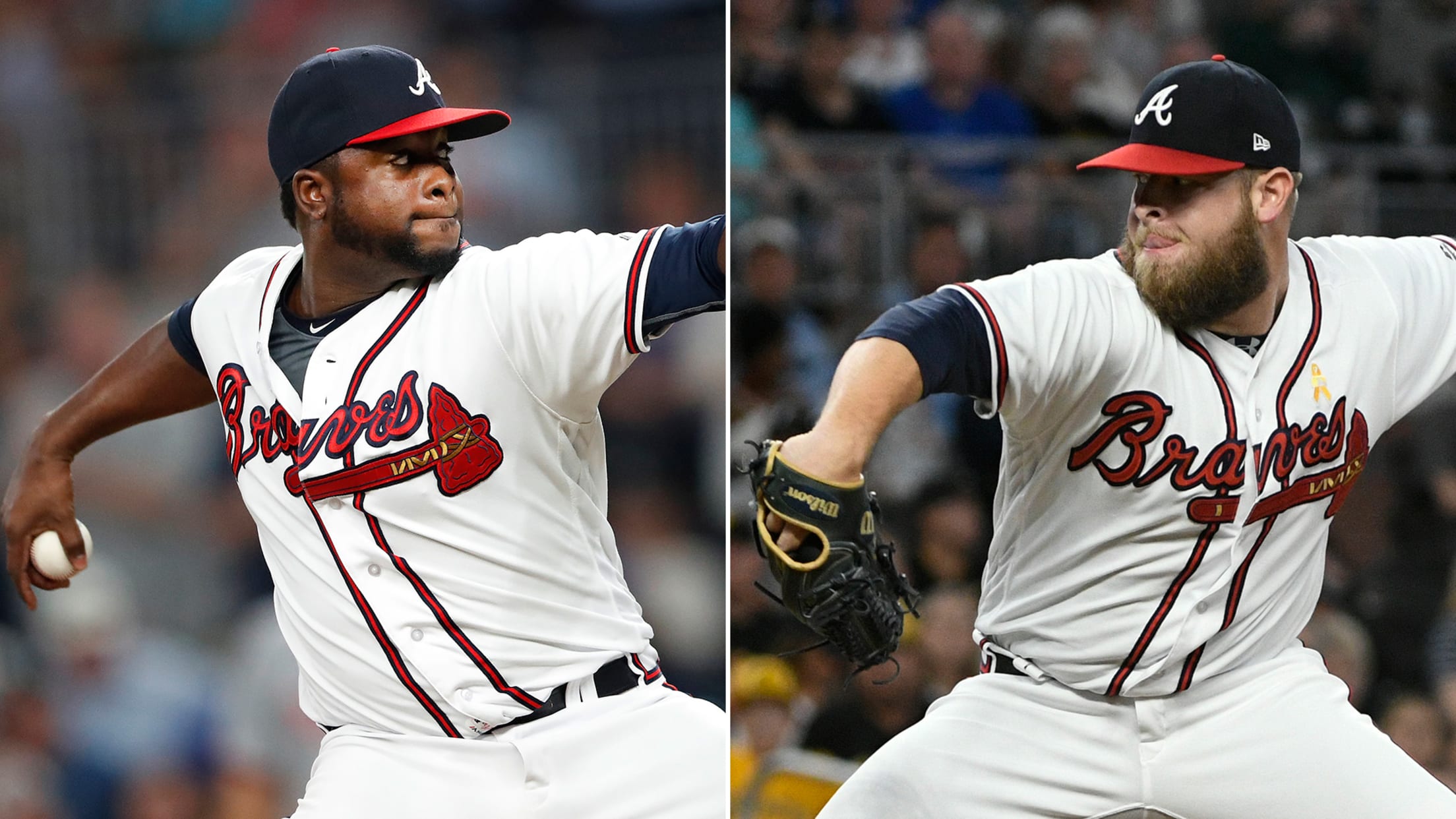 ATLANTA -- Though the Braves will continue to monitor what appears to be a high-risk free-agent bullpen market, adding a reliever stands as their one offseason want that could at least somewhat comfortably go unsatisfied.Braves general manager Alex Anthopoulos had his eyes set on Edwin Diaz before realizing he would
ATLANTA -- Though the Braves will continue to monitor what appears to be a high-risk free-agent bullpen market, adding a reliever stands as their one offseason want that could at least somewhat comfortably go unsatisfied.
Braves general manager Alex Anthopoulos had his eyes set on Edwin Diaz before realizing he would have to part ways with at least three of their top pitching prospects to get the closer, who the Mariners ended up dealing to the Mets.
With Diaz out of the picture and Craig Kimbrel's asking price still far above the Braves' comfort zone, Anthopoulos does not see many free agents or potential trade targets who could be confidently handed the closer's role.
• Hot Stove Tracker
"There aren't too many guys who we think who can be a clear-cut closer," Anthopoulos said. "I think we're just looking for the best bullpen arms we can get for the best value we can come up with. Diaz is obviously someone anybody in the division would love to have. The Mets got a lot better with him. He would have fit us and a lot of other clubs. He's arguably the most impactful reliever signed or traded or acquired this offseason, so great job by the Mets."
So now the Braves have to look at the possibility of assigning the closing duties to one of their internal options. A healthy Arodys Vizcaino has proven capable of handling the role, but there's reason to doubt his durability (right shoulder). The better long-term option would be A.J. Minter, who posted a 3.23 ERA, 10.1 strikeouts per nine innings and 3.2 walks per nine innings over 65 appearances in 2018. He also converted 15 of 17 save opportunities during his first full Major League season.
Diaz burst on the scene in 2016, then posted a 3.27 ERA, 12.1 K/9 IP and 4.4 BB/9 IP over 66 appearances in '17. The Mariners did not necessarily envision him becoming arguably the Majors' best closer this year; the Braves don't know exactly how good the 25-year-old Minter can be in '19.
"I'm not comparing [Minter] to Edwin Diaz at all," Anthopoulos said. "But Edwin Diaz in 2017 had solid numbers, and when he was 23 [in '18], he took a step. So why can't A.J. Minter take a step now that he's been through it? He's talented enough to do it. I'm not saying we're counting on that or banking on that. I don't want to put that on him. But similar to when I got this job and we said we might be better than people think because we have all this young talent, we won't be shocked if any of these guys have good years because they're talented."
Like Diaz took his game to another level by improving his slider, Minter may realize better results now that he has added a changeup to an arsenal that has primarily consisted of four-seamers and cutters. The Braves lefty threw 32 changeups in 2018, 23 of which were recorded in September.
Minter is still a work in progress, but he's more experienced than Chad Sobotka, who looked like another potential closer when he came out of nowhere to produce a 1.88 ERA and limit opponents to a .104 batting average over the first 14 1/3 innings of his career this season. Armed with a 96.6 mph fastball and an effective slider that averaged 85.9 mph per Statcast™, the 25-year-old right-hander earned a postseason roster spot when he recorded eight strikeouts and issued just one walk over his final four regular-season innings.
It might be too early to project Sobotka for the closer's role, but his presence combined with the fact Minter and Vizcaino have already shown they can handle the job may lead the Braves to pass on the likes of Adam Ottavino or Jeurys Familia and focus on allocating those funds to simply add depth to the bullpen or address other needs.
"There is no one we're engaged with right now [on the free-agent or trade markets] who would be brought in and handed the ninth inning," Anthopoulos said.
Mark Bowman has covered the Braves for MLB.com since 2001.