Bonifacio homers as Braves top Marlins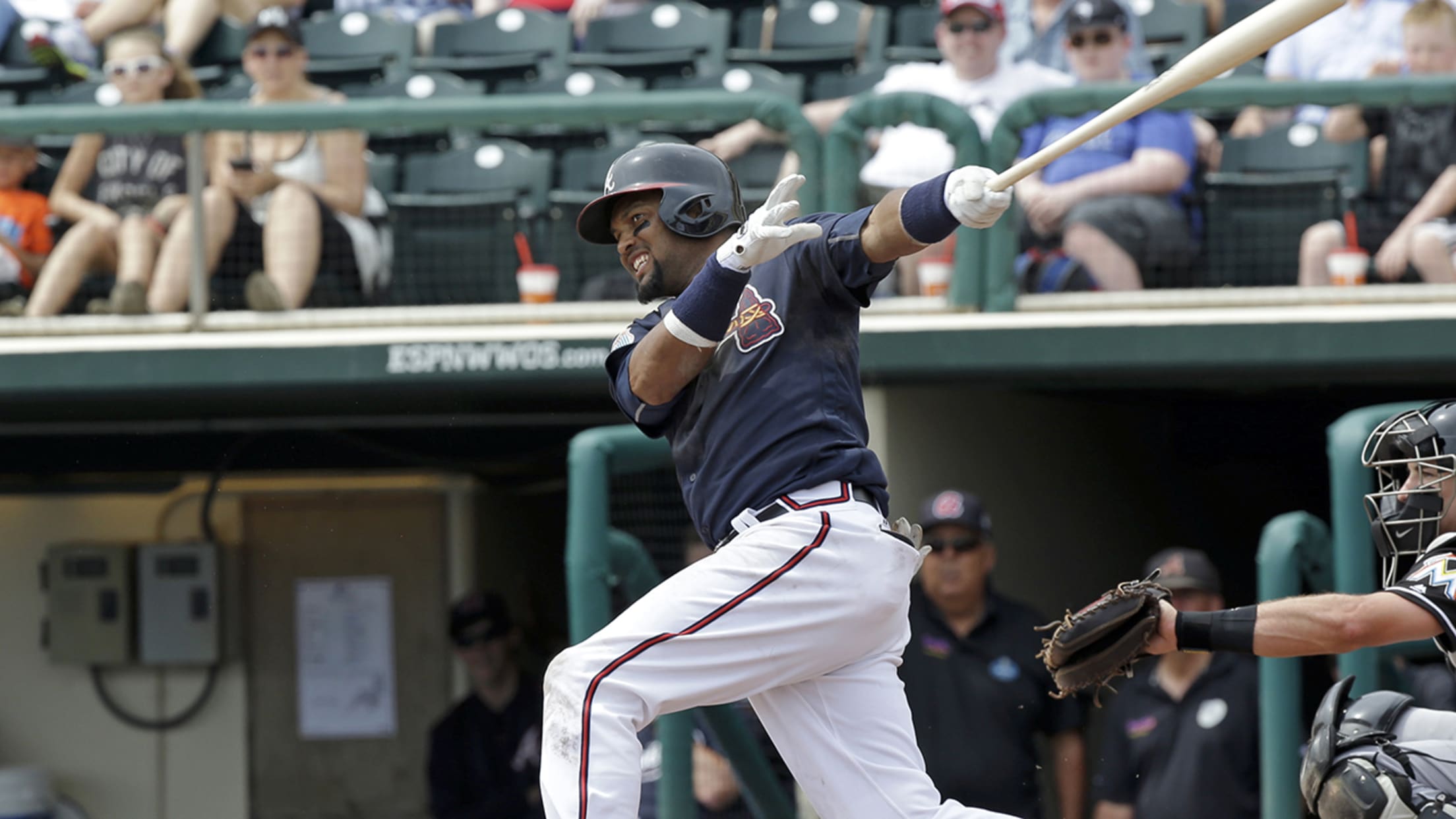 Emilio Bonifacio homered for the first time this spring in the third inning. (AP) (John Raoux/AP)
LAKE BUENA VISTA, Fla. -- Nate Freiman's walk-off hit by pitch gave the Braves a 6-5 win over the Marlins on Friday at ESPN's Wide World of Sports complex.Marcell Ozuna's long home run was not enough to spoil Matt Wisler's otherwise effective start, but Isaac Galloway's three-run homer in the
LAKE BUENA VISTA, Fla. -- Nate Freiman's walk-off hit by pitch gave the Braves a 6-5 win over the Marlins on Friday at ESPN's Wide World of Sports complex.
Marcell Ozuna's long home run was not enough to spoil Matt Wisler's otherwise effective start, but Isaac Galloway's three-run homer in the ninth off Ian Krol tied the game at 5. Andre Rienzo hit Freiman for the game-winning run.
"It seems we've been able to score late in the games," Marlins manager Don Mattingly said. "Every day, it seems like we kind of get back in it, get it close. We don't get the last hit, but today we get the hit that gets us all the way back. We just give up a run there."
Wisler retired the first five batters before surrendering extra-base hits to three of the next six batters he faced. The Marlins tallied a second-inning run courtesy of doubles by J.T Realmuto and Adeiny Hechavarria. They added another in the third, when Ozuna belted a solo homer that cleared the tall scoreboard in left-center field.
Wisler retired seven of the final eight batters, allowing just two earned runs over four innings. He has given up three earned runs over 8 2/3 frames in three Grapefruit League starts.
"You know what I liked?" Braves manager Fredi Gonzalez said. "He got back up on the mound and he kept pounding the strike zone. I don't think he ended up walking anybody and his three-ball count off the top of my head might be zero. He got hit, but here's the difference between this year and when we first saw him last year: It would have been panic, and then walk two guys, and all crazy stuff."
Former Marlin Emilio Bonifacio's third-inning solo homer accounted for the Braves' only run until they tallied a three-run fourth against Chris Narveson. Jeff Francoeur and Reid Brignac highlighted the inning with doubles, and Hector Olivera delivered a bases-loaded infield single that gave the Braves a 4-2 lead.
Matt Tuiasosopo's sacrifice fly in the seventh extended the lead, but Galloway's three-run homer off Krol tied the game at 5 in the ninth.
Up next for the Marlins: The Marlins return to Roger Dean Stadium on Saturday to face the Tigers at 1:05 ET in a game that can be listened to exclusively on marlins.com. Lefty Adam Conley, who has made a strong case for a rotation spot, is scheduled to throw about 70 pitches. Detroit is going with lefty Daniel Norris. Giancarlo Stanton is expected to play. This will be the first game in which Miami's pitchers will bat.
Up next for the Braves:Julio Teheran will make one of his final tuneup starts before Opening Day when Atlanta travels to Tampa to play the Yankees on Saturday at 1:05 p.m. ET. The game can be watched live on MLB.TV. Teheran faced one more than the minimum in four scoreless innings against the Rays in his most recent start.
Mark Bowman is a reporter for MLB.com.