Braves pitchers battling it out for 'pen spots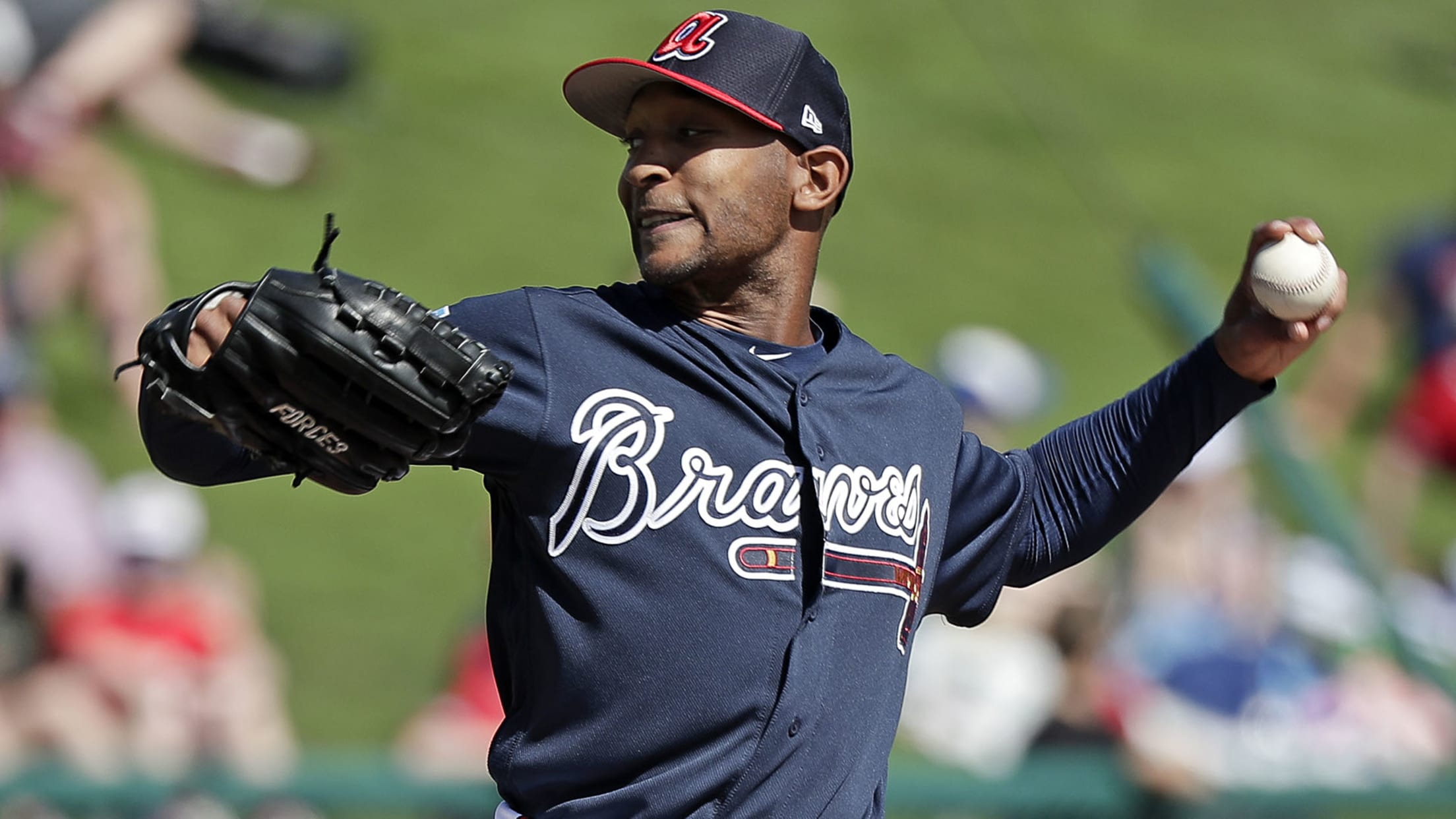 LAKE BUENA VISTA, Fla. -- After recently confirming A.J. Minter and Darren O'Day would begin the season on the injured list, Braves manager Brian Snitker responded to a question about who might share late-inning duties with closer Arodys Vizcaino by saying, "That's a good question." With Opening Day just over
LAKE BUENA VISTA, Fla. -- After recently confirming A.J. Minter and Darren O'Day would begin the season on the injured list, Braves manager Brian Snitker responded to a question about who might share late-inning duties with closer Arodys Vizcaino by saying, "That's a good question."
With Opening Day just over a week away, the Braves are uncertain about the early-season makeup of a bullpen that will be supporting a rotation without Mike Foltynewicz until April's second half. The rash of injuries could create unexpected opportunities for some of the club's top pitching prospects and somebody like Wes Parsons, who has been one of this spring's biggest surprises.
If all goes right for the Braves, Minter, who was slowed by left shoulder tightness, will return within the season's first two weeks and a healthy O'Day -- who has been dealing with right forearm discomfort -- would join the bullpen mix before the end of April. Still, their respective absences combined with Chad Sobotka's command issues enhance concerns about Atlanta's relief corps.
The expectation is that the Braves will enter the season with four starters and nine relievers. Here's a look at how the bullpen battle is shaping up entering the final days of the exhibition season.
LOCKS: Sam Freeman, Jonny Venters and Arodys Vizcaino
Given Freeman was left off last year's postseason roster and was considered a potential non-tender candidate, it might not be comforting to see him listed as one of the three locks. But the current state of the bullpen erases any doubt about the candidacy of the veteran left-hander, who recorded 15 strikeouts and issued five walks over the 10 2/3 scoreless innings that followed last year's second-half stint on the injured list. The southpaw has been shaky against right-handed hitters, but he has retired four of the six left-handers he's faced this spring.
Venters has retired each of the four left-handed hitters he's faced and six of the 14 right-handers who have tallied a plate appearance against him. He doesn't have the overpowering stuff of yesteryear, but he still has the potential to be a valuable late-inning option in Minter's absence.
Vizcaino has been perfect in four of his five appearances. The only question concerning the closer is how durable his right shoulder will be when subjected to a regular-season workload.
ESSENTIAL LOCKS: Jesse Biddle, Dan Winkler and Shane Carle
None of these hurlers made the postseason roster, but each of them served as the Braves' most reliable reliever during different extended stretches last year.
Biddle has surrendered 10 hits and issued four walks over his past 8 2/3 innings, but he's currently out of options and the Braves are aware of the value he provided after halting his reverse splits trend two months into last season.
Winkler was slowed by elbow discomfort during the early portion of camp, but he has made four scoreless appearances dating back to his March 6 spring debut. The right-hander -- who posted a 0.74 ERA through last year's first 26 appearances -- will be in Atlanta's Opening Day bullpen as long as he remains healthy.
Carle may have cemented his spot after he capably handled consecutive multi-inning appearances last week. But the Braves may need another good start from the right-hander, who posted a 0.69 ERA through last year's first 20 appearances.
On The Bubble: Luke Jackson, Chad Sobotka, Wes Parsons, Bryse Wilson, Max Fried, and Touki Toussaint
Because he's been outrighted twice previously, Jackson would have the option to declare for free agency if he's again designated for assignment. So being out of options doesn't necessarily help Jackson, who has allowed seven hits and issued three walks over his past five innings.
Sobotka will need a strong finish to rekindle the optimism that surrounded him when he came to camp projected to begin the season in Atlanta's bullpen. He looked like a potential closer late last year, but while issuing two walks in three of his past five appearances, Sobotka's been reintroduced to the command issues that have plagued him throughout much of his pro career.
Parsons made just one appearance despite being promoted to Atlanta three different times last year. But while surrendering just three hits over 11 scoreless innings this spring, he has earned strong consideration for an Opening Day roster spot.
As the Braves plan to carry at least one long reliever, Wilson, Fried and Toussaint all stand as potential candidates. Wilson's ability to consistently throw strikes may make him the strongest candidate for a relief role. But like Fried and Toussaint, Wilson also could end up filling a rotation spot if Kevin Gausman is not deemed ready before a fifth starter is needed.
Mark Bowman has covered the Braves for MLB.com since 2001.