Chacin building case for rotation job
Veteran Braves pitcher continues to impress this spring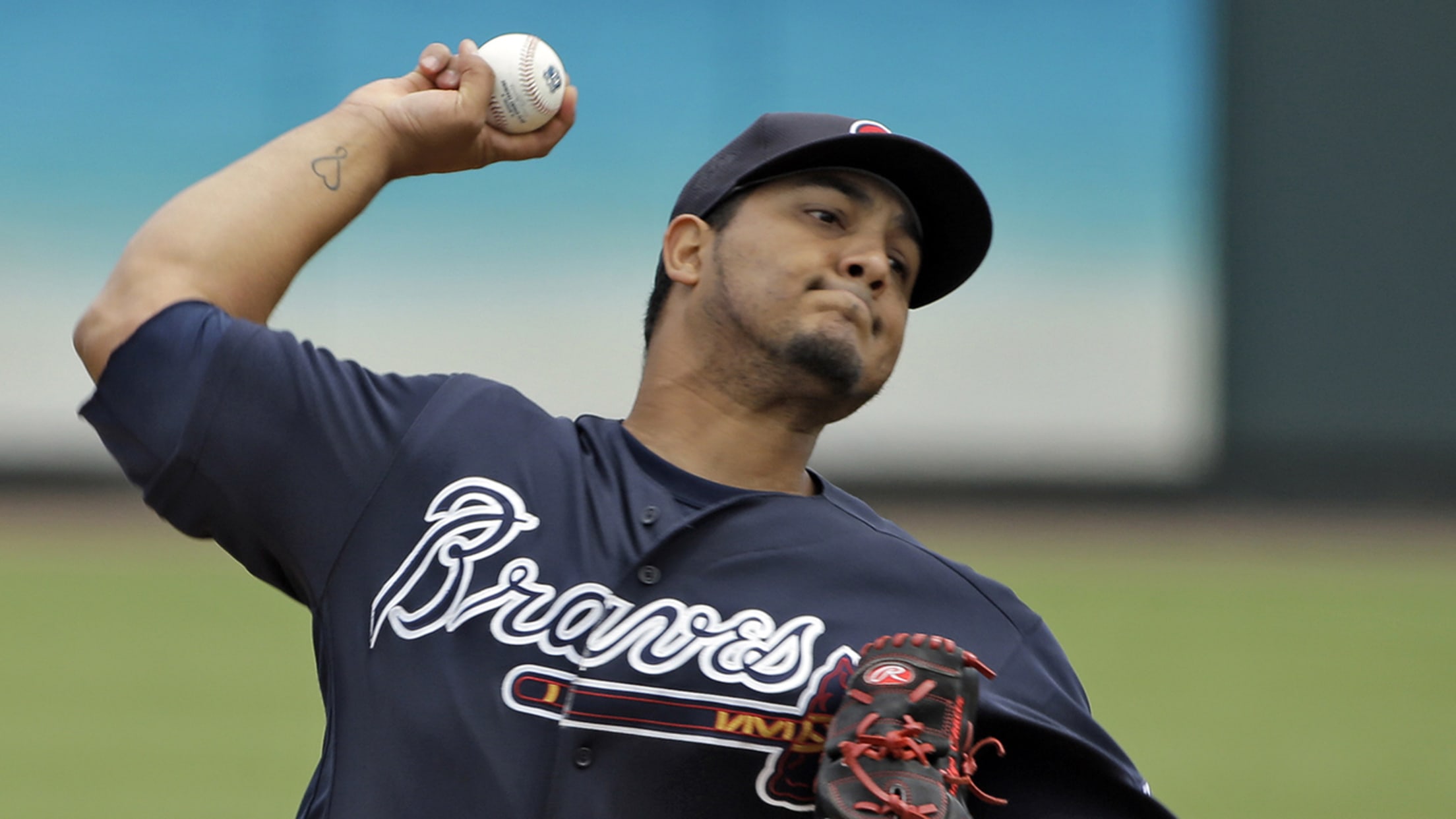 Jhoulys Chacin delivers a pitch in the first inning on Monday against the Pirates. (Chris O'Meara/AP) (Chris O'Meara/AP)
BRADENTON, Fla. -- Jhoulys Chacin isn't an attorney, but as he continues to compete this spring for a slot in the Braves' starting rotation, the 28-year-old right-hander is building a convincing case.The latest evidence came during the Braves' 7-3 victory over the Pirates on Monday.Facing a lineup comprised largely of
BRADENTON, Fla. -- Jhoulys Chacin isn't an attorney, but as he continues to compete this spring for a slot in the Braves' starting rotation, the 28-year-old right-hander is building a convincing case.
The latest evidence came during the Braves' 7-3 victory over the Pirates on Monday.
Facing a lineup comprised largely of Opening Day starters, Chacin held the Bucs to one run on four hits in 3 1/3 innings with two walks and five strikeouts.
Highlights of Chacin's performance included a strikeout of Andrew McCutchen on a high heater in the first inning after falling behind 3-1, and inducing an inning-ending flyout by Josh Harrison to escape a bases-loaded jam in the third.
Spring Training:Tickets | Schedule | Ballpark
"Chacin pitched good, and you know what? For me, he's really making a case -- I'm not going to sit here and anoint him right now -- but he is definitely a guy who, if he keeps pitching like he is, he'll be in the rotation someplace," said Braves manager Fredi Gonzalez after the game.
Chacin, who signed a Minor League contract in December after spending most of 2015 pitching Triple-A ball in the Indians and D-Backs organizations, rebounded smartly from last Wednesday's rocky outing against the Cardinals (three runs on eight hits in three innings) and has now allowed four earned runs in 11 1/3 innings this spring with 11 strikeouts and four walks.
"I feel fine. I was able to make pitches when I needed to, just a lot of deep counts so my pitch count was up and I couldn't finish my (allotted) four innings, but it was nice that I didn't give up a lot of two-out base hits or any two-out RBI's like what happened in my last game," said Chacin, who threw first-pitch strikes to 13 of the 18 batters he faced while finding the zone on 42 of his 72 pitches overall.
"My last outing, I was throwing a lot of pitches right down the middle," he continued. "I wasn't throwing a lot of four-seamers and today, I was using my sinker, my cutter and going in to righty's, going in to lefty's mixing my cutter, throwing my slider when I had to and I think I mixed it all well."
And while Chacin has certainly made a strong case for a spot in the rotation, he's not taking anything for granted.
"I really don't think about it," said Chacin, whose eight, pain-free starts in Venezuela this winter factored heavily in the Braves' decision to extend a Spring Training invitation.
"I just think about having good outings, trying to show people that I'm healthy, that I can pitch, that I can locate the ball, that I can get ground balls and I can strike out people when I have to."
Michael Kolligian is a contributor to MLB.com