Braves face tough decisions ahead of Rule 5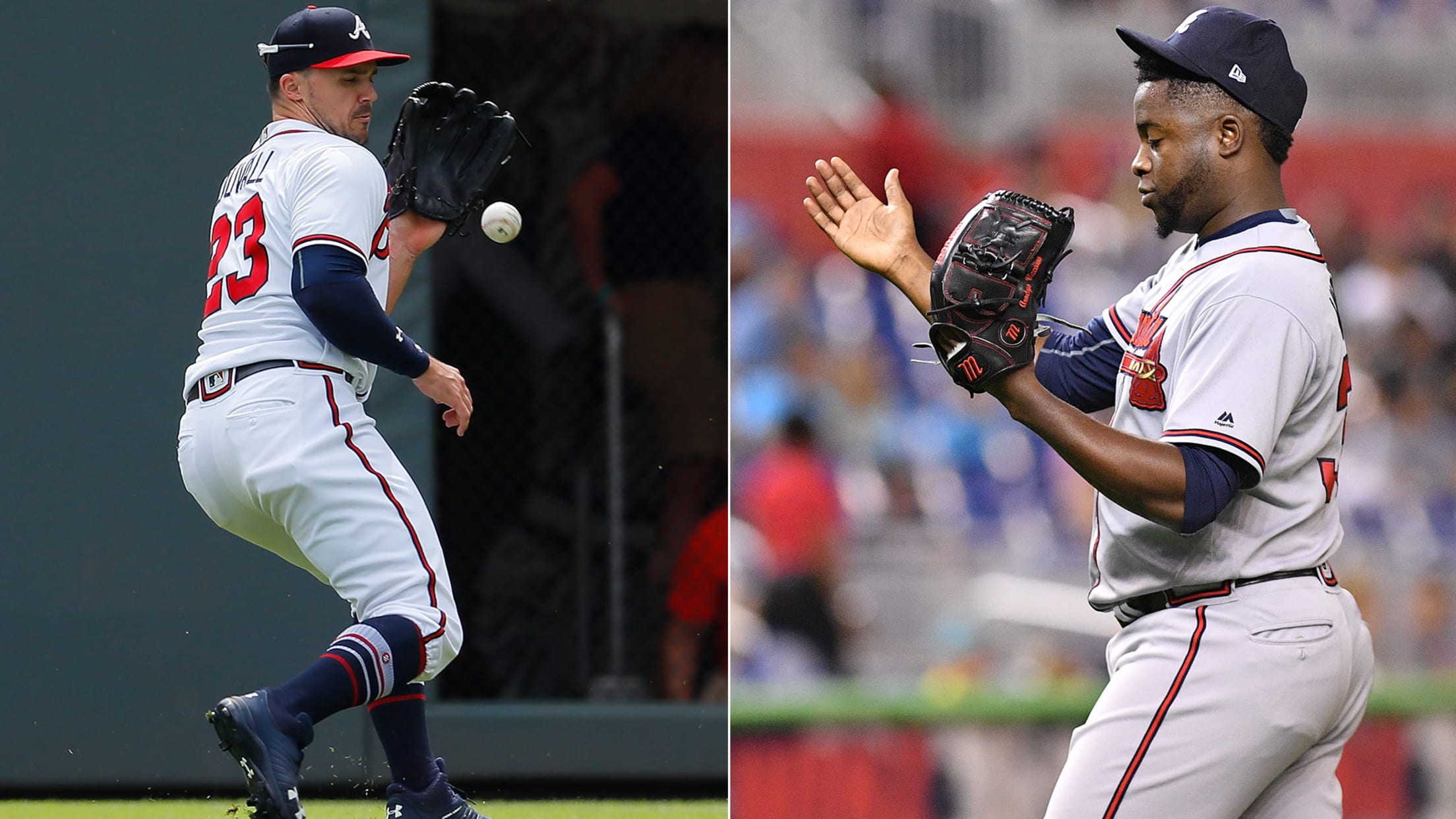 ATLANTA -- Arodys Vizcaino currently stands as the best option to open 2019 as Atlanta's closer, but given the uncertainty of his shoulder, is it worth gambling his arbitration salary? Jacob Webb is a right-handed pitching prospect who has produced impressive numbers dating back to July, but has he done
ATLANTA -- Arodys Vizcaino currently stands as the best option to open 2019 as Atlanta's closer, but given the uncertainty of his shoulder, is it worth gambling his arbitration salary? Jacob Webb is a right-handed pitching prospect who has produced impressive numbers dating back to July, but has he done enough to warrant being given a valuable 40-man roster spot?
These are just a couple of the questions Braves general manager Alex Anthopoulos and his staff must weigh ahead of two upcoming roster deadlines.
All Major League clubs have until Tuesday at 5 p.m. ET to determine which of their Minor Leaguers will be added to the 40-man roster and consequently protected in the Rule 5 Draft, which will take place on Dec. 13.
The deadline for tendering arbitration-eligible players a contract is Nov. 30. If a team deems one of these players to be too expensive or not compatible with next season's plans, the player will become a non-tendered free agent.
The Braves have eight arbitration-eligible players: RHP Mike Foltynewicz, RHP Kevin Gausman, Utilityman Charlie Culberson, OF Adam Duvall, RHP Arodys Vizcaino, RHP Dan Winkler, LHP Sam Freeman and LHP Jonny Venters.
Seemingly certain non-tender candidate: Duvall
After the Braves acquired a Gold Glove candidate with power potential from the Reds on July 30, there was reason to wonder if the Duvall they traded for actually boarded the flight from Cincinnati to Atlanta. The 30-year-old veteran hit .132 with zero homers for Atlanta and was left off the postseason roster. Maybe next year would be different. But that would be an expensive maybe considering MLB Trade Rumors projects Duvall to receive $3.1 million via arbitration.
Potential non-tender: Vizcaino
If the Braves were to tender Vizcaino a contract that could be worth approximately $4.8 million (MLBTR's projected figure), they'd be responsible for just a portion of this if the reliever's shoulder becomes an overwhelming concern during Spring Training. But the exhibition season is not the best time to evaluate a pitcher's durability. So, if there is concern about Vizcaino's inability to handle a normal regular-season workload, it might be prudent for the Braves to cut their losses and use that money elsewhere, perhaps on a more dependable closer.
Possible, but unlikely non-tenders: Venters, Freeman and Winkler
Freeman has battled command issues, and Venters and Winkler have both had multiple elbow surgeries. But MLBTR does not project any of these relievers to net more than $1.6 million via arbitration. Anthopoulos' desire to preserve bullpen depth will likely ensure each of these three relievers will be tendered a contract.
Rule 5 Draft eligibles
The Braves currently have four vacancies on their 40-man roster. Six of their top 30 prospects per MLB Pipeline are eligible to be taken in this year's Rule 5 Draft. But you have to remember any player taken in this Draft must spend the entire 2019 season on the selecting team's active roster or be offered back to the previous team.
Braves top prospects who are Rule 5 Draft eligible this year: RHP Huascar Ynoa (No. 20), RHP Patrick Weigel (No. 21), OF Travis Demeritte (No. 22), C Alex Jackson (No. 27), RHP Josh Graham (No. 28), RHP Jacob Webb (No. 29).
Most likely to be protected: Weigel and Webb
After missing most of 2017 while recovering from Tommy John surgery, Weigel completed four innings in the Gulf Coast League this year. If he's healthy, and it appears he is, he would almost certainly be selected by another organization.
Webb has remained a relatively obscure prospect, but he's certainly highly regarded by the scouts who saw him produce a 0.96 ERA and record 20 strikeouts while issuing just four walks over his final 18 2/3 innings for Triple-A Gwinnett this year. The Braves can't risk losing this 25-year-old hurler who is capable of providing value to Atlanta's bullpen next season.
Possibly protected: Graham and Jackson
A team would certainly be taking a chance by selecting Graham, who was demoted to the Class A-Advanced level for a portion of this year. But he does have a power arm, and he produced a 2.95 ERA while recording 25 strikeouts over 18 1/3 innings upon returning to Double-A in August. The pitching-rich Braves would take a risk by not protecting him. But it's a risk they can afford to take. Teams don't want to lose depth at catcher, but Jackson hasn't yet proven he's capable of catching at the Major League level. More importantly, there's little reason to believe a team would gamble on carrying a player who totaled eight homers and combined to produce a .647 OPS at Double-A and Triple-A this year.
Unlikely to be protected: Ynoa, Demeritte
Ynoa has never pitched above Class-A Advanced and he was effective in just one of the seven starts he made at that level last year. Demeritte was not selected when left unprotected last year. So, there's little reason to be concerned about losing a player who has shown why the Rangers were willing to trade him in return for Lucas Harrell and Dario Alvarez.
Mark Bowman has covered the Braves for MLB.com since 2001.