Freeman, Teheran return to Braves camp
First baseman will start Wednesday against the Tigers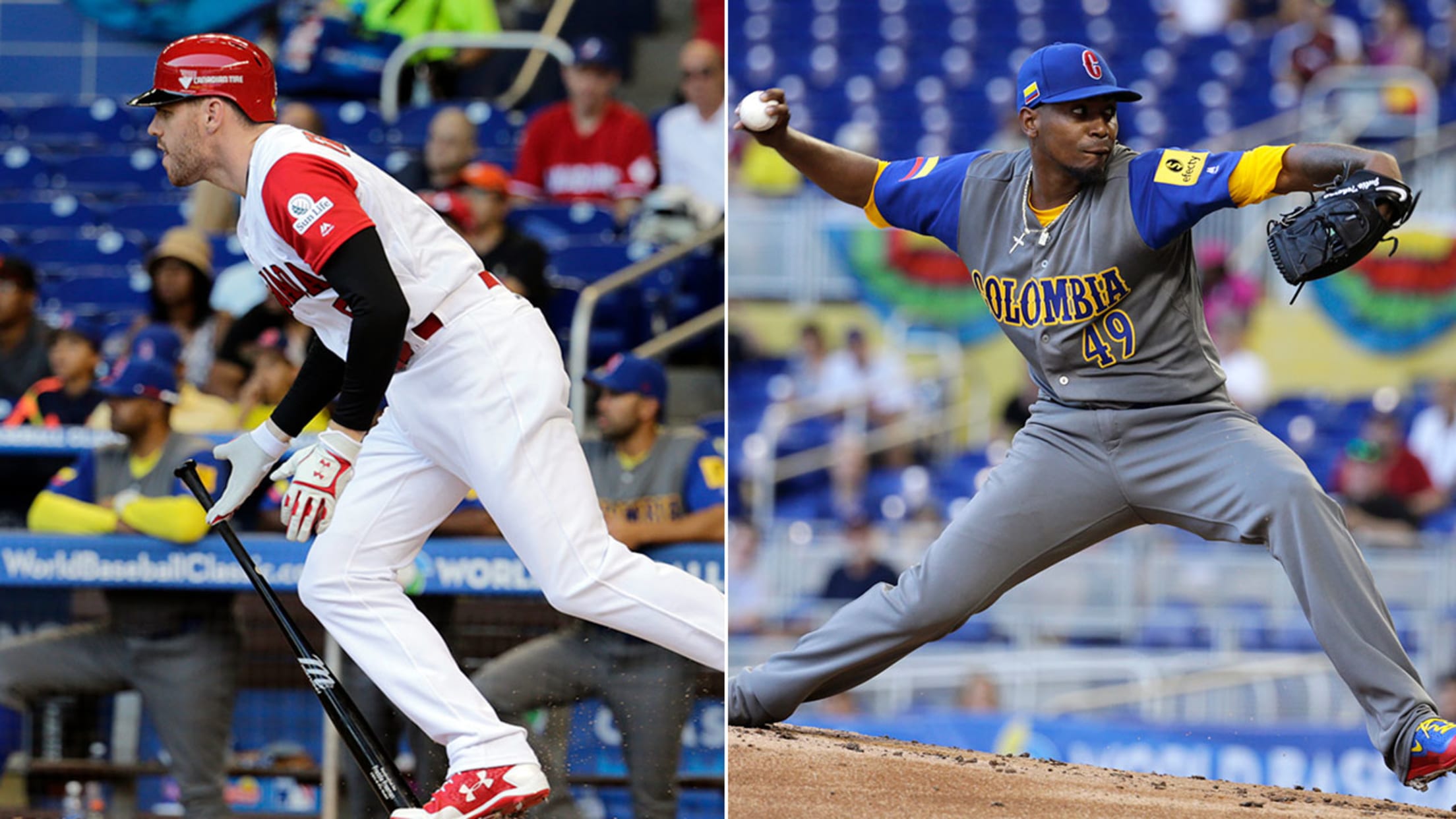 Freddie Freeman (left) and Julio Teheran played for countries that were eliminated in WBC '17. (AP)
CLEARWATER, Fla. -- Fresh off their respective experiences in the World Baseball Classic, Freddie Freeman and Julio Teheran returned to Braves camp on Tuesday. Both are expected to start playing in Grapefruit League games again this week.Freeman will be in the Braves' lineup for Wednesday afternoon's game against the Tigers
CLEARWATER, Fla. -- Fresh off their respective experiences in the World Baseball Classic, Freddie Freeman and Julio Teheran returned to Braves camp on Tuesday. Both are expected to start playing in Grapefruit League games again this week.
Freeman will be in the Braves' lineup for Wednesday afternoon's game against the Tigers in Lakeland. Manager Brian Snitker didn't know exactly when Teheran will make his next start, but if the right-hander starts on Friday or Saturday, he'll be on schedule to make his fourth straight Opening Day start for Atlanta.
"I talked to [Freeman] when he was coming back [from the Classic]," Braves manager Brian Snitker said. "He wanted to work out today and then get back in there tomorrow. So we'll get him back in there and try to get back in a routine."
While Freeman's Canadian team and Teheran's Colombian team were eliminated in the first round, Braves center fielder Ender Inciarte and his Venezuelan teammates advanced to the second round. Inciarte will remain away from Braves camp through at least the end of this week, as Venezuela will be in San Diego competing in Pool F, which also consists of the United States, the Dominican Republic and Puerto Rico.
Since participating in his most recent Grapefruit League game on March 4, Freeman has made a whirlwind tour of Florida. He worked out with the Canadian team in Dunedin for two days before making a brief return to Braves camp last week to work out with his Atlanta teammates before driving with his family to Miami to compete in the Classic.
Freeman went 2-for-11 in the three games he played during WBC '17. One of his hits was a single that accounted for one of the two hits Teheran surrendered during a strong, five-inning effort that helped Colombia claim a 4-1 win over Canada on Saturday.
Teheran's 61-pitch effort in that game accounted for the only start he has made since making his most recent Grapefruit League appearance. But he has enough time to make three more starts before Opening Day.
Mark Bowman has covered the Braves for MLB.com since 2001.