Lugbauer ready to begin career behind plate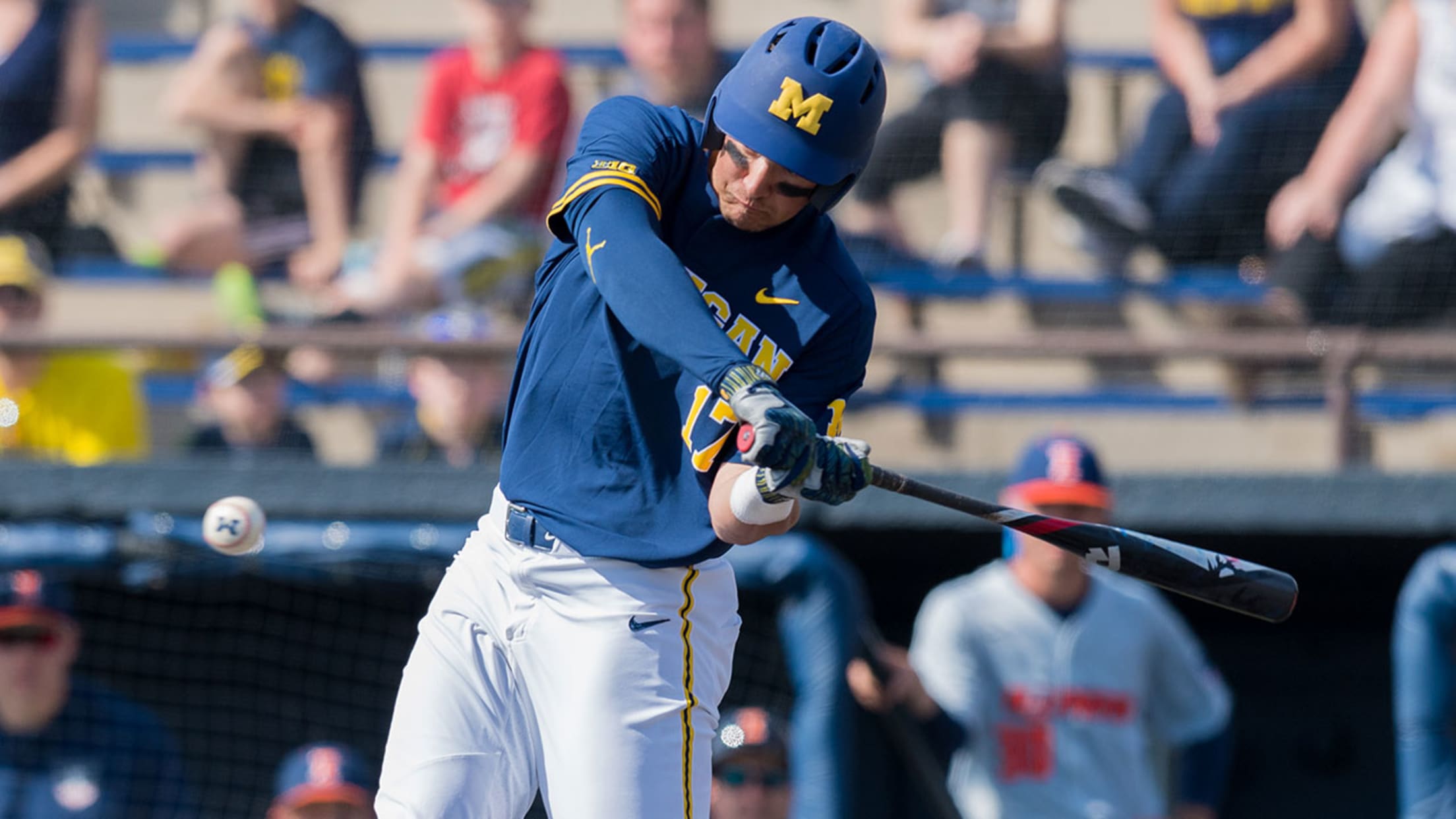 "I've been a catcher my whole life," Drew Lugbauer said. (Michigan)
ATLANTA -- Drew Lugbauer arrived at the University of Michigan with the expectation to spend his collegiate career as a catcher. But after spending most of the past three seasons serving as a corner infielder, the athletic left-handed-hitting slugger is ready to begin his professional career behind the plate.With their
ATLANTA -- Drew Lugbauer arrived at the University of Michigan with the expectation to spend his collegiate career as a catcher. But after spending most of the past three seasons serving as a corner infielder, the athletic left-handed-hitting slugger is ready to begin his professional career behind the plate.
With their first pick during Wednesday's portion of the Draft, the Braves used their 11th-round selection on Lugbauer and revealed they plan to utilize him as a catcher. This certainly didn't dissuade the 20-year-old prospect, who seems to be looking forward to the chance to return to a position he routinely played before entering college.
:: 2017 MLB Draft coverage ::
"I've been a catcher my whole life," Lugbauer said. "Fortunately, we had a good catcher at Michigan, so I played other positions. With me being a left-handed power bat, that plays well to be a catcher. If I have to catch, I'll catch. If I have to play third base, I'll play third base. I'm going to do whatever it takes to help the team."
After taking Lugbauer, the Braves used their next selection on Hagen Owenby, a junior catcher from East Tennessee State University who won last year's collegiate Home Run Derby. The Braves ended up taking six catchers on Wednesday, which served as the final day of this year's Draft.
While acquiring Alex Jackson from the Mariners this past winter and watching Brett Cumberland, last year's second-round selection, the Braves have at least gained a base for capable catching depth within their farm system. But this definitely remains one of the greatest areas of concern within the club's talent-rich pipeline.
Though he spent most of his life growing up in upstate New York, Lugbauer spent two of the earliest years of his childhood living in Georgia while his dad worked in Atlanta. The Poughkeepsie, N.Y., resident doesn't have any memories of his time in the Peach State, but he is looking forward to the possibility to soon call SunTrust Park home.
Lugbauer has the choice to return to Michigan for his senior season, but the 6-foot-4, 230-pound catcher made it clear he plans to soon sign with the Braves and begin his professional career.
Honored to be drafted by the Atlanta Braves! Time to get to work!!! @Braves

— Drew Lugbauer (@DrewLugs) June 14, 2017
After being selected by the Blue Jays as a catcher in the 21st round of the 2014 Draft, Lugbauer opted to extend his academic and athletic endeavors at Michigan. Lugbauer was named to the All-Big Ten freshman team while helping the Wolverines win a conference title in 2015, but he didn't truly come into his own until he simplified his swing during the course of this past season.
Lugbauer was named first team All-Big Ten after he led Michigan with 12 home runs and a .518 slugging percentage this year. His athleticism aided him as he committed just five errors at third base.
"I'm just looking forward to the chance to get to know everybody [within the Braves' organization]," Lugbauer said. "I want to have fun and soak it all in, because this has always been my dream."
Mark Bowman has covered the Braves for MLB.com since 2001.