Duvall, Flaherty options for NLDS roster
One of the two likely to get a spot if Swanson is ruled unavailable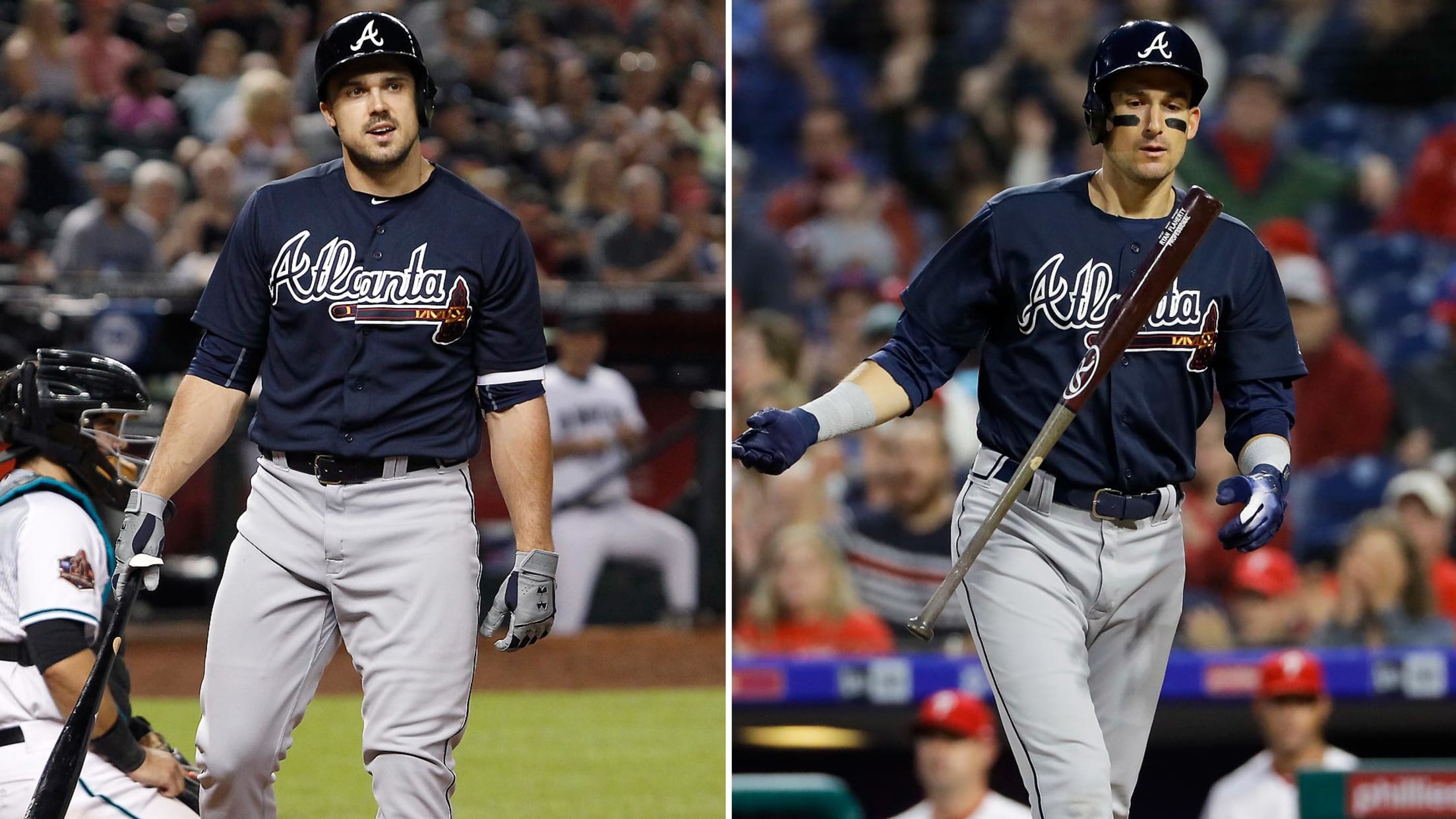 NEW YORK -- Along with providing Ender Inciarte and Freddie Freeman a chance to rest during Thursday's series finale against the Mets, Braves manager Brian Snitker created a chance for Adam Duvall and Ryan Flaherty to get some at-bats and prepare to possibly compensate for Dansby Swanson's absence during the
NEW YORK -- Along with providing Ender Inciarte and Freddie Freeman a chance to rest during Thursday's series finale against the Mets, Braves manager Brian Snitker created a chance for Adam Duvall and Ryan Flaherty to get some at-bats and prepare to possibly compensate for Dansby Swanson's absence during the National League Division Series.
Snitker left Freeman and Inciarte out of the starting lineup he constructed for the matchup against Mets left-hander Jason Vargas. Duvall played left field, while Ronald Acuna Jr. shifted to center field. Flaherty got the start at first base because Lucas Duda has been dealing with a sore back.
"This was something Freddie and I talked about the other day, so this was on the schedule," Snitker said. "But it's good to just get some guys at-bats, because I don't know which way we're going to go [with the postseason roster construction]."
Within the next few days, the Braves will have a better feel for the status of Swanson, who was diagnosed on Wednesday with a partially torn ligament in his left hand. The uncertainty surrounding his availability increases the previously unlikely possibility of Duvall or Flaherty being placed on the NLDS roster.
If Swanson is unavailable and the Braves choose to go with an eight-man bullpen, their five-man bench could consist of catcher Tyler Flowers, Duda, Rio Ruiz, Lane Adams and either Duvall or Flaherty. Flowers, Adams and Duvall are the right-handed-hitting options within this group.
Charlie Culberson would be a key piece on this bench, but he is slated to be the starting shortstop if Swanson is sidelined.
Unless the Braves choose to carry a third catcher (Rene Rivera), Snitker would be hesitant to burn either of his right-handed-hitting catchers (Flowers and Kurt Suzuki) as a pinch-hitter. So there's a chance the bench could be left-handed heavy.
Flaherty's candidacy is weakened by the fact Ruiz is a more capable left-handed bat who can play third base. But there may be a need to carry him to simply have somebody capable of filling one of the middle-infield spots if necessary.
While Flaherty entered Thursday hitless over 22 at-bats dating back to July 8, Duvall had batted .104 (5-for-48) with just one extra-base hit since being acquired from the Reds. Snitker may give the outfielder a couple of starts the rest of the way, hoping Duvall might show some of the power he possessed when he hit 30-plus homers in each of the past two seasons.
Mark Bowman has covered the Braves for MLB.com since 2001.