Inbox: Where will Gohara fit in upon return?
Braves beat reporter Mark Bowman answers fans' questions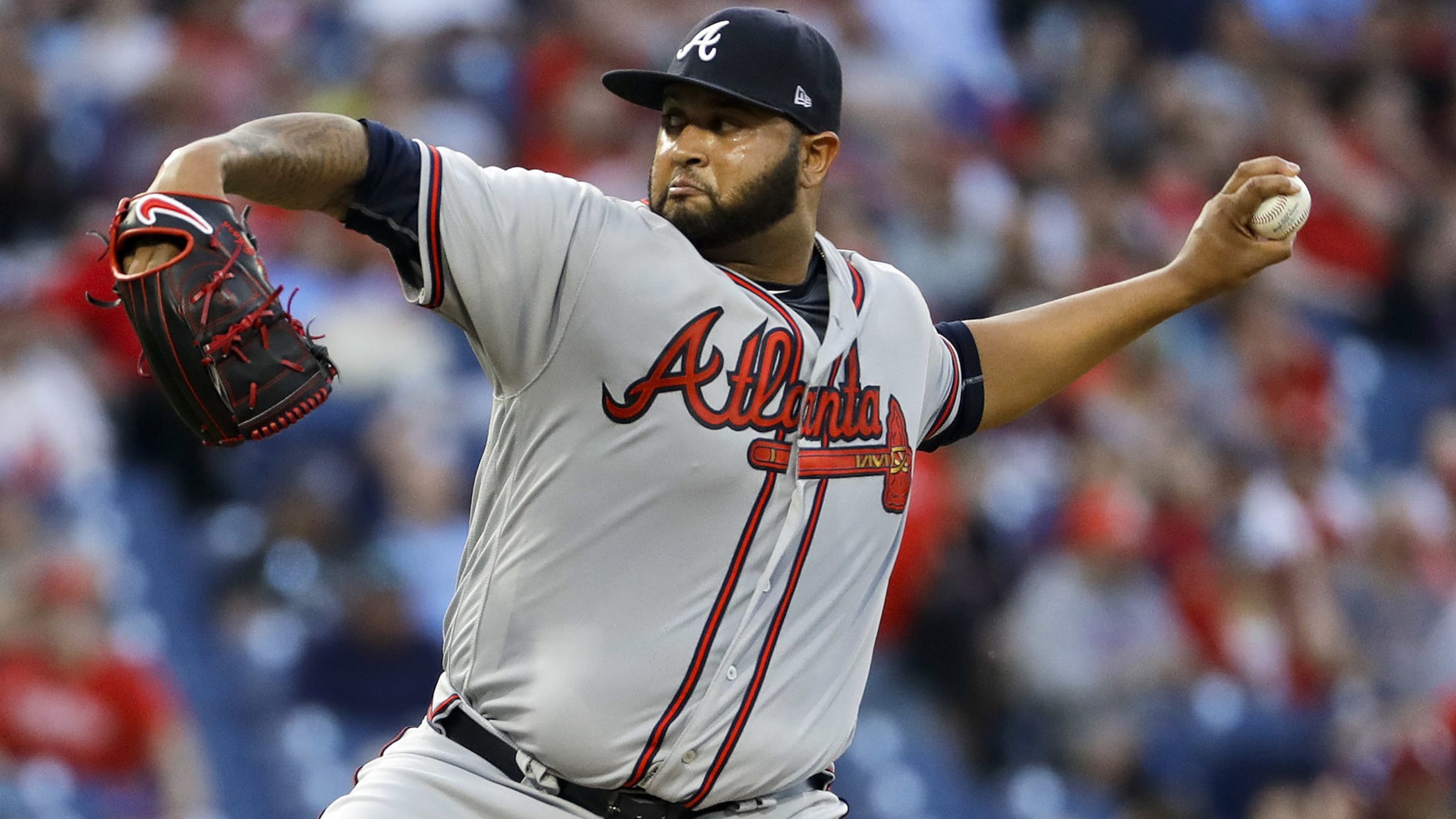 Atlanta Braves' Luiz Gohara pitches during the second inning of a baseball game against the Philadelphia Phillies, Wednesday, May 23, 2018, in Philadelphia. (AP Photo/Matt Slocum) (Matt Slocum/AP)
Will the Braves go to a six-man rotation when Luiz Gohara returns from bereavement leave? -- @matthew_woody22 Braves manager Brian Snitker said he does not want to use a six-man rotation. While routinely getting an extra day of rest has seemingly benefited Sean Newcomb, if you look at the results
Will the Braves go to a six-man rotation when Luiz Gohara returns from bereavement leave?
-- @matthew_woody22
Braves manager Brian Snitker said he does not want to use a six-man rotation. While routinely getting an extra day of rest has seemingly benefited Sean Newcomb, if you look at the results for Brandon McCarthy and Mike Foltynewicz, you can argue they benefit from routinely taking the mound with regular rest.
However you look at it, pitchers (like most of us) are creatures of habit. An increase in off-days has already seemingly created more opportunities to naturally provide starters an extra day of rest on a regular basis. Braves starting pitchers have been on regular rest for just 13 of the season's first 48 games. Adding another starter and setting up the possibility that some pitchers may routinely start taking the mound with at least two days of rest would seemingly be counterproductive for the rotation as a whole.
:: Submit a question to the Braves Inbox ::
When Gohara returns from spending time with his mother in Brazil, he will likely need to spend a little time with Triple-A Gwinnett. A start or two would allow him to regain a feel for things and prepare to return to Atlanta's staff as either a starter or a reliever.
Gohara made his first Major League start of the season Wednesday night in Philadelphia. His fastball touched 96.2 mph, and he induced a swing and miss with nearly a quarter (six of 22) of his sliders. The 96.5-mph average fastball velocity he produced while making his first five career starts last September ranked first among all left-handed starting pitchers who threw at least 100 heaters last year.
Gohara has the potential to be a legitimate frontline starter. The assumption is he'll be viewed as a definite upgrade to one of the starters at some point within the next couple weeks -- or months. But if we reach a point where there is not a clear spot for him in the rotation, it wouldn't hurt to utilize him as a multi-inning bullpen weapon who would be used in high-leverage situations, much like Milwaukee's Josh Hader.
Who is the Braves' third baseman on July 31? Mike Moustakas, Austin Riley or Johan Camargo?
-- @GA_Dawg19
My suggestion is to erase any thoughts of the Braves acquiring Moustakas, Manny Machado or Josh Donaldson before this year's non-waiver Trade Deadline. Despite Ozzie Albies hitting .407 with a 1.226 OPS through his first 56 plate appearances from the right side of the plate, Braves right-handed hitters rank seventh in the National League with a .234 batting average and fifth with a .383 slugging percentage.
It would be nice to add a proven right-handed bopper to the middle of Atlanta's lineup. But I don't see why they would do so at the cost they would have to pay when they might already possess their best long-term option in Riley, whom an American League scout recently described as "maybe the best third-base prospect I've seen in more than 20 years."
Riley, the Braves' No. 8 prospect and No. 77 in the Majors per MLB Pipeline, batted .303 with three homers and an .835 OPS through his first 17 games for Triple-A Gwinnett. But he's totaled just 386 plate appearances and 92 games above the Class A Advanced level. The 21-year-old third baseman is rising quickly, but he's likely at least two months away from being deemed Major League ready.
From a long-range perspective, it certainly wouldn't hurt Riley to endure a rough stretch as some of the veteran Triple-A pitchers start to get a better feel for his strengths and weaknesses. But if he proves capable of quickly making adjustments and extends his current production rate, there's certainly a possibility he'll be Atlanta's third baseman by July 31.
Assuming the Braves will be buyers in July, what will they be looking to purchase?
-- @huguley_thad
An AL scout I respect as much as anybody in the game recently said something like, "When you have a chance, you have to go for it because you don't know what the team will do the next year." This makes sense, but if you're the Braves and looking at the possibility of being one of the National League's elite teams for at least the next five years, I think you have to also stay true to the process.
This doesn't mean the Braves shouldn't at least look at the possibility of adding a legit frontline starter, as long as they can control that pitcher beyond this season. They have the pieces and future financial flexibility necessary to make a significant Trade Deadline deal. But before doing so, they would have to weigh whether it would make more sense to make a big splash during the winter, when the showroom might have more attractive pieces available to purchase.
As things currently stand, I'd say the Braves will look to add bullpen depth and possibly a bench piece. Boring, right? But as good as the 'pen has been recently, you have to guard against the attrition and fatigue that seemingly annually leads contenders to seek at least one reliever before the Trade Deadline.
Any chance the Braves end up with Joey Bart in this year's MLB Draft?
-- @pastorfranks
If you'd have asked two weeks before last year's Draft, I don't think you'd have found too many people, internally or externally, who would have thought the Braves would get Kyle Wright with the No. 5 overall selection. But I wouldn't expect a similar turn of events as Atlanta chooses eighth this year. Expect Bart, Georgia Tech's highly-touted catcher, to go to the Giants as the No. 2 overall pick.
Once you remove Bart and Auburn's Casey Mize from your realistic wish list, the Braves could end up with any of the elite prospects available this year. Ole Miss left-hander Ryan Rolison has enhanced his stock value over the past few weeks. South Florida's Shane McClanahan is another intriguing collegiate pitcher. But a few high-school pitchers -- Kumar Rocker, Cole Winn and Ryan Weathers -- could also be deemed the best option.
Mark Bowman has covered the Braves for MLB.com since 2001.