Toussaint to face D-backs, who drafted him in '14
Right-handed prospect was traded to Braves in June 2015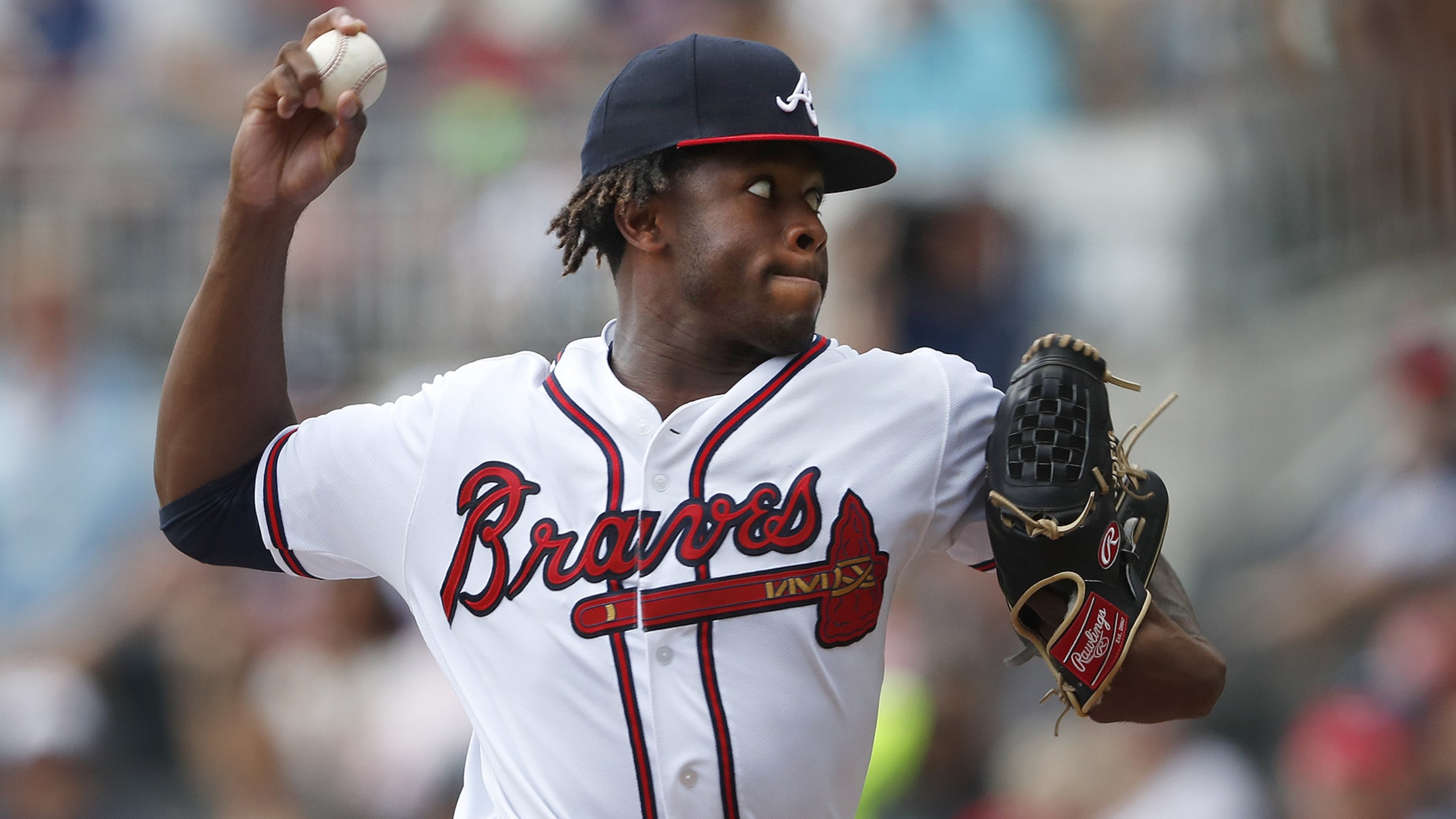 Atlanta Braves starting pitcher Touki Toussaint (62) works against the Boston Red Sox in the first inning of baseball game Monday, Sept. 3, 2018, in Atlanta. (AP Photo/John Bazemore) (John Bazemore/AP)
PHOENIX -- Having earned the opportunity to be a key rotation piece for the Braves during a pennant race, Touki Toussaint may be fueled by a little extra adrenaline when he starts Sunday's series finale against the D-backs at Chase Field.Toussaint has been an intriguing prospect since the Braves acquired
PHOENIX -- Having earned the opportunity to be a key rotation piece for the Braves during a pennant race, Touki Toussaint may be fueled by a little extra adrenaline when he starts Sunday's series finale against the D-backs at Chase Field.
Toussaint has been an intriguing prospect since the Braves acquired the former first-round Draft pick from the D-backs on June 20, 2015. But his star really rose this summer as he accelerated his development and then provided strong indication he was ready for the Major Leagues.
"I haven't liked him, I've loved him, everything about him," Braves manager Brian Snitker said. "He's a very impressive young player."
Toussaint limited the Marlins to one run over six innings during his big league debut on Aug. 13, then returned to the Majors to face the Red Sox on Monday. The 22-year-old right-hander kept Boston hitless through the first four innings, then gave up four hits before exiting with two outs in the fifth and getting charged with three runs allowed.
Ranked as baseball's No. 74 prospect and the Braves' No. 7 prospect per MLB Pipeline, Toussaint has started to live up to the expectations that were set when the D-backs took him with the No. 16 overall pick in the 2014 Draft. The Braves acquired him in exchange for Phil Gosselin (who is now back in Atlanta's' organization). They also acquired Bronson Arroyo, who was recovering from Tommy John surgery, in the deal. The Braves had to take on the remainder of the approximate $9 million owed to Arroyo at the time.
"He carries himself really well," Snitker said of Toussaint. "I love his assortment. His arsenal is really good. He's a very athletic kid. He's handled himself tremendously during the two starts he has had."
Snitker said the club's two remaining off-days will influence how Toussaint fits in the rotation over the remainder of the season. But given how impressive the young hurler has been, there's certainly reason to expect he will make at least two more starts beyond Sunday.
Odds and ends
• Left-hander Max Fried was recalled from Triple-A Gwinnett on Thursday and will serve as one of the 12 relievers on Atlanta's expanded roster.
• Outfielder Dustin Peterson was claimed by the Tigers. Peterson was designated for assignment Saturday.
• Brandon McCarthy recognizes there is likely no place for him to rejoin Atlanta's pitching staff this season. But the veteran right-hander, who is eligible to return from the 60-day disabled list (right knee tendinitis), threw batting practice Thursday afternoon to remain ready in case he's needed by the Braves, or possibly another team willing to trade for bullpen depth.
Mark Bowman has covered the Braves for MLB.com since 2001.