Chris Stapleton at Truist Park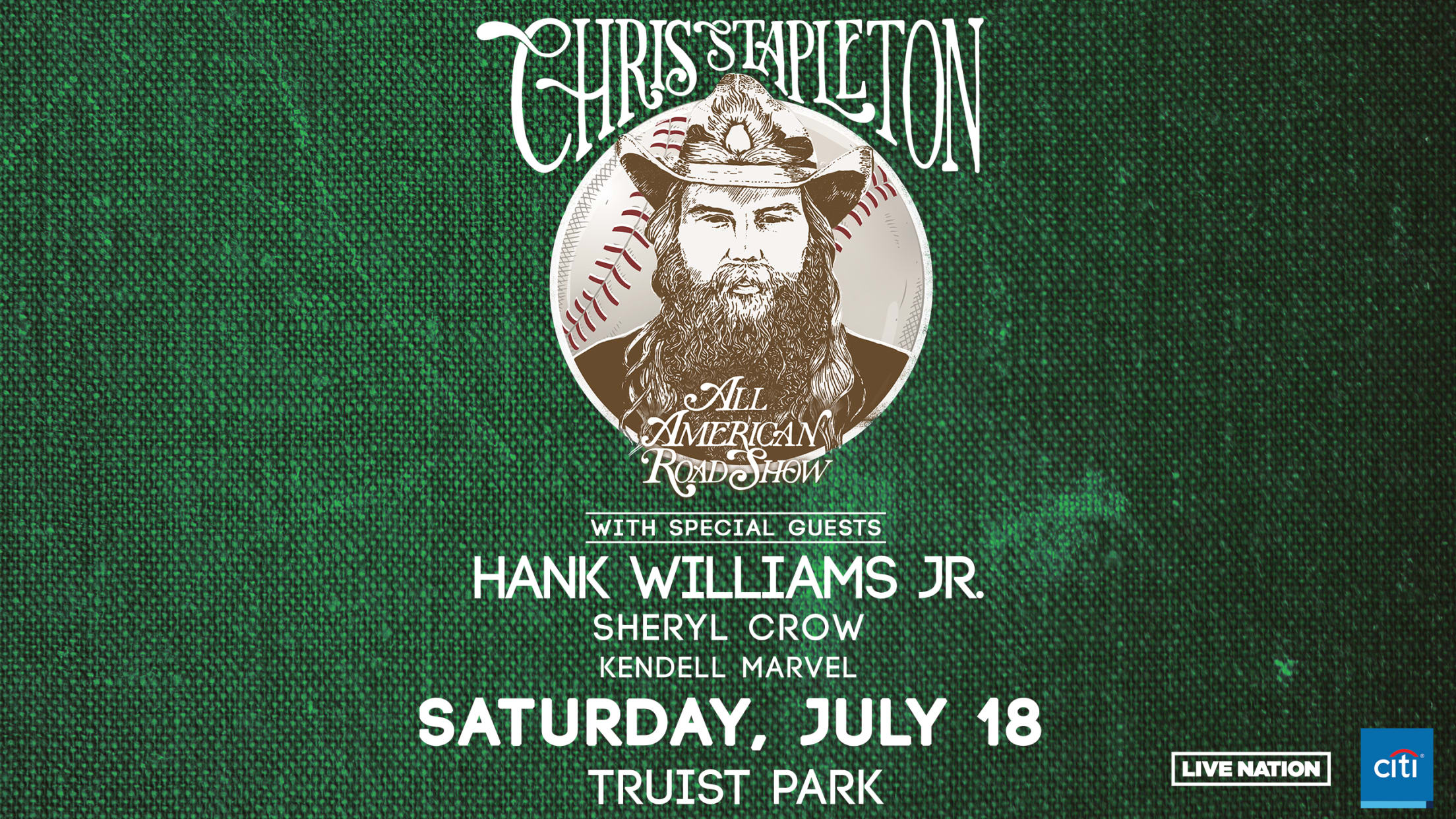 Chris Stapleton's All-American Road Show makes a stop at Truist Park on Saturday, July 18, 2020!
Performers: Chris Stapleton with Hank Williams Jr., Sheryl Crow, and Kendell Marvel
Show Date: Saturday, July 18, 2020
Venue: Truist Park
Doors: 4:00 p.m.
Show Time: 6:00 p.m.
*Doors and show time subject to change
FAQ
Important information regarding the purchase of tickets:
This is a rain or shine event. Please save your confirmation email. Please have your mobile tickets ready for display when coming to the show (click on the view tickets link in your email to view the mobile ticket on your phone via the Ticketmaster app). Tickets will not be printed at the Truist Park Ticket Office.
How to Purchase:
Online: braves.com/stapleton
Truist Park Ticket Office: All tickets for Chris Stapleton's All-American Road Show must be purchased online.
Fees:
Per ticket fees and/or per order fees will apply to all ticket purchases. Delivery fees will be added to tickets selected for Mail or Will Call delivery. (Will Call delivery is only active closer to event date.) There is no fee for mobile delivery of tickets.
Ticket Limits and Age Restrictions:
There is a four (4) ticket limit per order, person, household, credit card or entity during all presales. There is a six (6) ticket limit per order, person, household, credit card or entity once tickets are on-sale to the general public. Purchases made above this limit may be cancelled and ticket fees may not be refunded.
All patrons, regardless of age, require a ticket.
Ticket Delivery:
Per Live Nation and Tour Management, this is a MOBILE ONLY show.
There is a ticket delivery enabled on this show. All mobile ticket will be delivered 3 days prior to the event.
Accessible (ADA) Seating:
Accessible seats are offered in all price categories. These are subject to availability and sold on a first-come, first-served basis. Accessible seats are sold online at braves.com/stapleton. Day of show ADA seating is subject to availability. Advance purchase is recommended.
Wheelchairs are available at all gates on a first-come, first-served basis. They are provided as transportation to guests with disabilities or limited mobility and may not be kept during the show.
Premium/Club Spaces
The Truist Club will not open for stand-alone concerts at Truist Park. The INFINITI Club and the Delta SKY360° Club will be open, but guests will need a ticket in those specific areas to gain access to each space. The Delta SKY360° Club will not be all-inclusive. All food and beverage will be cash or credit card and no in-seat service will be provided. If you'd like to purchase a ticket in a premium space, please use the Buy Tickets button above.
Field Level Tickets:
There is a pit area immediately in front of the stage on the field that is General Admission Standing Room Only. All other ticketed locations on the field are reserved seating locations.
Obstructions/Relocations:
Obstructed seats are determined by the promoter and have been removed from sale. Should there be an obstruction day of the event that was unforeseen, it's up to the promoter and venue to issue a relocation. Seats located by railings or other standard objects are not considered obstructed and no relocation will be offered. Any relocations are at the discretion of the promoter and venue.
Parking:
Concert parking will be available in numerous lots surrounding Truist Park. All guests are encouraged to secure their parking pass in advance when they purchase their concert tickets. Concert parking can be purchased from braves.com/stapleton.
Seat Numbering System:
Looking at a particular section of seats from the top/back of the section towards the field/stage, seats are numbered lowest to highest from right to left.
Ticket Resale:
To ensure the best customer service, all sales are encouraged to be made from braves.com/stapleton while inventory remains.
Purchasing or selling through a third party is at the discretion of the patron. However, customer service cannot be provided at its fullest capacity for orders that are not purchased from braves.com/stapleton.
Weather Policy:
The show is rain or shine. In the case of severe weather, further information will be announced closer to show date.
Will Call Pick Up/Drop Off:
Will Call Pick Up/Drop Off will be accepted on the day of show only. There is a $5 per envelope* charge for will call that is dropped off at the Truist Park Ticket Office
*First two envelopes are free. Envelopes 3+ will be charged a $5 fee
Questions regarding my ticket order:
Q: I purchased tickets and received a confirmation, but I can't print them?
A: Print at home PDF tickets are not accepted at Truist Park. If you can access your confirmation email, look for the link to log into your Ticketmaster account and view your tickets on your mobile phone. You can also access your mobile account via the Ticketmaster app. If you cannot find your confirmation email, please contact Ticketmaster (800-745-3000) so a customer service agent can assist you.
Q: I am a member of the Braves A-List and own season tickets. Do I get my same seat location for the concert?
A: No, Chris Stapleton's All-American Road Show is promoted by LiveNation and is not related to your Braves A-List Membership. You will have an opportunity to participate in an exclusive presale for A-List Members before the general public on-sale, but you will need to purchase tickets for the concert. In addition, we cannot guarantee that your Braves seat location will be available for you to purchase for this show.