Well-traveled Wilkins no stranger to new faces
Slugging first baseman was property of seven clubs in 2015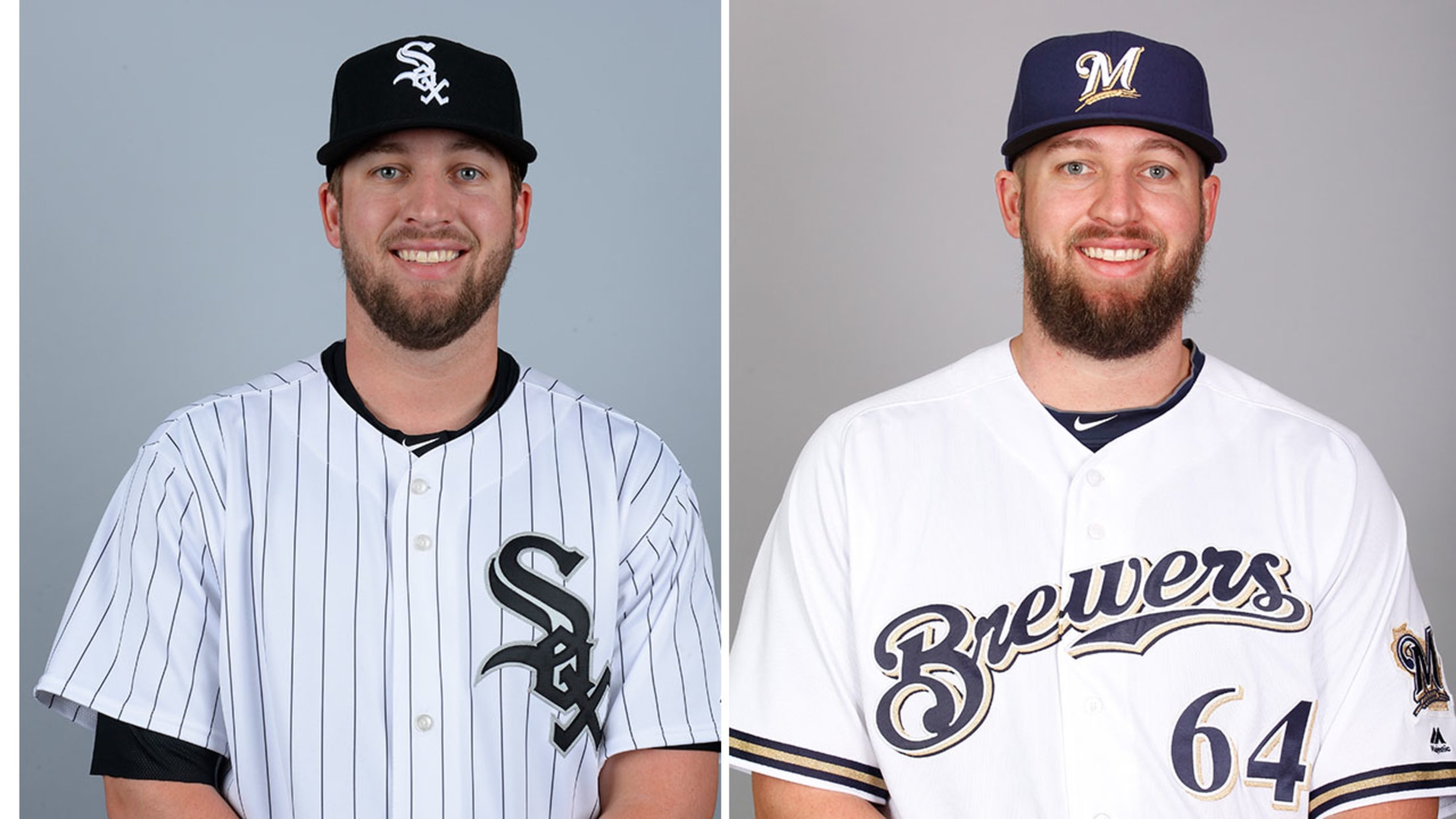 Andy Wilkins started 2015 with the White Sox and ended it with the Brewers, making five stops along the way. (Getty)
PHOENIX -- Having a baby might have been one of the least stressful things that happened to the Wilkinses over the winter.Andy Wilkins, a slugging first baseman who spent his first six pro seasons with the White Sox, reaching the Major Leagues in 2014, went from being property of the
PHOENIX -- Having a baby might have been one of the least stressful things that happened to the Wilkinses over the winter.
Andy Wilkins, a slugging first baseman who spent his first six pro seasons with the White Sox, reaching the Major Leagues in 2014, went from being property of the White Sox to the Blue Jays to the Dodgers to the Orioles to the Mariners to the Rangers to the Brewers in the span of nine months last year. That's seven organizations in all, including four in December alone.
• Spring Training:Schedule | Tickets | More info
"Reflecting on it now, it was a pretty crazy time, especially because we just had our first child," said Wilkins, whose wife, Charity, gave birth to son Canyon on Dec. 21. "The baby was the least stressful part. We were getting calls from GMs all the time saying, 'Hey, you're getting [designated for assignment]. Sorry.' We just kind of dealt with it. We dug in together and hung with it."
Two days after Canyon was born, the Brewers claimed Wilkins off waivers. Chris Carter is expected to man first base in Milwaukee this season, so Wilkins appears headed for Triple-A Colorado Springs to start the season. Wilkins has hit 48 home runs over the past two seasons at the Triple-A level for three different franchises.
Making introductions this week in Brewers camp was a familiar feeling for the 27-year-old.
"The Dodgers were one of the teams last year, and we had 78 guys come through the door in Triple-A," Wilkins said. "I think they led the league, easily, in transactions. It was constantly new people coming in."
When he was White Sox property, Wilkins often matched up against Brewers farmhands. He recalled one at-bat against Triple-A Colorado Springs closer David Goforth last year, who induced a 409-foot flyout from Wilkins that nearly was a game-changing home run.
"I don't have any tricks for learning names," he said. "I've actually known a lot of these guys from playing against them. It's not too bad. I fully understand the business side of the game, probably more than most players.
"[Having a child] puts a lot of things in perspective. You find yourself going home now, not even really thinking about baseball until you get to the park again. It's a nice thing."
Prospecting
After getting a taste of the big leagues last September, the Brewers expect to return 23-year-old outfielder Michael Reed to the Minors at the start of this season to continue developing. But while he flies somewhat under the radar, even as MLBPipeline.com's No. 18 Brewers prospect, Reed is "very much on our minds" as club officials plot the team's rebuild, manager Craig Counsell said.
"I think there's another real big step for him," Counsell said. "I think he's primed to take that, actually, this year. I'm excited about his season."
Reed hit .269 with a .371 on-base percentage last season between Double-A Biloxi and Triple-A Colorado Springs. He appeared in seven games with the Brewers.
Last call
• Reliever Jeremy Jeffress' live batting practice session was postponed Saturday due to a mild hamstring strain. Counsell deemed the injury minor.
• Meanwhile, in Brewers Minor League camp: