Yelich, Moose ahead in All-Star Primary vote
Reigning NL MVP, slugging second baseman in 2nd place after first update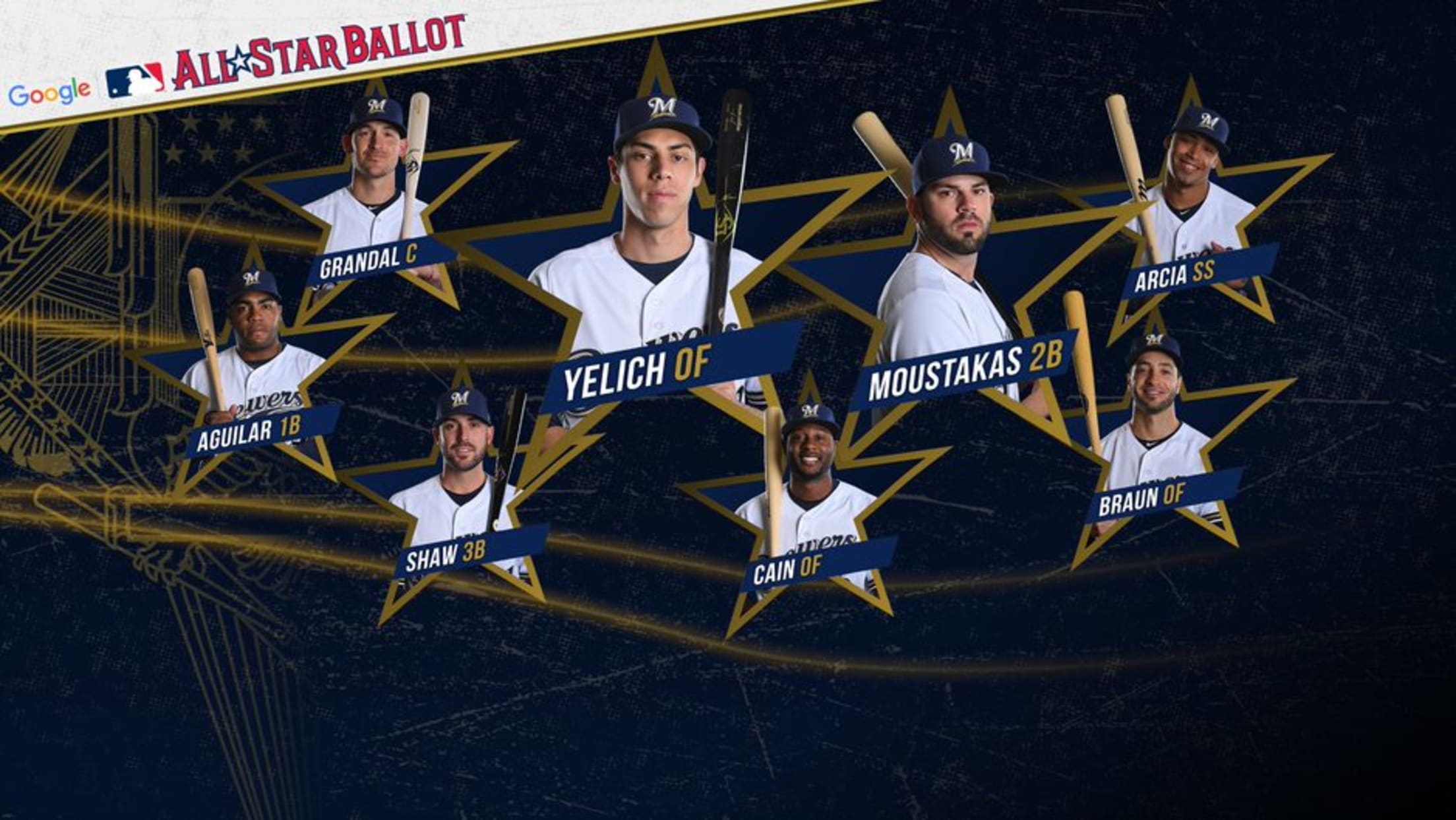 Read our FAQ on this year's revamped balloting format, which includes two phases of fan voting to determine the All-Star starters, and the ability to vote through Google Search. HOUSTON -- Brewers slugger Christian Yelich would seem to be a shoo-in to be named to the National League All-Star starting
Read our FAQ on this year's revamped balloting format, which includes two phases of fan voting to determine the All-Star starters, and the ability to vote through Google Search.
HOUSTON -- Brewers slugger Christian Yelich would seem to be a shoo-in to be named to the National League All-Star starting lineup. The recent balloting results, which show he's among the top vote-getters among all NL players, back up that theory.
• VOTE NOW: Google MLB All-Star Ballot
In the most recent NL All-Star ballot update, revealed on Tuesday, Yelich has received 1,057,855 votes in the ongoing Primary voting period. Yelich has received the second-highest vote total in the NL behind Dodgers outfielder Cody Bellinger, who has 1,189,380 votes. Those are the only NL players who have exceeded the one million vote mark.
"We're in Milwaukee, and it's still a small town, Major League city-wise," Brewers manager Craig Counsell said. "That the fans have recognized what he is doing again this year, after an MVP season, it shows baseball fans know what they're talking about. They know who they're voting for."
Yelich, the reigning NL Most Valuable Player Award winner, is hitting .340 with 24 homers and 53 RBIs on the year. He's hit safely in all eight games he's played this month, batting .552 (16-for-29) with six runs, seven extra-base hits, eight RBIs and a 1.646 OPS.
If Yelich does get elected this year, it'll be his second All-Star appearance. He was named to the NL squad last year, in his first year as a member of the Brewers.
"It's obviously really cool and I appreciate all the support," Yelich said of the voting results. "I guess we've got a ways to go -- just not for myself, but the rest of the guys on this team are deserving, especially Moose. It's good to see he's receiving some support as well."
By "Moose," Yelich is referring to second baseman Mike Moustakas, also among the top vote-getters at his position. He's ranked second with 377,983 votes, behind only the Braves' Ozzie Albies (424,467).
If elected, Moustakas would be making his third All-Star appearance. He was on the American League squad as a star player with the Royals in 2015 and 2017.
"It would be really cool," Moustakas said. "But that's not why I showed up to play baseball this year. I showed up to win a World Series for the Brewers and to get back to the postseason. Making an All-Star team would be cool, but our focus is getting back to the postseason and winning a championship."
Other Brewers that have placed in the top 10 include catcher Yasmani Grandal (5th with 195,922 votes), first baseman Jesús Aguilar (9th with 79,024 votes), third baseman Travis Shaw (10th with 57,915 votes) and shortstop Orlando Arcia (8th with 91,594 votes). Lorenzo Cain is 17th among NL outfielders with 120,140 votes.
Fans may vote in The Primary at MLB.com and on all 30 club sites, the MLB At Bat and MLB Ballpark apps up to five times in any 24-hour period. Fans in the US and Canada can also vote on Google Search for every position, or up to 17 unique players per day, by searching "MLB Vote" or the names of their favorite players. Primary voting ends at 4 p.m. ET on Friday, June 21.
The top three vote-getters at each position (including nine outfielders) per league will move on to The Starters Election, which begins at noon ET on Wednesday, June 26. The votes will reset for a 28-hour voting window that ends at 4 p.m. ET on Thursday, June 27. Starters for the 2019 Midsummer Classic will be unveiled on ESPN that night at 7 ET. The pitchers and reserves will be announced on Sunday, June 30, at 5:30 p.m. ET.
Then on Tuesday, July 9, during the 2019 All-Star Game presented by Mastercard, fans may visit MLB.com and the 30 club sites to submit their choices for the Ted Williams Most Valuable Player Award presented by Chevrolet.
The 90th Midsummer Classic, at Progressive Field in Cleveland, will be televised nationally by FOX Sports; in Canada by Rogers Sportsnet and RDS; and worldwide by partners in more than 180 countries. FOX Deportes will provide Spanish-language coverage in the United States, while ESPN Radio and ESPN Radio Deportes will provide exclusive national radio coverage. MLB Network, MLB.com and SiriusXM also will provide comprehensive All-Star Week coverage. For more information about MLB All-Star Week and to purchase tickets, please visit AllStarGame.com and follow @MLB and @AllStarGame on social media.