Burnes, Williams honored by local BBWAA
Brewers pitchers receive top awards from Milwaukee chapter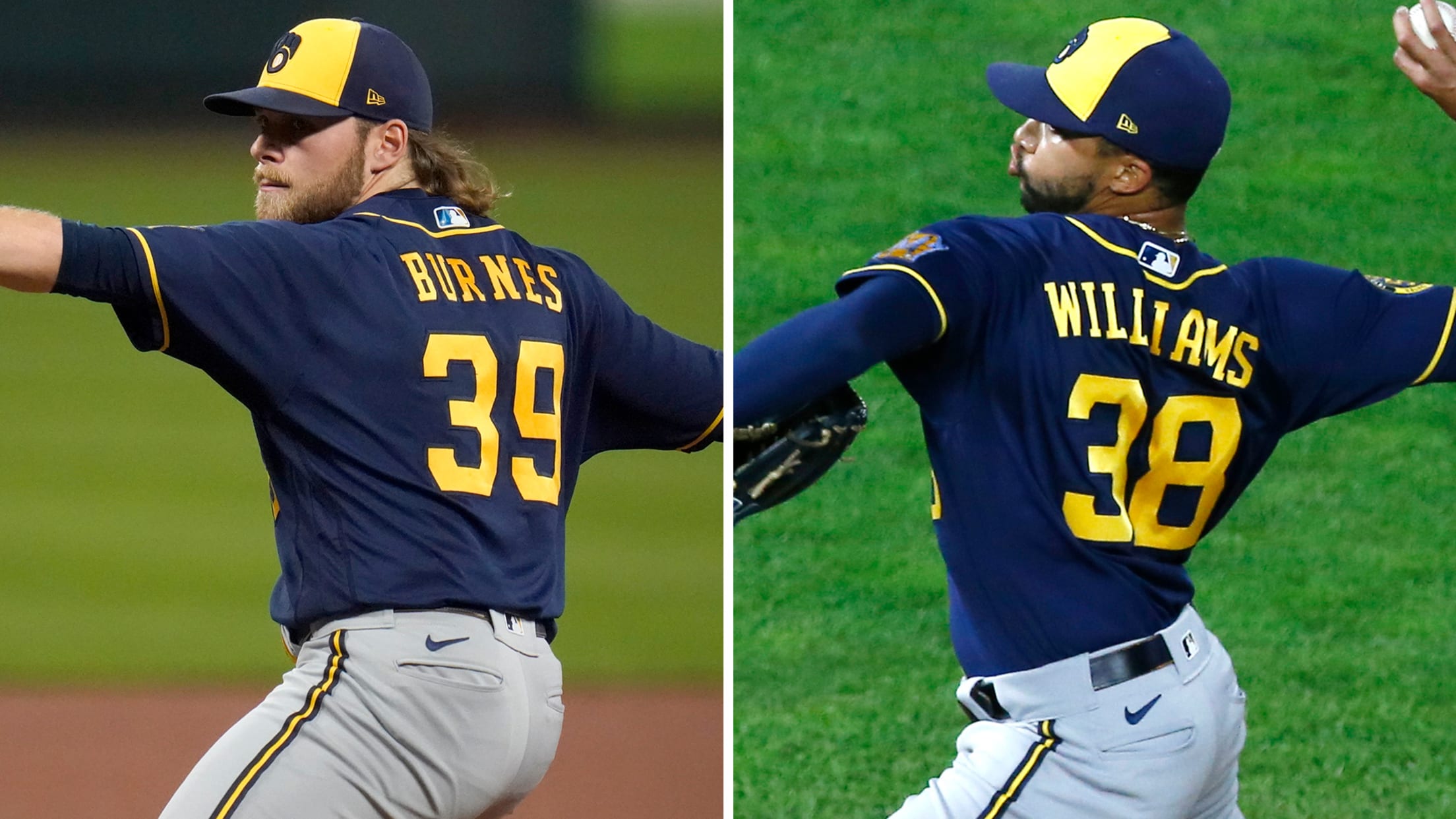 MILWAUKEE -- Following a season in which pitching carried the Brewers to a third consecutive postseason appearance, Corbin Burnes and Devin Williams split the top two team awards handed out by the local chapter of the Baseball Writers' Association of America. Burnes was voted Brewers Most Valuable Player -- the
MILWAUKEE -- Following a season in which pitching carried the Brewers to a third consecutive postseason appearance, Corbin Burnes and Devin Williams split the top two team awards handed out by the local chapter of the Baseball Writers' Association of America.
Burnes was voted Brewers Most Valuable Player -- the first pitcher since CC Sabathia to win that honor -- and Williams won the Most Valuable Pitcher honor.
In other awards, infielder Jedd Gyorko was named Top Newcomer, reliever Eric Yardley won the Unsung Hero Award and starter Josh Lindblom won the Good Guy Award.
After having an 8.82 ERA in 2019, Burnes underwent LASIK eye surgery and revamped his arsenal during the offseason before emerging as a National League Cy Young Award contender in the shortened '20 season. He went 4-1 with a 2.11 ERA and 88 strikeouts in 59 2/3 innings over 12 games (nine starts).
Burnes finished second in strikeouts per nine innings (13.3) and fourth in ERA among NL pitchers who worked at least 50 innings, but a left oblique injury sustained in Burnes' final regular-season start left him one out shy of the 60 innings he needed to rank among the qualifiers for the ERA title.
Why a pitcher over a hitter for the seventh time in club history, and the first time since Sabathia carried the Brewers to the postseason in 2008? Because the Brewers' sputtering offense featured four players -- Christian Yelich, Gyorko, Orlando Arcia and Avisaíl García -- in a virtual tie at 0.7 fWAR, compared to Burnes at 2.3 fWAR.
And why Burnes for club MVP but not Most Valuable Pitcher? It could be interpreted as an acknowledgement that while Burnes was the Brewers' most valuable overall player, Williams was their most dominant pitcher. A rookie with a uniquely devastating changeup, Williams struck out an incredible 53 percent of the hitters he faced, an all-time Major League record for a pitcher who worked at least seven innings in a season. Williams pitched 27 innings over 22 regular-season games and allowed only one earned run -- in his second appearance of the year.
Gyorko won the Top Newcomer honor after slashing .248/.333/.504 in 135 plate appearances and might have had a stronger case for club MVP had he been a regular starter from the beginning of the season. Instead, he started at third base mostly against left-handed pitching in the early going before shifting to first base and providing the Brewers some needed power from that position. Gyorko hit nine home runs, and the only Milwaukee hitter with a better slugging percentage was Daniel Vogelbach's .569 in 67 plate appearances.
Yardley, a rookie at 30 years old, posted a 1.54 ERA and led the Brewers' pitching staff with 24 appearances during the regular season.
Lindblom took the Good Guy Award, which is presented annually to the player who has the most outgoing, friendly presence in the clubhouse and interacts well with the media on a daily basis in a cooperative and pleasant manner. Because the clubhouse was off limits to the media in 2020, Lindblom's interactions came via Zoom, one of the many amended protocols in what was a unique season.