Cozart's leadoff homer starts offense in walk-off win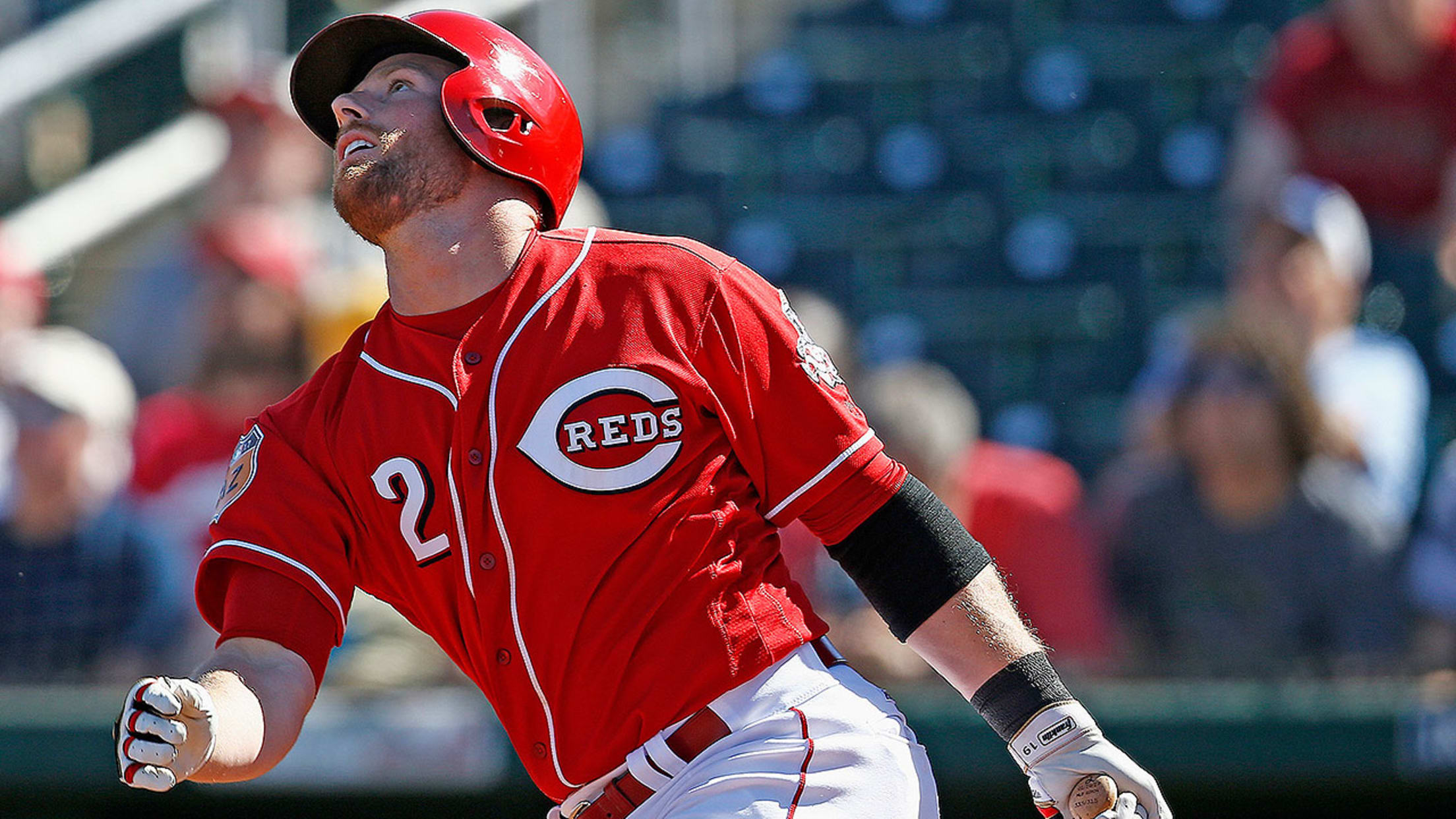 Zack Cozart hit a leadoff homer, collecting three hits against the Brewers on Friday. (AP)
GOODYEAR, Ariz. -- A pitching matchup between starters hoping to crack their respective teams' Opening Day rotations developed into an offensive outburst, as the Reds outlasted the Brewers, 12-11, on Friday at Goodyear Park, capped by a two-run, walk-off double by Arismendy Alcantara.Reds shortstop Zack Cozart went 3-for-4 with a
GOODYEAR, Ariz. -- A pitching matchup between starters hoping to crack their respective teams' Opening Day rotations developed into an offensive outburst, as the Reds outlasted the Brewers, 12-11, on Friday at Goodyear Park, capped by a two-run, walk-off double by Arismendy Alcantara.
Reds shortstop Zack Cozart went 3-for-4 with a leadoff homer, part of a four-run first inning against Brewers starter Tommy Milone, who gave up seven earned runs on nine hits and two walks over 3 1/3 innings and struck out three.
"Days like this happen, and I would hope -- and I think -- they know that," Milone said of Brewers decision-makers. "Obviously, it doesn't help at all. But I don't know if one outing is going to kind of unravel everything. I feel like I've thrown the ball well this spring, besides today."
Milone, whose $1.25 million contract is non-guaranteed, was not sure whether he will make another spring start. Fellow rotation hopeful Chase Anderson relieved Milone, allowing three runs on seven hits over 4 1/3 innings.
"There's seven of us [starters], so they're going to have to do something pretty soon," Milone said.
Reds starter Sal Romano entered Friday among a throng of seven starters vying for the final three rotation spots, though he has yet to pitch above Double-A. The right-hander looked strong early, striking out the side in the first, but he elevated his pitch count during Milwaukee's five-run second inning. Romano gave up seven runs (five earned) on nine hits with zero walks and six strikeouts over 4 2/3 innings.
"I'm just falling behind throwing the fastball, and big league hitters don't miss it, obviously," Romano said. "There's nothing really else to say, besides take the good and the bad out of it."
Manny Pina hit a two-run homer, and the Brewers went ahead, 11-10, with a two-run double by Nate Orf during a three-run rally in the top of the ninth.
Jesus Aguilar, who is on the Brewers' Opening Day roster bubble, finished with a spring-high four hits and three runs scored. He has a nine-game hitting streak and five multi-hit games this spring.
Brewers up next:Wily Peralta matches up against Kansas City's Ian Kennedy when the Brewers host the Royals at Maryvale Baseball Park on Saturday at 3:05 p.m. CT, live on MLB.TV. Among the scheduled relievers is right-hander Jacob Barnes, who has struggled in two of his last three outings, pushing his Cactus League ERA to 12.71 and his batting average against to .464. Barnes still has a shot at making the Opening Day roster.
Reds up next: The Reds play one of a pair of split-squad games in Las Vegas against the Cubs at 4:05 p.m. ET, live on MLB.TV, with right-hander Robert Stephenson making the start. Billy Hamilton, who served as DH on Thursday, is expected to return to center field after a brief setback this week due to Achilles inflammation. In Mesa, the Reds take on the A's, also at 4:05 p.m., with Amir Garrett getting the start.
Watch every out-of-market regular-season game live on MLB.TV.