Miller agrees to Minor League deal with Crew
2015 National League All-Star was released by Texas on July 4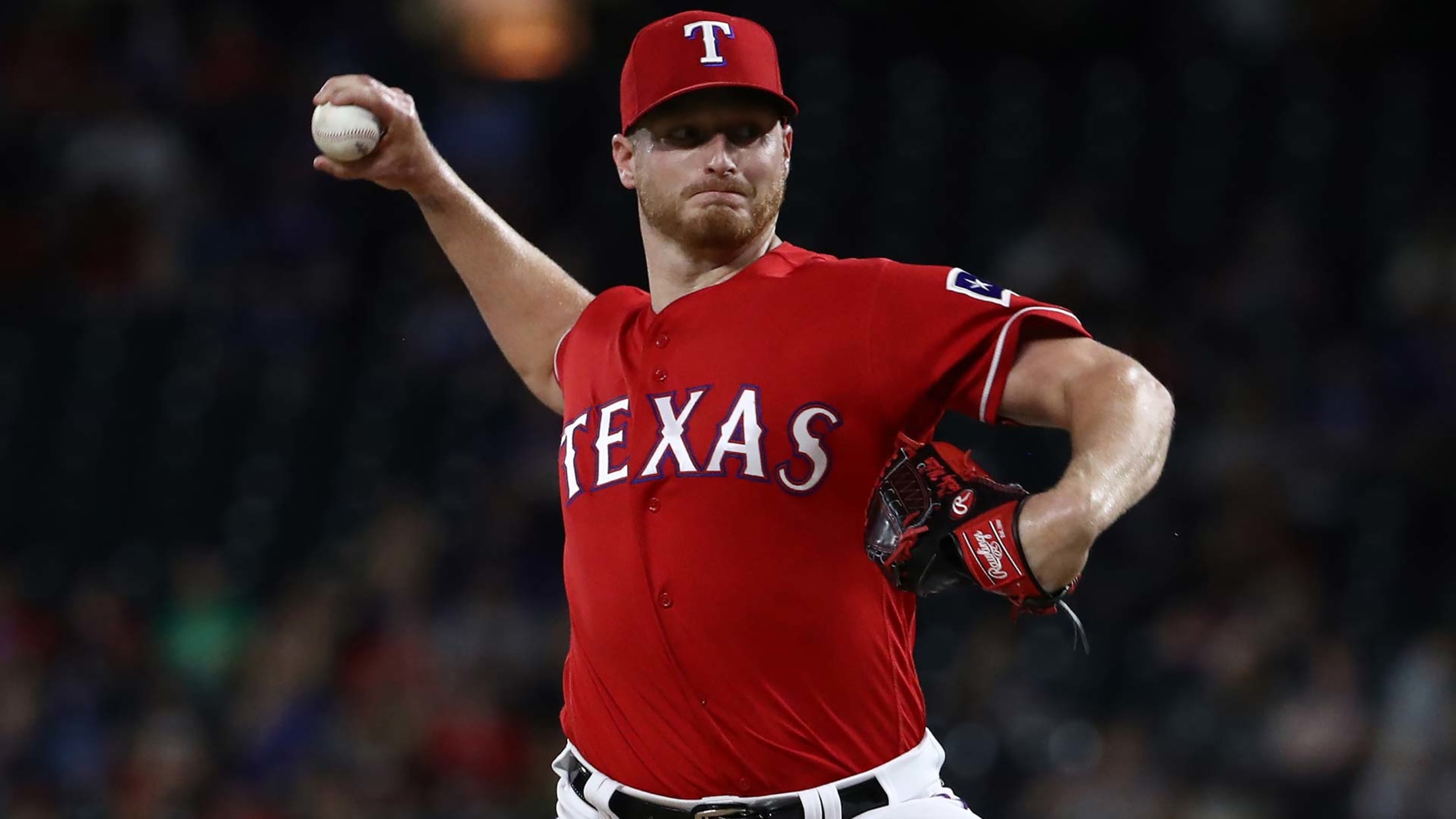 MILWAUKEE -- The pitching-needy Brewers made Shelby Miller's Minor League deal official on Friday, a risk-free roll of the dice that the former All-Star right-hander will rediscover his stuff with another change of venue. Miller, 28, has had an up-and-down Major League career to this point, posting a 3.33 ERA
MILWAUKEE -- The pitching-needy Brewers made Shelby Miller's Minor League deal official on Friday, a risk-free roll of the dice that the former All-Star right-hander will rediscover his stuff with another change of venue.
Miller, 28, has had an up-and-down Major League career to this point, posting a 3.33 ERA over three seasons with the Cardinals and a 3.02 ERA in his one All-Star season with the Braves before being traded to the D-backs in 2015, where things went south. But the Brewers, who will spend the three weeks running up to the July 31 Trade Deadline looking for pitching help, decided it can't hurt to give Miller some innings at Triple-A San Antonio.
"It's another opportunity to see if we can 'unlock' someone who clearly has a lot of talent," Brewers president of baseball operations David Stearns said. "We'll allow him to go to Triple-A, similar to Drew Smyly, get some time in down there, and then we'll see if he can help us at the big league level."
Miller has often been hurt since his ill-fated trade to the D-backs, and when he was on the mound, he struggled to a 6.35 ERA over 29 appearances (28 starts) over three seasons with Arizona. He was granted free agency last November before signing with Texas in January. He made 19 appearances (eight starts) with the Rangers, posting an 8.59 ERA.
With the early-career success Miller enjoyed while in St. Louis and Atlanta, the Brewers are taking a flier on a starter with a 95-mph fastball and potential upside at a minimal cost. They took a similar flier on Smyly, who logged an 8.42 ERA for the Rangers in 13 games (nine starts) and already has two starts in the books for San Antonio. Miller is expected to join Smyly there within a week or 10 days, Stearns said, and will join the starting rotation.
"Whenever we make an acquisition, we generally see something we like to pursue," Stearns said, "and we will pursue it. … It never hurts when you see avenues for success for guys, and we think we can help guys. It's worth giving it a shot."
Milwaukee's starting pitching depth was relatively thin to begin the season, and has taken a hit recently with Gio Gonzalez going on the injured list with a "dead arm."
Behind Gonzalez, Brandon Woodruff and Zach Davies, the Brewers haven't had much success filling out the rotation with reliable fourth and fifth starters, and on occasion have used an opener. Right-hander Adrian Houser has made three starts since Gonzalez was sidelined in June.
Prospects Medina, Perez visit
The Brewers let a pair of recent international signees swing for the fences at Miller Park on Friday, when Venezuelan outfielders Luis Medina and Hedbert Pérez got their first taste of the Major Leagues. Both are 16 years old and will report to the Brewers' complex in the Dominican Republic.
"It's a little bit poetic that this is where they ultimately want to be," Brewers international scouting director Mike Groopman said. "It's a beautiful moment for the players and their families and the trainers and the staff here. It took everybody's involvement here to get us to this point, where they can be on a Major League field, taking batting practice, enjoying it and the game tonight. They know this is the first step. It's a very long road to get back here, a lot of ups and downs. A lot of tough times and high moments. But it's a blessing for everybody in the organization to see these kids here."
¿Existe algo que mejor que firmar tu contrato hace unos días y ya practicar en el estadio de Grandes Ligas de tú equipo? 🤔

¡Felicidades Luis! 👏🏻😎
-#AQPro #AQAgency #BestPlayersBestPeople#ThisIsMyCrew pic.twitter.com/VQsxefSqaS

— AQ Sport Agency (@AQAgency) July 13, 2019
The family members on had included Perez's father, Roberto, who took his final five Major League at-bats for the Brewers in 2001 and is a legend of Venezuelan baseball.
The younger Perez signed for $700,000, according to MLB.com's Jesse Sanchez. Medina, MLB Pipeline's 13th-ranked international prospect, signed for $1.3 million.
"They are both lefty-lefty outfielders, both from Venezuela," Groopman said. "Medina has a lot of power, as you can see from his batting practice. Pretty good size. He's a pretty good outfielder, as well. We feel good about his hitting ability, really strong throwing arm, and his defense in the outfield. The same with Hedbert. He's an outstanding athlete, probably one of the best pure athletes in the class.
"They are still very young and they have a pure, unabashed love for the game. To be able to take a few rounds of BP on a big league field is awe-inspiring for anybody. It's pretty impressive to see how they handle themselves. Their goal is to get back here. They got a little taste of it today."
¡Alguien está de visita en el Miller Park y es nuestro pupilo de los @brewers, Luis Medina! 😱👏🏻
-#AQPro #AQAgency #BestPlayersBestPeople #ThisIsMyCrew pic.twitter.com/e2lZRZVcdv

— AQ Sport Agency (@AQAgency) July 13, 2019
Last call
• Gonzalez declared he was "ready to pitch" after beginning a rehab assignment on Wednesday with advanced Class A Advanced Carolina, but Brewers manager Craig Counsell pumped the brakes a bit. The Brewers will properly build Gonzalez's pitch count before he rejoins the rotation, so his next outing will be another Minor League game at a date and location to be determined.
• Counsell was pleased with what he heard about Ryan Braun, who underwent treatment over the break to relieve a sore right knee. Braun was in the lineup Friday night.
• According to Friday night's FOX Sports Wisconsin broadcast, Braun is going to miss Monday's game against the Braves because he will be attending Tyler Skaggs' funeral in California.
• Jimmy Nelson (elbow) is on track to get back on the mound for a bullpen session next week, according to Counsell.