Cards' Pena to undergo surgery on knee
Backup catcher will begin season on disabled list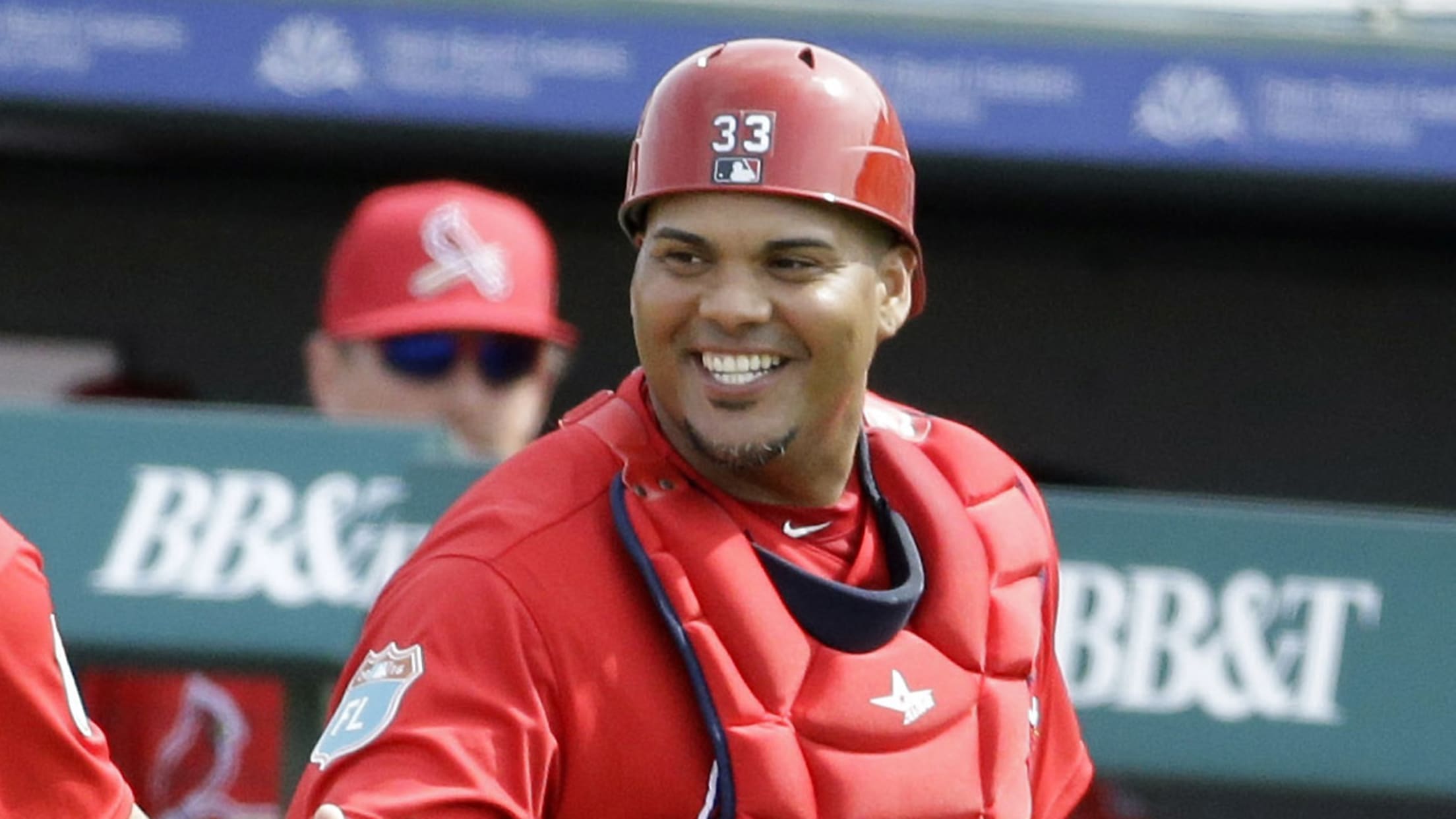 Brayan Pena is expected to miss two to four weeks after having surgery to remove loose cartilage in his left knee. (AP) (Jeff Roberson/AP)
PITTSBURGH -- His eyes watering, Brayan Pena stood inside the visitors' clubhouse at PNC Park on Saturday coming to grips with the fact that while the rest of his teammates would be back there for the season opener on Sunday, he'd be on a plane bound for St. Louis.Instead of
PITTSBURGH -- His eyes watering, Brayan Pena stood inside the visitors' clubhouse at PNC Park on Saturday coming to grips with the fact that while the rest of his teammates would be back there for the season opener on Sunday, he'd be on a plane bound for St. Louis.
Instead of beginning his tenure as Yadier Molina's backup catcher, Pena will open the season on the disabled list. He'll undergo surgery this coming week to remove a loose particle of cartilage in his left knee, an injury that Pena says stems from a dugout slip during Spring Training.
Eric Fryer, who had been ready to join the Triple-A Memphis team, instead hopped a flight to Pittsburgh on Saturday to take his place on an Opening Day roster for the first time.
The typically ebullient Pena turned frustrated on Saturday when discussing the slick dugout that is expected to cost him the first two to four weeks of the season. He said that while carrying his gear into the dugout before a recent Spring Training game, he slipped on the stairs. The dugout had just been hosed down by members of the grounds crew.
Though Pena would not name the stadium where the incident occurred, his description fit Space Coast Stadium, where the Nationals train in Viera, Fla.
"It's sad, and it really makes me mad because you really work hard and you're trying to be in the best position to help your team, and then something like that happens," Pena said. "It's not something related to the game. It was a wet dugout that got me hurt. I'm going to go under a knife because of that."
Pena took three at-bats in that game, but then missed four of the team's final seven spring games. The soreness in his knee increased during Thursday's Grapefruit League finale on Thursday. The decision to surgically remove the loose cartilage in Pena's knee was made after the veteran catcher went through a series of baseball activities -- hitting, running and catching -- during the team's workout on Saturday.
"He measured out pretty good today, but still saw some signs of it," manager Mike Matheny said afterward. "Hopefully this is something we get ahead of, or this just would have been delaying the inevitable until [the loose cartilage] finds a bad spot. If it finds a bad spot at the wrong time, we'd be put in a tough spot."
The Cardinals signed Pena, 34, to a two-year contract in November as insurance behind Molina. Ironically, it was Molina whose status the club anticipated could be uncertain at the start of the season due to the pair of offseason surgeries he needed to repair a torn ligament in his left thumb.
However, the strength in Molina's thumb continues to test out well, and he is not expected to open the season under any limitations.
"It's hard, because you're working so hard for this opportunity," Pena said. "It feels so good coming out of camp, hitting, catching, everything. [I'm] embarrassed. Why? Because you signed me and gave me an opportunity to be Molina's backup and help my team and then now. ... It's hard."