Perez must work to regain top prospect status
Young shortstop has tools to succeed, needs time to mature and refine work ethic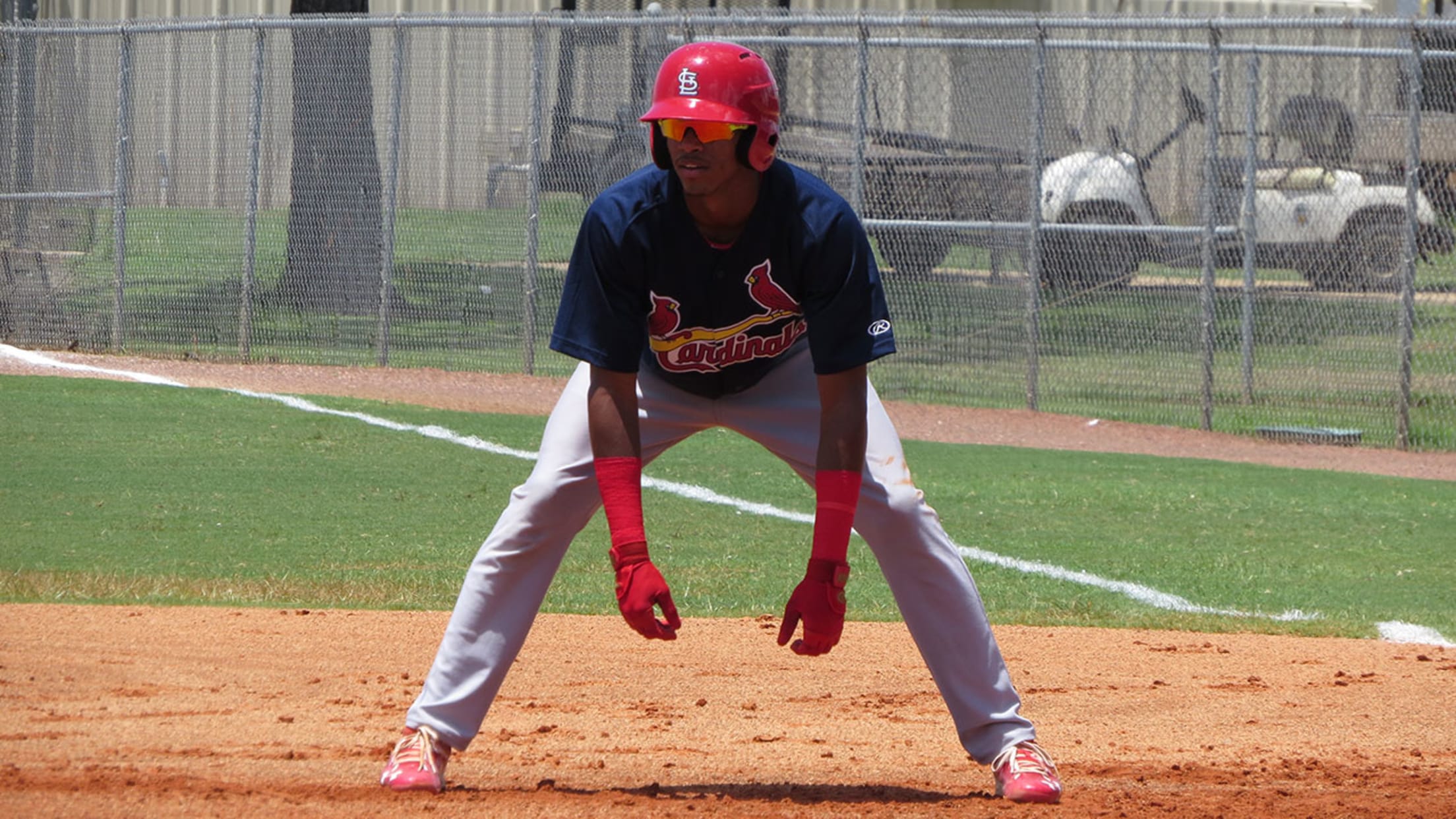 JUPITER, Fla. -- Somehow, Delvin Perez wasn't the youngest player to make his Grapefruit League debut Thursday. That distinction goes to 18-year-old Vladimir Guerrero Jr., who did so for the Blue Jays on the other side of the state.Perez once held a place in the Cardinals' system similar to Guerrero's
JUPITER, Fla. -- Somehow, Delvin Perez wasn't the youngest player to make his Grapefruit League debut Thursday. That distinction goes to 18-year-old Vladimir Guerrero Jr., who did so for the Blue Jays on the other side of the state.
Perez once held a place in the Cardinals' system similar to Guerrero's on the Toronto farm, where he is the club's No. 1 prospect. But the lanky shortstop's stock -- he's now the club's No. 25 prospect -- has fallen precipitously in the 21 months since St. Louis made him a first-round Draft choice. Perez temporarily joined the team from Minor League camp, and entered the Cardinals' 5-4 win over the Marlins as a late defensive replacement. A far cry from when he was once considered a prominent part of St. Louis' big league plans.
"He's a long ways away," Cardinals manager Mike Matheny said. "We wanted to give him a little taste, and then make sure he gets back to work, because there are a lot of things he needs to work on."
That extends to both sides of the white lines. Scouts still love Perez's glove and athleticism, but questions linger about his maturity and physical strength. Perez, who tested positive for a performance-enhancing substance as an amateur, has yet to homer in 320 Minor League plate appearances.
Matheny described Perez's appearance on the big league side as a cameo.
"Now go earn it," he said.
How often will Wong go?
Every spring, Matheny says, the Cardinals do this dance. The games don't matter, so they let their guard down, and the club gets aggressive on the basepaths.
"By this time, people are projecting we steal 200 bases," Matheny said, embellishing a bit.
Then the rosters are whittled down. Young players eager to showcase their tools are reassigned. The regular season comes, and with it, the importance of each out is magnified.
The red lights go up, and the Cardinals don't come close to hitting those projections. When St. Louis stole 81 bases last season -- more than a quarter courtesy of Tommy Pham -- it amounted to the club's highest total since 2012.
:: Spring Training coverage presented by Camping World ::
This spring, the Cards are running even more than usual. Kolten Wong (six steals) and Oscar Mercado (five) ranked at the top of the spring stolen-base leaderboard entering play Thursday. Harrison Bader and Tyler O'Neill have also swiped two apiece, giving St. Louis four players with multiple steals this spring, tied for the second most of any club.
While Bader, O'Neill and Mercado could all help the Major League club at various points this season, Wong is the one to keep an eye on. St. Louis' everyday second baseman has all but stopped running in recent years after being moved down in the order.
Wong stole a career-high 20 bases in his first big league season in 2014, when he primarily hit second. He followed that with 15 steals in 2015, when he often hit leadoff. But he swiped just 15 combined over the next two seasons after sliding down to eighth in the order, and he expects to be the club's primary No. 8 hitter again this season.
Wong admitted hitting in front of the pitcher would likely bring stop signs again this season. But he wants to make sure he's ready if something changes.
"I understand there will be times where I pick and choose, and there will be times when they don't let me run," Wong said. "Right now it's me building this comfort zone of stealing. When the season comes, hopefully things don't slow down. But if they do, I know I've been stealing, I've been working on it, and I'll be able to get back on it again."
Injury updates
• Alex Reyes, the club's top prospect, completed another round of live batting practice against Minor League hitters. He remains on track to return from Tommy John surgery around May 1.
• Matheny revealed utility-man Yairo Munoz has been dealing with a left (non-throwing) shoulder injury. Munoz, who is hitting .360 and hit two home runs in a single inning in his first start, last played March 3 against the Braves. He has appeared at four positions this spring.
Roster update
The club reassigned first baseman/outfielder Rangel Ravelo to Minor League camp. Ravelo was limited to eight Grapefruit League at-bats due to an oblique injury.
Up next
The Cardinals hit the road for the first time in nearly a week when they head to West Palm Beach, Fla., to play the Astros under the lights Friday. Miles Mikolas and Bud Norris are among those scheduled to throw. First pitch is set for 5:05 p.m. CT. Watch the game live on MLB.TV.