Plenty of variables to sort out before Deadline
Cards in wait-and-see mode regarding needs; injury updates on DeJong, others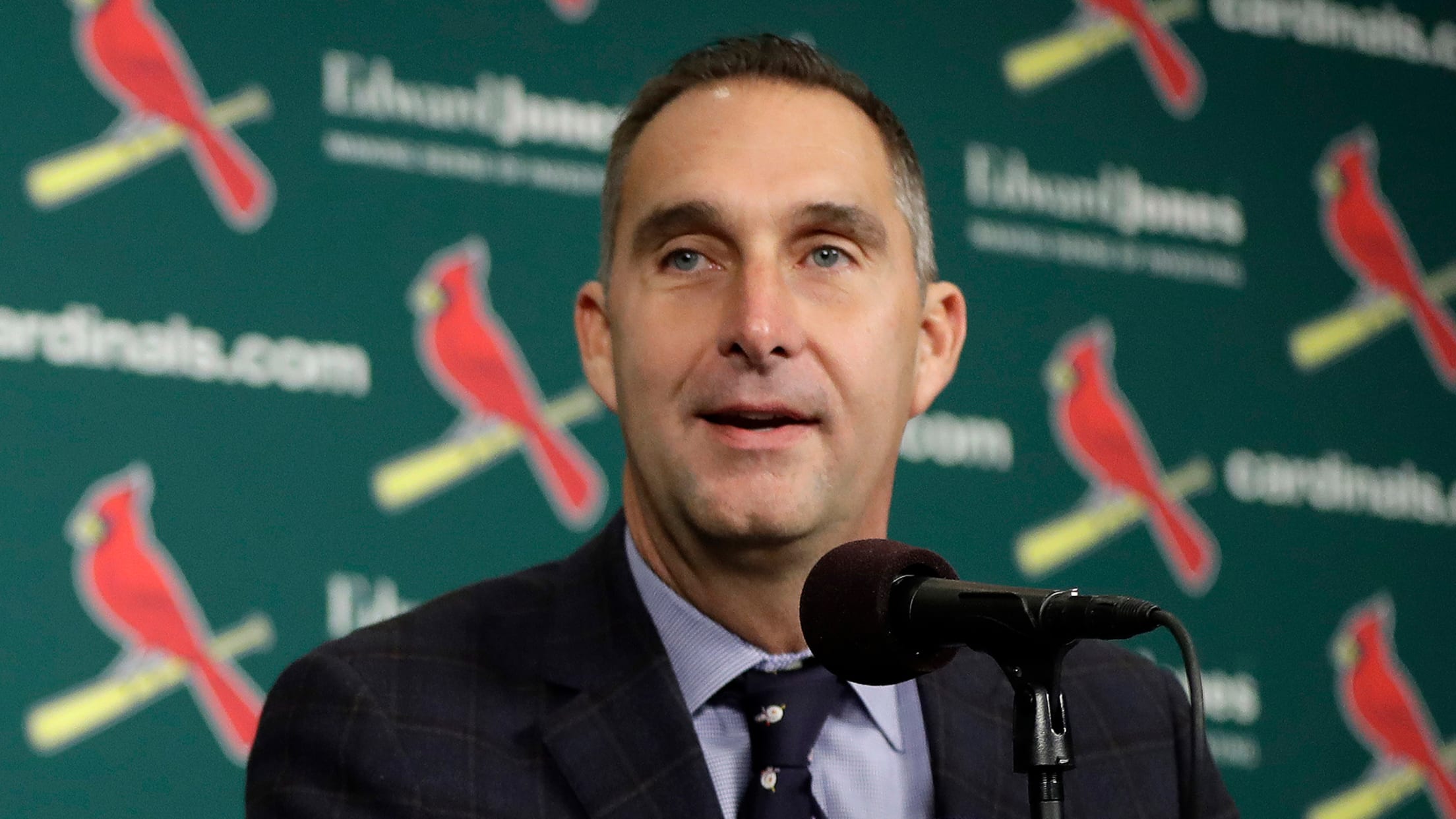 ST. LOUIS -- As the season inches closer to the July 31 non-waiver Trade Deadline, there will emerge a clearer separation of buyers and sellers. For the Cardinals, however, it's not only about determining their spot on that spectrum, but also deciding what they might try to buy.A club hampered
ST. LOUIS -- As the season inches closer to the July 31 non-waiver Trade Deadline, there will emerge a clearer separation of buyers and sellers. For the Cardinals, however, it's not only about determining their spot on that spectrum, but also deciding what they might try to buy.
A club hampered by injuries and inconsistency thus far continues to evaluate its needs and whether some of those can be addressed internally. Concurrently, they're also exploring who could be available as an upgrade from the outside.
On Friday, Ken Rosenthal of The Athletic reported that the Cardinals "have renewed interest" in Royals third baseman Mike Moustakas. While the acquisition cost for Moustakas, who will be a free agent next offseason, wouldn't be high, such a deal would have a domino effect. Matt Carpenter would be forced to the right side of the infield, where he would replace Kolten Wong at second or Jose Martinez at first.
Consider it a glimpse of how complicated the Cardinals' Trade Deadline decisions could be.
The bullpen has been shaky this season, yes, but the Cardinals are also about to get Luke Gregerson, Matt Bowman and Tyler Lyons back from the disabled list. How quickly Michael Wacha can recover from an oblique injury could dictate how deep the Cardinals want to wade in the starting pitching market. Adding a bat could be tricky due to the glut of outfielders in the organization and Martinez's lack of defensive versatility.
The Cardinals hope clarity comes with additional time. And creativity may be key.
"I think with all these guys starting rehab assignments, we probably need a little time to see how they perform, see who gets healthy and figure out where we are," general manager Michael Girsch said. "In general, a lot of people are still trying to feel how they're going to play the Deadline and where they're going to be. So my guess would be most of the activity will happen the last week of July like it normally does."
Medical report
With both beginning a rehab assignment with Triple-A Memphis on Friday, Paul DeJong and Bowman could be off the disabled list and ready to rejoin the Cardinals as early as next week's series in Arizona.
DeJong received clearance to start facing live pitching after undergoing another scan of his surgically repaired left hand on Thursday. Because the shortstop has been engrossed in baseball activities for several weeks already, the Cardinals anticipate that his rehab stint will be short.
"You can't replicate live pitching until you do it," Girsch said. "But we're excited that he's getting close."
DeJong went 1-for-3 with a double and a run scored Friday in the first game of his rehab assignment.
Bowman has been down for only 10 days, and he has continued to throw off the mound while also receiving treatment for blisters and a blood-flow issue with his right middle finger.
In other injury news, Gregerson (right shoulder impingement/left knee surgery) will join Memphis to start a rehab assignment on Sunday, and Lyons (left elbow strain) will throw a bullpen session Saturday before heading to an affiliate next week.
Adam Wainwright (right elbow inflammation) and Dominic Leone (right arm nerve irritation) are expected to begin playing catch Monday. Wacha (left oblique strain) will not resume baseball activities until after he is re-examined in two weeks.
Waiver claim
Recently designated for assignment by the Padres, Tyler Webb was claimed off waivers by the Cardinals on Friday. To create space for the lefty reliever on the 40-man roster, the Cardinals transferred Alex Reyes to the 60-day disabled list. Webb has been assigned to Memphis.
The 27-year-old reliever helps replenish the organization's left-handed pitching depth, which took a hit when Ryan Sherriff required season-ending elbow surgery. Webb has appeared in 13 big league games, allowing 12 earned runs on 15 hits and eight walks in 13 innings.
Minor matters
• Memphis will be represented by three players in the upcoming Triple-A All-Star Game, including Dakota Hudson who will be the fifth pitcher in Redbirds history to start an All-Star Game. Starter Daniel Poncedeleon and infielder Patrick Wisdom were also named to the Pacific Coast League team.