Cards recall Mayers as Wainwright hits DL
Weaver also makes trip from Memphis for expected spot start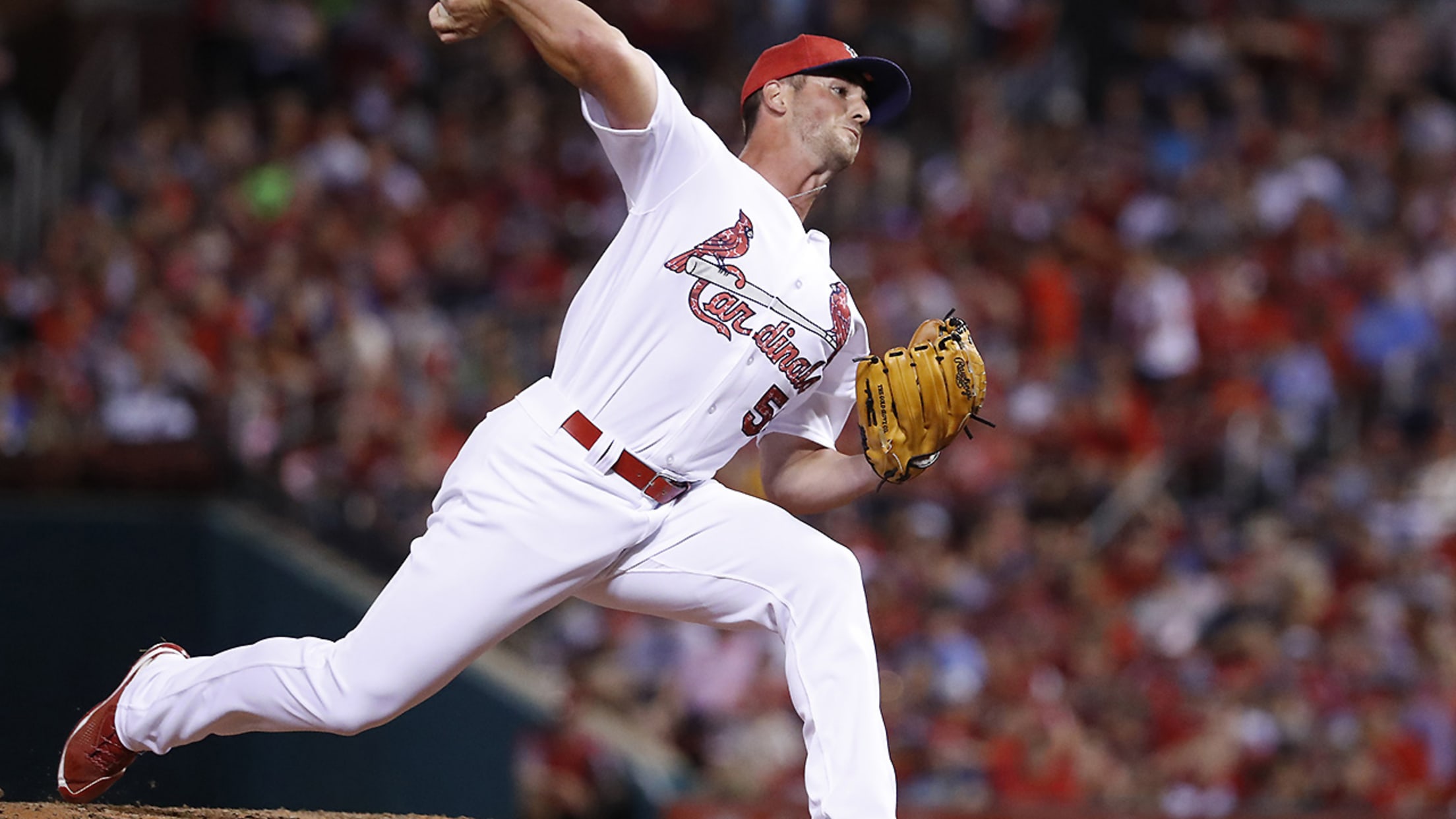 Mike Mayers is making his second stint with the Cardinals this season. (AP) (Jeff Roberson/AP)
ST. LOUIS -- With the Cardinals in the middle of 10-game homestand against the two National League Wild Card leaders, the rotation received a bit of a jolt on Tuesday, when Adam Wainwright was placed on the 10-day disabled list with tightness in his back.The Cardinals quickly put a plan
ST. LOUIS -- With the Cardinals in the middle of 10-game homestand against the two National League Wild Card leaders, the rotation received a bit of a jolt on Tuesday, when Adam Wainwright was placed on the 10-day disabled list with tightness in his back.
The Cardinals quickly put a plan in place, however, to make up for what they hope to be just one missed start, calling up Mike Mayers from Triple-A Memphis on Wednesday to bolster the bullpen. Also making the trip up from Memphis was right-hander Luke Weaver, who was added to the roster on Thursday to make that night's start in Wainwright's place. Mayers was sent back to Memphis following Wednesday's game.
"It's great," Weaver said of the start. "It's another opportunity to try to come up here and do what I can to help the ballclub, and hopefully it goes well."
Weaver has made two relief appearances for St. Louis this season, allowing three hits and no runs over three innings. He has excelled in Triple-A this year, going 9-1 in 13 starts with a 1.91 ERA. He made eight starts (nine appearances) with the Cardinals in 2016, going 1-4 with a 5.70 ERA.
"Nothing really changes, [but] it's a little easier," Weaver said of starting compared to entering in relief. "Starting has been a little bit more of my forte, and going into those routines kind of goes right back to what I've been doing."
Mayers will also be making his second stint with the Cardinals this season. He had two relief appearances his first time up, pitching four innings and allowing three runs on four hits.
Wainwright was injured just prior to his previous start, against the Cubs. He first felt something when he was stretching but went on to produce one of his best starts of the season, pitching 7 2/3 innings and allowing just four hits.
He ultimately left the game as a precaution, but as soon as he did, Kristopher Bryant hit a game-winning RBI single.
"Every fiber in my body [was] telling me, 'I can get this guy out right now,'" Wainwright said of the decision to come out before Bryant's at-bat. "I'm confident I can get him out -- Kris Bryant's a great player, but I'm confident I can get him out.
"I've never admitted this on the mound before -- which I think was a trigger for [manager Mike Matheny] to get me the heck out of there -- I said, 'I don't feel very good. My body doesn't feel very good. I'm battling through some things right now.'"
Wainwright is hopeful that he will only have to miss one start and that he will be ready to go when the Cardinals visit the NL Central leaders in Milwaukee next week.
"It's not the time I want a breather, for sure," he said. "We're right in the thick of things, and we're about to go to Milwaukee. We're playing two very tough teams at home. Definitely want to be out there, but everyone seemed to feel like this is something [where I] can take a few days and be great, be better for the rest of the season, or [I] can potentially end up missing two or three starts for pushing it too hard."
Worth noting
• Stephen Piscotty (strained right groin) will join Class A Peoria on Thursday for a rehab assignment; he is scheduled to be there through Sunday.
Alaina Getzenberg is a reporter for MLB.com based in St. Louis.