Inbox: Will Miller solve Cards' bullpen issues?
Beat reporter Jenifer Langosch answers fans' questions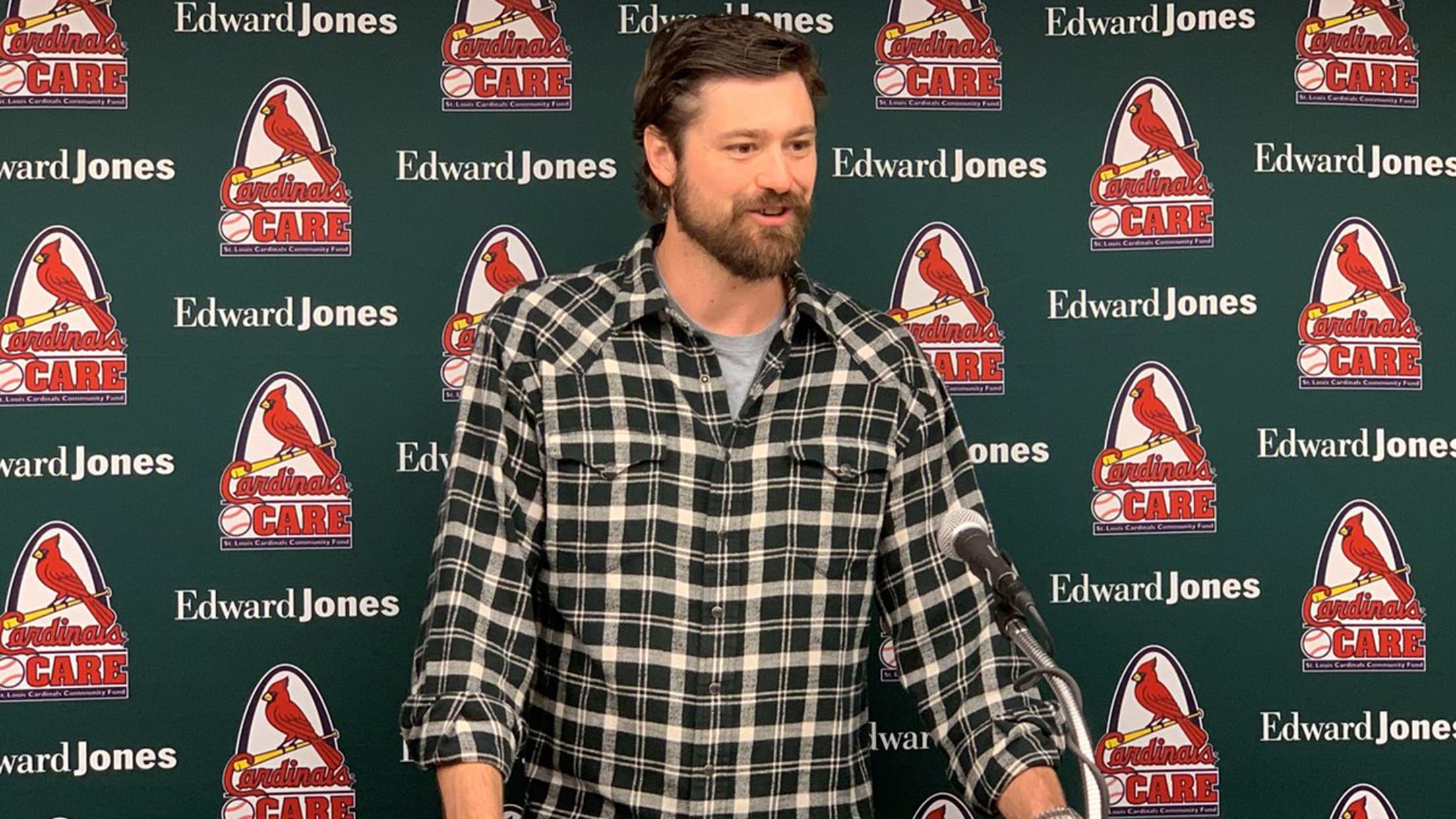 ST. LOUIS -- This isn't my farewell Inbox, but it is likely one of only a few more you'll see here on Cardinals.com. For those who may have missed my announcement on Twitter earlier this week, I will soon be moving off the Cardinals beat and into a role on
ST. LOUIS -- This isn't my farewell Inbox, but it is likely one of only a few more you'll see here on Cardinals.com. For those who may have missed my announcement on Twitter earlier this week, I will soon be moving off the Cardinals beat and into a role on MLB.com's editorial management team. That transition will take place once my replacement has been found.
Until then, I'll continue to field your questions as we count down the days until camp. Let's get started here:
Does Andrew Miller really solve all our bullpen problems? Seems like we had a lot more issues (long relief/setup/overuse) than one person can solve.
-- Molly M. (@stlgrl85)
• Submit a question to the Cardinals Inbox
Does Miller solve all of the problems? No. But if he's anything like the 2012-17 version of himself, Miller will go a long way toward completing a bullpen makeover. If the Cards want to be serious World Series contenders, their 'pen has to be better than the one that posted the second-highest walk rate and the fourth-lowest strikeout rate in the National League in 2018.
Also, adding Miller doesn't preclude the Cardinals from doing more before this Hot Stove season comes to an end. The bullpen market is still deep, and with it being slow moving, bargains can be found. And remember one way in which the Cardinals hope to solve other bullpen deficiencies is by tapping into the organization's starting pitching depth. John Gant, Austin Gomber, Dakota Hudson and Alex Reyes would be considered bullpen options if they don't crack the Opening Day rotation.
What's the plan for Jordan Hicks this year?
-- David J. (@thedjcoolfire)
Staying on the topic of bullpens ... Hicks is projected to be utilized as a late-inning arm -- perhaps even an occasional closer -- for the Cardinals this season. The addition of Miller gives the club flexibility in how it lines up relievers at the end of games. I'd expect Miller to get a bulk of the save opportunities, but manager Mike Shildt also won't hesitate to deploy Miller earlier in games if he sees a critical spot for the lefty. That could leave the ninth to Hicks. Most likely, though, Hicks will fill the same eighth-inning role he did in 2018.
How do you solve a problem like Michael Wacha?
-- @ToffeeCardinal
What exactly is the problem? Before an oblique injury sidelined him in June, Wacha was on track to be a first-time All-Star. He entered that June 20 start against the Phillies tied for second in the NL with eight wins and 10th in ERA (3.24). He was averaging 5 2/3 innings a start and he was an obvious asset in the rotation.
If the problem you're referring to is his spotty injury history, that's a tough one to solve. Fortunately, Wacha hasn't had a recurrence of the right shoulder injury that was an issue in 2014 and '16. Ideally, the Cardinals can get a healthy and productive year out of Wacha this season, because he's likely to walk as a free agent once it's over.
Who starts Opening Day?
-- @STLMattinals
It's got to be Miles Mikolas, right? I can't see the Cardinals going in any other direction given the breakout year Mikolas had to anchor this rotation in 2018. The sentimental candidate would maybe be Adam Wainwright, though if he has a strong spring and is part of the rotation, perhaps lining him up for the home opener would make more sense.
Who from the Minors will make their MLB debut at Busch this year?
-- Brandon D. (@LyleDozier)
This is always a fun one to predict so far in advance. But let's take some educated guesses. Looking at the 40-man roster, I bet you'll see left-hander Genesis Cabrera, right-hander Ryan Helsley and outfielder Lane Thomas break into the Majors this season. Catcher Andrew Knizner seems a strong callup candidate -- even if only for September -- as well. I'd also keep an eye on infielders Tommy Edman and Max Schrock, as well as pitcher Jake Woodford.
What was the best Cardinals game that you covered?
-- Ryan M. (@morrisseyra)
Great question, and one that has me really digging into the mental archives. A few instantly come to mind: Pete Kozma's DC moment (2012 NL Division Series), Wacha's masterpiece in Pittsburgh (2013 NLDS), that incredible comeback against Clayton Kershaw (2014 NLDS), and the infamous obstruction call in the 2013 World Series rank among the top postseason moments I documented.
Several regular-season games still stand out, too, from the grand slam Aledmys Diaz hit upon returning from Jose Fernandez's funeral to Matthew Holliday's sendoff pinch-hit home run and Matt Carpenter's historic day at Wrigley Field last summer. Then there were the stories I wrote about the Cards being on the wrong side of history -- including Johan Santana's no-hitter, Scooter Gennett's four-homer game and that crushing swing by Player Page for Travis Ishikawa.