Yadi returns to Cardinals as Martinez hits IL
Hot-hitting OF prospect Arozarena promoted; Knizner optioned to Triple-A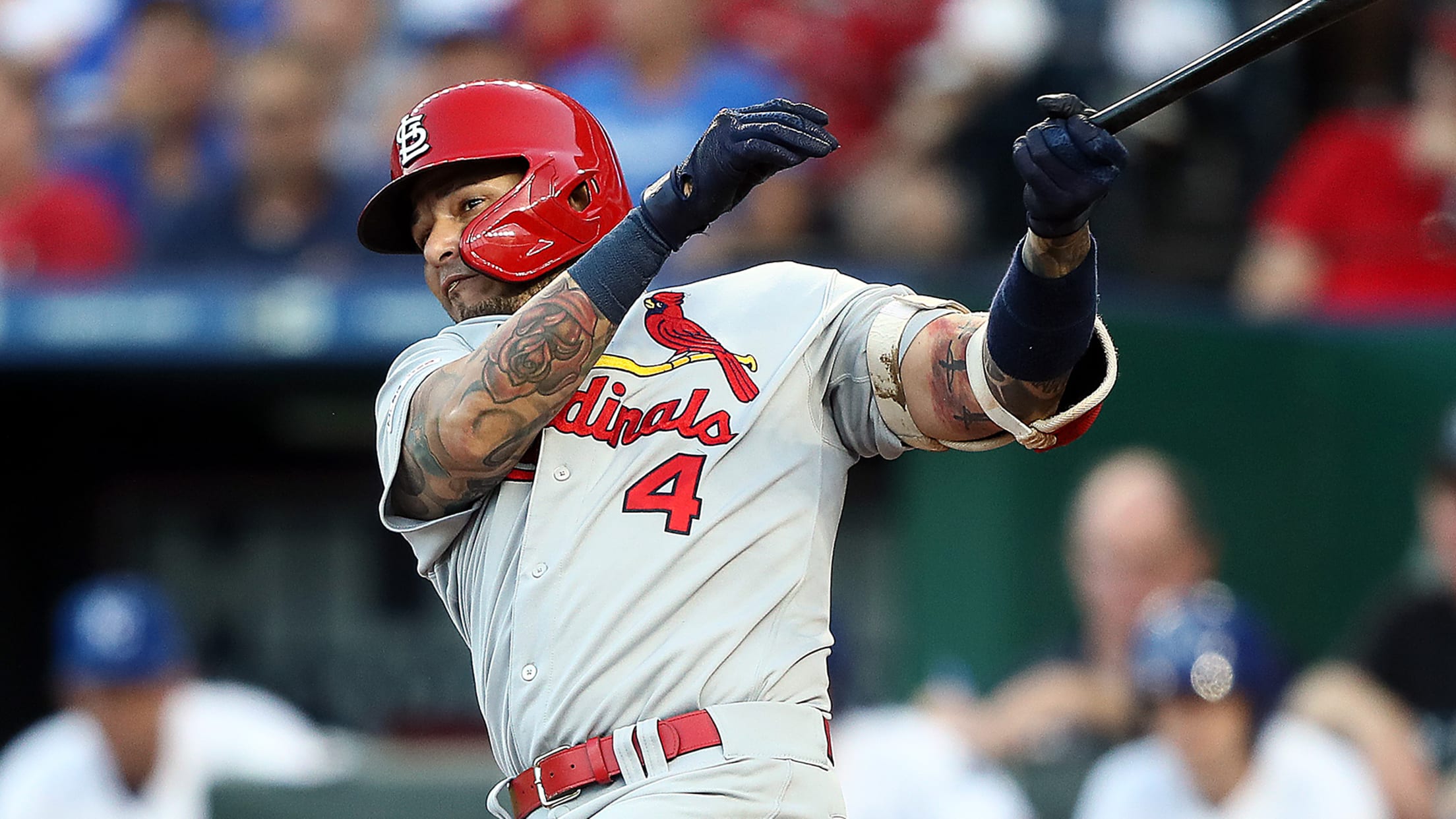 ST. LOUIS -- The Cardinals made some big roster moves before Tuesday's 2-0 win over the Royals in the I-70 Series opener at Kauffman Stadium. Yadier Molina was finally back with the team -- in the starting lineup behind the plate and going 0-for-4 at the plate -- and outfield
ST. LOUIS -- The Cardinals made some big roster moves before Tuesday's 2-0 win over the Royals in the I-70 Series opener at Kauffman Stadium. Yadier Molina was finally back with the team -- in the starting lineup behind the plate and going 0-for-4 at the plate -- and outfield prospect Randy Arozarena joined the big league club for the first time.
St. Louis activated Molina from the 10-day injured list, after the veteran catcher missed more than a month with a right thumb tendon strain. The Cardinals also called up No. 12 prospect Arozarena, who was raking at Triple-A Memphis.
After missing 28 games and playing in eight rehab games, Molina is confident the injury is behind him this time, after he re-injured the same thumb for this second injured list stint this season.
All of Missouri is happy to see Yadi back! 🐐 pic.twitter.com/0dVDvev3KZ

— St. Louis Cardinals (@Cardinals) August 14, 2019
"Everything went well," Molina said. "My only worry was to swing. I just want to make contact. Right now, it's pain-free.
"I'm excited. I'm glad to be back with the team. Hopefully, I can help them win."
Arozarena was hitting .368/.442/.562 with seven homers, eight stolen bases and a 1.004 OPS in 52 games at Memphis. In 80 Minor League games overall between Double-A Springfield and Memphis, the 24-year-old Cuban native was hitting .349/.435/.547 with 10 homers and 16 steals.
In his last 10 games with the Redbirds, he was batting .371 (13-for-35) and was riding a 37-game on-base streak before Sunday's game with 15 multi-hit games during that span. He became the third Redbird in franchise history to hit for the cycle on July 26 and accomplished the feat in his first four at-bats.
"He's done a lot of what he needs to do offensively," Cardinals manager Mike Shildt said on Friday. "He's got a really high OPS. ... Defensively, he's capable, we've seen that. There's nothing else he really needs to be able to prove. "
Arozarena will wear No. 66 and fills the last spot on the Cards' 40-man roster.
But Arozarena's callup comes with some bad news -- he's replacing Jose Martinez, who was placed on the 10-day IL with a right shoulder AC joint sprain. Martinez hurt his shoulder in Sunday's game when he bumped into the outfield wall making a catch on Elias Diaz's deep fly ball. He exited the game in the top of the fifth inning.
The Cardinals also optioned catcher Andrew Knizner to Triple-A after Sunday's series finale against the Pirates, with Molina set to come back. Knizner got crucial at-bats during his time in the Majors that helped his development for the future; he played in 11 games since his most recent callup, hitting .229 (8-for-35) and logging his first Major League home run.
Molina had been on the IL since July 8 and missed 28 games. The 37-year-old entered Tuesday hitting .261/.286/.368 with four home runs and 36 RBIs in 71 games this season. He was 3-for-20 with a home run in eight games during his rehab assignment between Memphis and Springfield. The Cardinals were 17-11 in his absence.
Surrounding Arozarena in the past month was simply the question as to when the outfielder will be called up, and now that question shifts to how he slots into the lineup. The Cardinals have had to juggle a surplus of outfielders while also finding solutions to a recent slumping offense. Based on his numbers, Arozarena could be part of the solution.
Dexter Fowler has been playing in center field since Harrison Bader's demotion to Triple-A on July 29, while Tommy Edman -- who is normally an infielder -- and Martinez split time in right field. Edman, who went 7-for-13 over the Cardinals' weekend sweep of the Pirates, could find more time in right field. Or it could be that Fowler will move back to right, Edman to the infield and Lane Thomas -- who hit a grand slam in a rare start Sunday -- and Arozarena split some time in center field.