Cubs receive positive news on bullpen injuries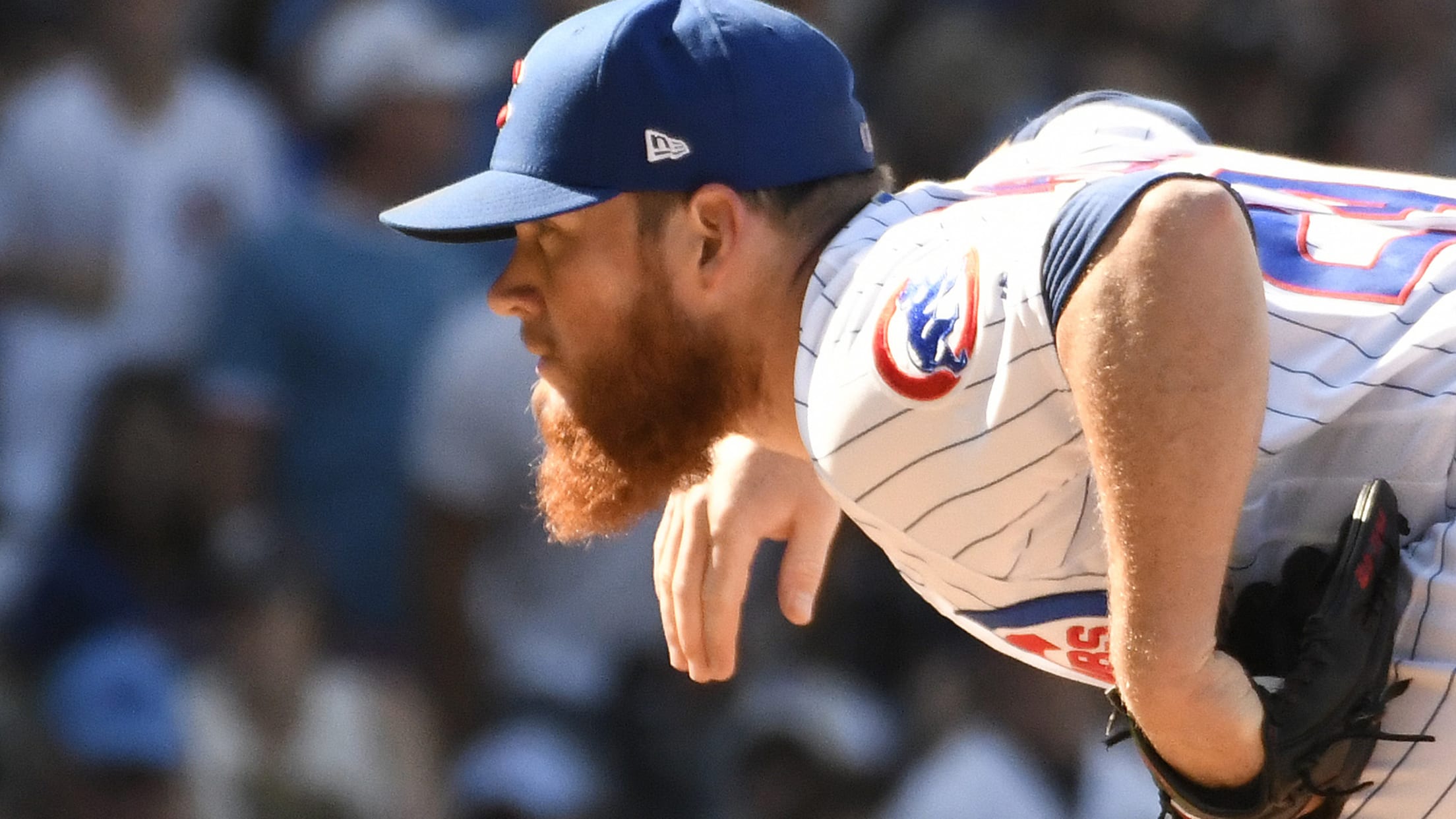 PHILADELPHIA -- Cubs manager Joe Maddon said he received all positive news on the injury front ahead of Tuesday's series opener against the Phillies at Citizens Bank Park, specifically in regard to his banged-up bullpen. Craig Kimbrel (right knee inflammation) joined the team in Philadelphia and threw his first bullpen
PHILADELPHIA -- Cubs manager Joe Maddon said he received all positive news on the injury front ahead of Tuesday's series opener against the Phillies at Citizens Bank Park, specifically in regard to his banged-up bullpen.
Craig Kimbrel (right knee inflammation) joined the team in Philadelphia and threw his first bullpen session without any issues. Right-hander Brandon Kintzler (right pectoral inflammation) was supposed to throw on the field prior to the game, but instead did his work in the bullpen as a result of the tarp being stretched across the infield due to some pregame rain. Fellow righty Steve Cishek (left hip inflammation) remains in Chicago, but the reports on him have also been positive.
"All the guys are good," Maddon said. "It's all encouraging. I don't have any dates yet, but everybody is in pretty good shape. The relief pitchers are trending well."
The club also activated left-hander Kyle Ryan off the bereavement list prior to Tuesday's game and optioned righty Dillon Maples to Triple-A Iowa.
The Cubs remain confident that Kintzler will return as soon as he is eligible on Friday in Pittsburgh. As for Kimbrel, it's now a wait-and-see situation to evaluate how he responds to Tuesday's session, though he is scheduled to participate in pitchers' fielding practice on Wednesday.
"It felt good, not really any restrictions," Kimbrel said of the bullpen session. "Right now, I'm just going to see how I recover. Come back tomorrow, like I said, and do [a pitcher fielding practice], see how I can get off the mound and field my position, and then go from there."
While Kimbrel won't be activated when eligible on Wednesday, the veteran reliever is confident he won't be sidelined much longer beyond that date.
"Hopefully just a couple more days," Kimbrel said. "If it keeps progressing the way it is now, then absolutely."
The bullpen aside, Maddon said he's also happy with the early feedback he's received on catcher Willson Contreras' strained right hamstring. Contreras, who sustained the injury on Aug. 3, is "progressing well," though Maddon added that Contreras still needs to begin more specific strength work with his hamstring. The skipper did not offer a specific timetable for a potential return.
Ideally, Maddon would be working with a full lineup and bullpen "by the end of the month," but his focus for the time being is on the players he has available for this three-game series in Philadelphia. The Cubs entered Tuesday with a two-game lead over the Cardinals in the National League Central. Chicago was also just 2 1/2 games ahead of the third-place Brewers, who were sitting outside of the postseason picture.
Regardless of injuries, the Cubs will have two more chances on this 10-game, four-city road trip to earn their first series victory away from Wrigley Field since May 17-19 against the Nationals. They began the swing by salvaging a split with a comeback victory Sunday to conclude a four-game set in Cincinnati.
"The guys we've got here are going to play," Maddon said. "Coming off a nice series in Cincinnati, getting that last win was highly pertinent. Everything's working in the right direction right now, but I don't have any final dates yet."
Zobrist to join Iowa
Ben Zobrist will join Triple-A Iowa on Thursday for its four-game series at Memphis, marking the next step in his comeback attempt.
The 38-year-old utility man is expected to stick with Iowa for at least the weekend series before the club re-evaluates the situation on Monday. After playing in three games with Class A South Bend from Aug. 2-4, Zobrist played another three games with Class A Advanced Myrtle Beach last week. He homered in each of the first two and reached base safely in all three.
Zobrist has been on Major League Baseball's restricted list since May 8 in order to tend to a family situation. He informed the Cubs last month that he wanted to try to return this season, and continues to follow the plan that he and the club worked out together. Barring any setbacks, and as long as Zobrist convinces the organization that he is able to play at a high enough level after missing three months, he could return in time for the September stretch run.