Inbox: Do Cubs need a primary leadoff bat?
Beat reporter Jordan Bastian fields offseason questions from fans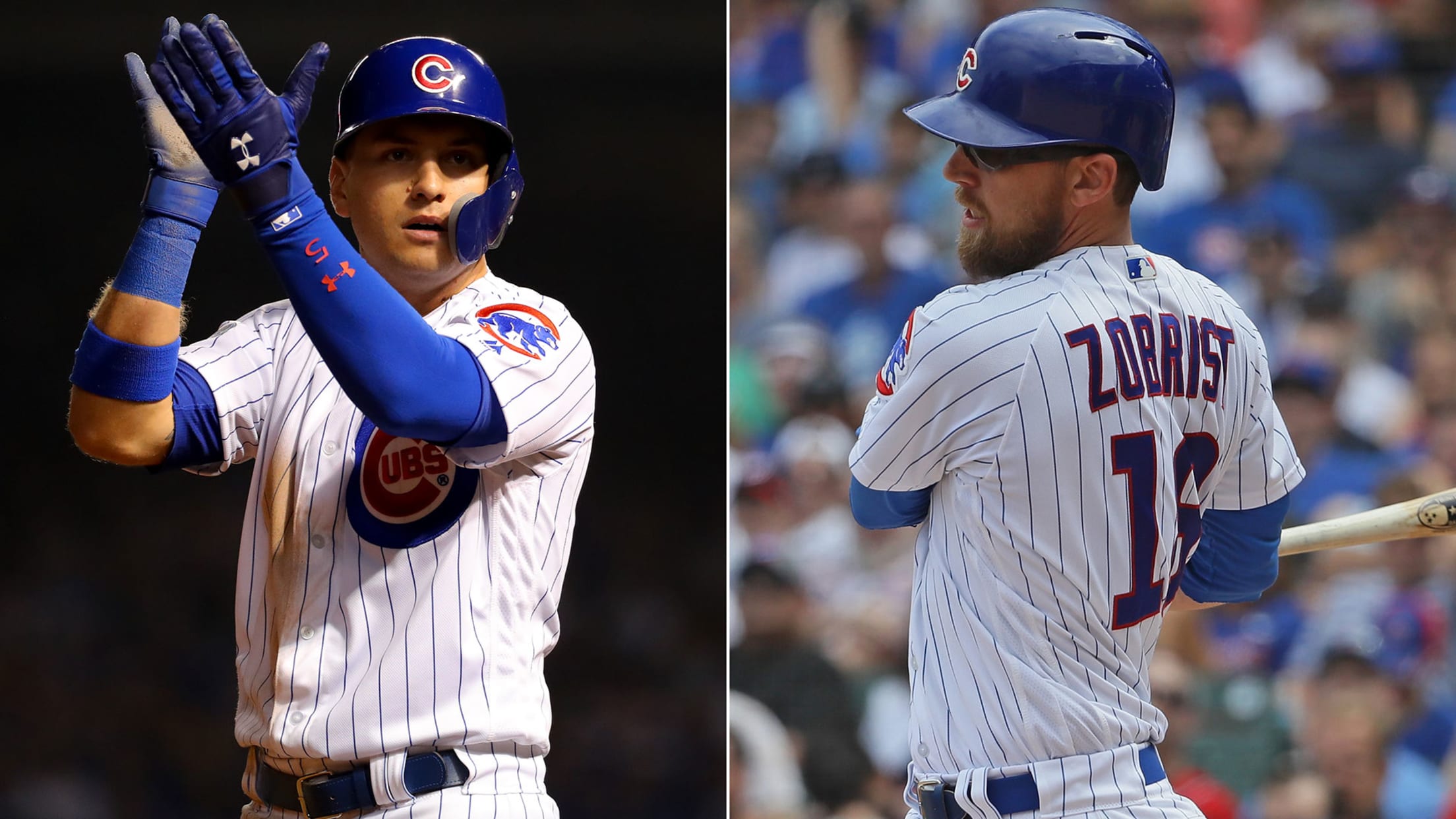 I think the Cubs need a permanent leadoff hitter. I feel this is something that's been lacking since William Fowler left for St. Louis. -- Dustin R., Little Chute, Wisc.A lot of fans have written in about the need for a prototypical leadoff man, but it seems like much of
I think the Cubs need a permanent leadoff hitter. I feel this is something that's been lacking since William Fowler left for St. Louis.
-- Dustin R., Little Chute, Wisc.
A lot of fans have written in about the need for a prototypical leadoff man, but it seems like much of that feeling might be lingering due to the disfunction at the top of the order in 2017. There is also the backdrop of the lineup's second-half slide last season, but there is nothing to indicate that the tablesetter was at the root of the offensive troubles.
Overall last season, the Cubs had four players with at least 130 plate appearances out of the No. 1 spot, and they were all productive. Let's take a look at that group.
Albert Almora Jr.: .797 OPS, 117 wRC+ (213 plate appearances)
Benjamin Zobrist: .810 OPS, 121 wRC+ (140 PAs)
Anthony Rizzo: .979 OPS, 161 wRC+ (138 PAs)
Daniel Murphy: .840 OPS, 125 wRC+ (130 PAs)
The Cubs produced a .302/.366/.454 slash line with a 121 wRC+ and the Majors' fourth-highest OPS (.819) out of the leadoff spot in 2018. Now, obviously, Murphy is a free agent, and Rizzo is better served in the meat of the order, but Chicago made it work with Almora and Zobrist handling the bulk of the duties. And while the lineup cratered in the second half, the leadoff spot produced a .307/.371/.479 slash line.
So although having a true leadoff man is an ideal scenario, it's not always a necessary one. That said, the Cubs cycled through different hitters at the top in 2017 -- including experimenting with Kyle Schwarber (83 wRC+ in the No. 1 hole in '17) -- and managed a .745 OPS and 94 wRC+ as a team. One year earlier, Fowler handled 546 PAs as the leadoff man, powering a 123 wRC+ showing overall for the team in that role.
The real issue for the Cubs' offense in '18 wasn't the leadoff man -- or lack of a primary leadoff man -- but down years from a handful of key players. Chicago needs Kristopher Bryant to be healthy and for its other in-house options to figure out what went wrong and correct it. The team could also shake things up this winter with a key offensive addition (this is where I'm supposed to mention Bryce Harper, right?).
:: Submit a question to the Cubs Inbox ::
Why would the Cubs trade for utility infielder Ronald Torreyes only to non-tender him two days later? I'm having trouble seeing the logic behind this.
-- Tim M., Chicago
I wrote about that topic on Monday, but it's worth quickly going over again. Think of the Torreyes acquisition (on Nov. 28) as a no-risk way to initiate a dialogue with the player. The Cubs were able to discuss a contract with the utility infielder, while also monitor which other players were non-tendered around MLB on Friday. They did not reach a deal with Torreyes -- maybe Chicago is more interested in a Minor League contract with a spring invite -- so he was non-tendered and became a free agent. Now, he can explore his options with the knowledge that Chicago still has interest in re-signing him. The Cubs are in the market for a utility infielder and being able to handle shortstop would be preferred. Torreyes fits that description.
Noting his productivity and positive clubhouse contribution, do you think the Cubs should offer Murphy a new contract? I realize that may create a logjam for playing time at second, but it would give the Cubs breathing room to trade Addison Russell for a bat.
-- K. Green, Des Moines, Iowa
Since the Cubs tendered Russell a contract, the plan appears to be keeping him at shortstop with Javier Baez at second base. The catch there is Russell isn't eligible until May 3 due to his suspension, so Chicago may start with Baez at short and go with a monthlong fix at second. Had the Cubs non-tendered Russell, it would've made a lot of sense to go after Murphy or another free agent like DJ LeMahieu. Now, I'm not so sure. There is still the chance Chicago could look into trading Russell. Barring a move to open more at-bats up the middle, it seems like the team is content with its current setup.
Can Russell participate in Spring Training next year?
-- Wayne R., Huntington Beach, Calif.
Yes, Russell will be able to take part in the preseason practices and games. But, once it comes time to set the Opening Day roster, the shortstop will begin the season on Major League Baseball's restricted list.
I've read a couple places that a piece on the Cubs' wish list for this offseason is a veteran backup catcher. Would there be any reason that Victor Caratini won't earn the spot for the backup catcher? It seems like going back to Triple-A wouldn't benefit him much. Caratini also seemed to work really well with Cole Hamels last year.
-- Evan J., Chicago
Caratini is very much in the mix for the backup-catching job. One priority for this offseason for the Cubs, though, is to inject another veteran voice into the clubhouse. A veteran backup catcher is one way to potentially address that goal. But, the Cubs could also explore other veterans on the open market to fill that role, whether it's an outfielder, infielder or reliever. For example, having covered Andrew Miller in Cleveland, I can attest that he not only would boost the Cubs' bullpen, but would be a great clubhouse leader.
I keep hearing that the Cubs should pursue backup catching, bullpen help and a middle-infield addition. The No. 1 need on this team is a leadoff hitter who can play center field. A.J. Pollock should be the player the Cubs should be attempting to sign. They missed on Lorenzo Cain last winter, look what he did for the Brewers. Fix the outfield. Sign Pollock!
-- Mike, Plainfield, Ill.
I like Pollock, but you've probably also heard that the Cubs' current payroll situation may not make a large-money signing realistic. Pollock will probably look for a deal in the neighborhood of what Fowler got with the Cardinals (five years, $82.5 million) and what Cain received from the Brewers (five years, $80 million). We won't even get into Harper's asking price. I wouldn't put anything past Theo Epstein and Co., but it sure looks like the Cubs will need to move salary before even considering a blockbuster free agent.
I was wondering why the Cubs let Jesse Chavez sign with the Rangers without offering him a contract. He pitched out of so many difficult situations last season.
-- Athanasia P., Chicago
The Cubs did reportedly offer a contract to Chavez, but he took the two-year, $8 million deal offered by the Rangers. That right there might give you a glimpse into the state of Chicago's current financial landscape. I wouldn't expect this to be a quiet offseason for the Cubs when it's all said and done, but it seems like something has to give with the current roster to make the kind of splash that fans are hoping to see.