Hendricks dazzles on the mound and at the plate
Righty allows one run in eight-plus innings, knocks three hits, two RBIs
CINCINNATI -- True to form, the professorial Kyle Hendricks did not crack a smile when he slowed into second base with a standup double in the second inning on Tuesday night. After driving in a pair of runs, which proved to be the difference in the game, the Cubs pitcher
CINCINNATI -- True to form, the professorial Kyle Hendricks did not crack a smile when he slowed into second base with a standup double in the second inning on Tuesday night. After driving in a pair of runs, which proved to be the difference in the game, the Cubs pitcher simply adjusted his helmet.
Hendricks was all business in Chicago's 3-1 win over the Reds at Great American Ball Park, where he provided eight-plus strong innings on the mound and three hits in the batter's box. After his third hit of the night, his teammates were cheering from the visitors' dugout. Daniel Descalso was grinning wide and slapping the railing. Albert Almora Jr. had his arms skyward in celebration.
In the clubhouse after the win, Hendricks finally allowed himself to smirk.
"I didn't even know what was going on out there, to be honest with you," Hendricks said. "It was a lot of fun."
Cubs manager Joe Maddon often describes Hendricks as the type of "feel" pitcher that can build into a rhythm and lock in when he gets there. Well, it sure seems like Hendricks has fine-tuned his internal metronome over the past few weeks. Against the Reds, the right-hander continued his impressive string of starts, methodically guiding the Cubs to their 13th win in 15 games.
Over his past five turns, Hendricks has spun a tidy 1.95 ERA with 31 strikeouts against four walks in 37 innings. Opposing batters have turned in a .188/.217/.256 slash line against the righty in that stretch, which includes three starts with no earned runs allowed and one seven-run setback on April 26 in Arizona. On Tuesday, Hendricks allowed as many hits (three) as he had for the Cubs.
Chicago has come to expect that type of development from Hendricks on the hill. But at the plate?
"That was impressive," Maddon said. "His exit velocities were well above average for any starting pitcher."
Maddon was joking, but Hendricks' average exit velocity on his four balls in play was 95.4 mph on the night, per Statcast. Meanwhile, the Reds produced an 88.3 average exit velocity against the pitcher in his eight-plus innings. Joey Votto brought that average up with a no-doubt solo homer (106.4 mph) to the right-center-field seats in the fourth. That blast snapped a streak of 160 batters faced with no homers allowed for Hendricks, dating back to April 7.
Hendricks got the National League Central-leading Cubs going offensively in the second. After a bunt hit by Descalso and a single from Almora past sure-handed shortstop Jose Iglesias, Hendricks sent a slider from Tanner Roark over the head of center fielder Nick Senzel. The ball bounced to the wall, giving Hendricks a two-base hit that brought both runners across the plate.
"They were playing him like on a Little League field and he hits it over their head," said Kris Bryant, who filled in at first base for the Cubs as Anthony Rizzo was out again with back tightness. "I love it when stuff like that happens. He was just doing it all today. It's super impressive."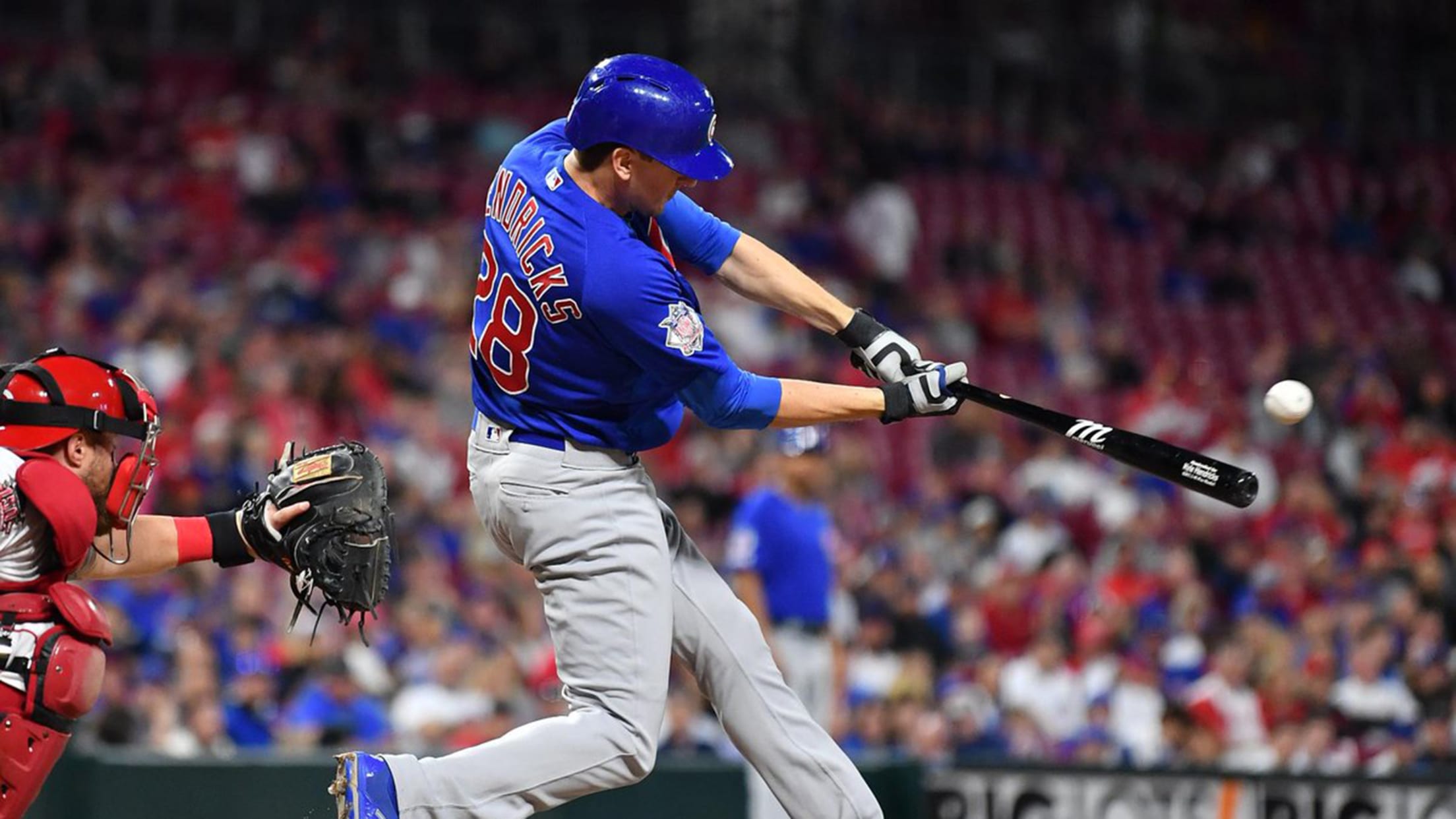 Hendricks added a single in the fourth and another in the ninth, putting him in rare company.
Carlos Zambrano -- famous for his skills as a hitter during his Cubs years -- was the last pitcher to have a three-hit game for the team on May 26, 2011. The last pitcher other than Zambrano with a three-hit game for the Cubs was Matt Clement, who did so on May 22, 2003. Hendricks also became the first Cubs pitcher to have three hits and allow just three hits in eight-plus innings for Chicago since Sept. 10, 2010, when Zambrano achieved the feat.
Hendricks also had some help from his defense in the fifth inning. First, Derek Dietrich belted a pitch to deep left-center field, where Almora ran down the ball and snared it with a leaping catch at the wall. Later in the frame, with two outs and runners on the corner, Descalso made a diving stop on a sharply-hit grounder by Tucker Barnhart. The second baseman got the out at first to escape the jam.
"What a great night he had, on the mound and at the plate," Reds manager David Bell said of Hendricks. "He's a good pitcher. He made pitches all night. We made good contact at times but overall, he pitched a great game."
Hendricks fed Cincinnati's lineup a steady stream of sinkers, leaning mostly on his changeup as his secondary weapon. It has been a familiar formula for the righty, who has filled up the strike zone and searched for early-count contact in his recent performances. That was never more evident than on May 3, when Hendricks tossed a shutout against the Cardinals on just 81 pitches.
Against the Reds, Hendricks ended the game with seven strikeouts and one walk, finishing the night with a 2.86 ERA on the season. Before this five-start run, he had a 5.40 ERA and was struggling with his fastball command.
"Probably five starts ago, we started getting into this, but now my mindset's a lot better," Hendricks said. "I'm being aggressive and my fastball is working a lot better, so I'm making a lot better pitches, and now I can take advantage, I guess."
Hendricks added that he plans on continuing to work on his swing, too.
"You can help yourself out," he said. "As long as we're in the lineup, we've got to hit. We might as well be able to get the job done when we can."